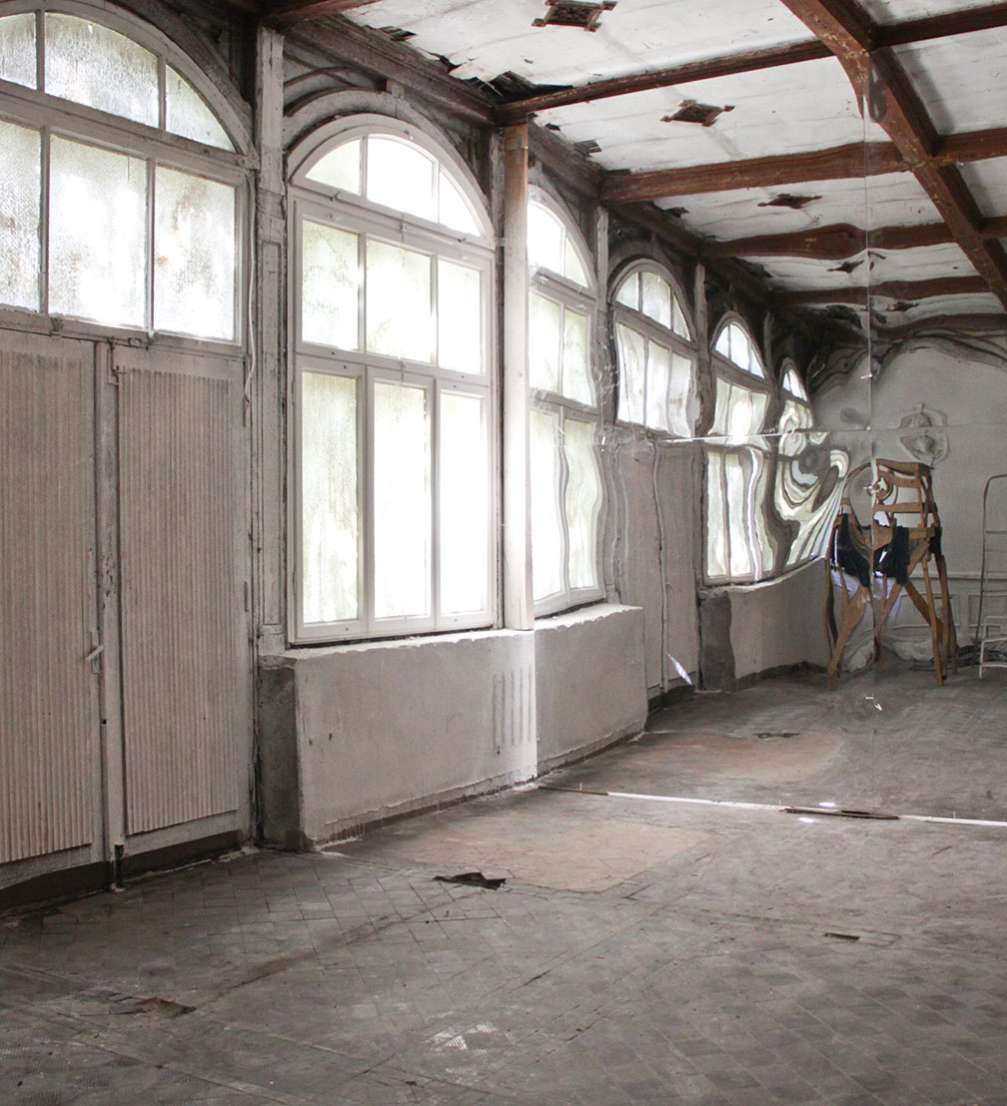 Inside the mansion at A. Briāna iela 9. Photo — Kristīne Madjare
«Homo Novus», the international contemporary theatre festival, takes place in Riga this week, and, as it happens, surprises us with unusual acting spaces and approaches. Celebrating the festival's tenth anniversary, they offer a special program «The Last Human Venue», which brings together eleven artists from various backgrounds, offering new, smaller productions, installations, and performances. The collection of the fresh works stems from a British theatre theoretician Alan Read's idea of theatre as the last space for genuine human interaction. Festival's director Gundega Laiviņa tells more.
«The Last Human Venue» consists of productions by Pēteris Krilovs, Viesturs Meikšāns, Vladislavs Nastavševs, as well as installations by Izolde Cēsniece, Monika Pormale, Reinis Suhanovs, the «Nomadi» group and «mareunrol's». The extensive collection can be viewed in a townhouse on Aristīda Briāna iela 9. Vladislavs Nastavševs has promised to perform piano pieces and songs from his already staged, upcoming, as well as non–existing shows, while Andrejs Jarovojs, with his production of «Pietura», is offering a special 30–minute experience outside notions and conditions of classic theatre.
What is «The Last Humane Venue»?
It is eleven new works that are created within one space and are based on one idea, i.e., a text by a British theatre theoretician Alan Read, about theatre as the last human space. We came to these ideas when we decided to bring together the voices of the artists that we have worked with during these ten years. We had to find a common ground, and we came across this Alan Read's text, which each of the artists had taken on for free interpretation. Everyone has their own idea; some work individually; others have a team. All the works are united by the space.
We were also very much inspired by an urban exhibition «Intersection: Intimacy & Spectacle» in The Prague Quadrennial, in 2011, where artists participated with a separate installation or a performance. In Riga, we also couldn't grant every artist a chance to make a full production, so each work here is in a smaller format, whereas together they create a larger form and atmosphere.
Why is that Alan Read's idea became so important in the festival's context?
In his book «Theatre, Intimacy and Engagement: The Last Human Venue», Alan Read writes, «The last human venue marks the location and moment of human beings' awareness of their own eventual extinction. Performance, on the contrary, explores ways in which performance operates as an exciter of sentience, kick–starting our sense of being alive, acting as a pleasurable lengthening of device to extend our inevitable faith. Humans in this venue distinguish themselves from other animals through their experiencing of an extended childhood, in their ability to sustain a controlled, unbroken outward breath and by their unique capacity to aesthetically disappoint.» Alan Read will also visit Riga and comment on his work.
I, too, get an impulse from theatre to go on with my life. The impulse is not always life confirming; sometimes the experience can be very destructive or have different nuances. In theatre, a viewer is always confronted by an artist, which can be very personal. It is not a visual art or cinema, where a work already lives its life, because there is no longer this live person, and it is interpreted. Theatre is the last space where a conversation between two live people takes place. Now, a deep, humane conversation is rare in public space. This notion has inspired each artist in its own way — to search, to find a solution, to work. A new layer has come about — a real place, the house in Aristīda Briāna Street, which has been abandoned for years. We had it in mind for a long time, but when we got in it seemed that nothing like that is still possible, because of its special aura, its emptiness, its desolation.
It is not a visual art or cinema, where a work already lives its life, because there is no longer this live person, and it is interpreted. Theatre is the last space where a conversation between two live people takes place.
Could it be that such a distinctive house can itself become a curator?
We were just discussing this very idea — whether the house could be placed above artists' ideas. Some say that it is very aggressive, very powerful, and that we can't ignore this fact. It creates a problem; we tried to find a balance, so that the house doesn't take over. It mustn't be the curator; it is still just a space, yet, of course, it does bring in its own aesthetic imprint, a feeling and a value.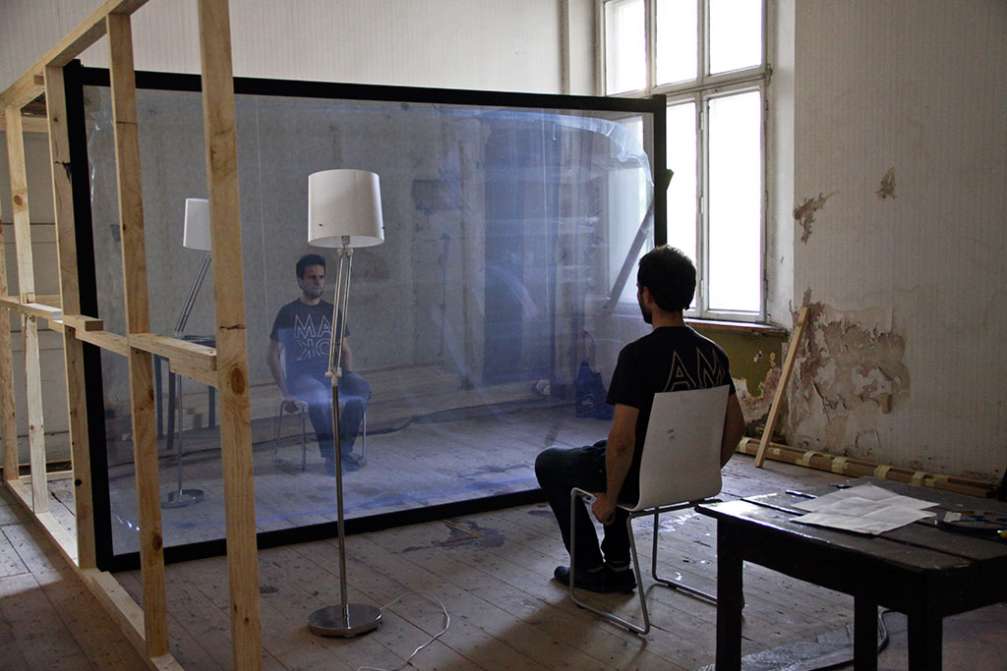 The festival presents world–class artists, like Romeo Castellucci, but this year is also important because of an unusually wide selection of Latvian artists. How did it come to be?
When we, The New Theatre Institute, in 2005, took over the organising of the festival, we decided to include from then on only new works that had been created especially for the festival, and not ones from seasonal repertoire. The festival's platform is very appreciative of young artists' experiments, which they can't maybe afford on a regular contract. It was especially significant before the birth of «Dirty Deal Teatro» and The Ģertrūdes Street Theatre. Why is this year different? Because these are all the artists that we have worked with since 2005. The second Latvian production is «Lost Gardens», where Rūdolfs Bekičs and Katrīna Neiburga collaborate with a German artist Christine Umpfenbach. It is a direction that we would like to develop more, because, when local artists work with foreigners, results are very interesting. Locals are also involved in Catellucci's «On the Concept of the Face, Regarding The Son of God», Philippe Quesne's «L'Effet de Serge», Ingri Fiksdal's «Night Tripper» — those are musicians, children, and people who are not professional actors.
All the eleven authors of «The Last Human Venue» are vivid professionals. Looking back on their participation in the previous festivals, was it a long–term decision or an eventuality?
Pēteris Krilovs is the founder of the festival; he produced shows in the very beginning, but for others — Andrejs Jarovojs, Viesturs Meikšāns, and also Vladislavs Nastavševs, «Homo Novus» has been a stepping–stone. For Valters Sīlis and «umka.lv», the festival became a chance to produce «The Story of Daniel Ray» (2005), which, in a way, defined their style for several years. «Nomadi», too, have worked with us, while, for example, Inese Mičule and others, who have also successfully started at this festival, are not in this year. This year's stage designer team — Monika Pormale and «mareunrol's»  formed after The Prague Quadrennial (2011), where we had wonderful works, which we later showed in Riga.
Are the viewers of «The Last Humane Venue»  encouraged to get involved or are they left to observe?
Some works are in a form of an exhibition; some artists participate themselves, creating a most personal conversation there can be. The viewers are not forced to participate, but they also can't tune out; and some works are interactive. Because the works are in such different formats, we will organize the nights so that viewers can at first see the exhibition, followed by a performance.
More about «Homo Novus», the program and other activities can be found on the festival's homepage.