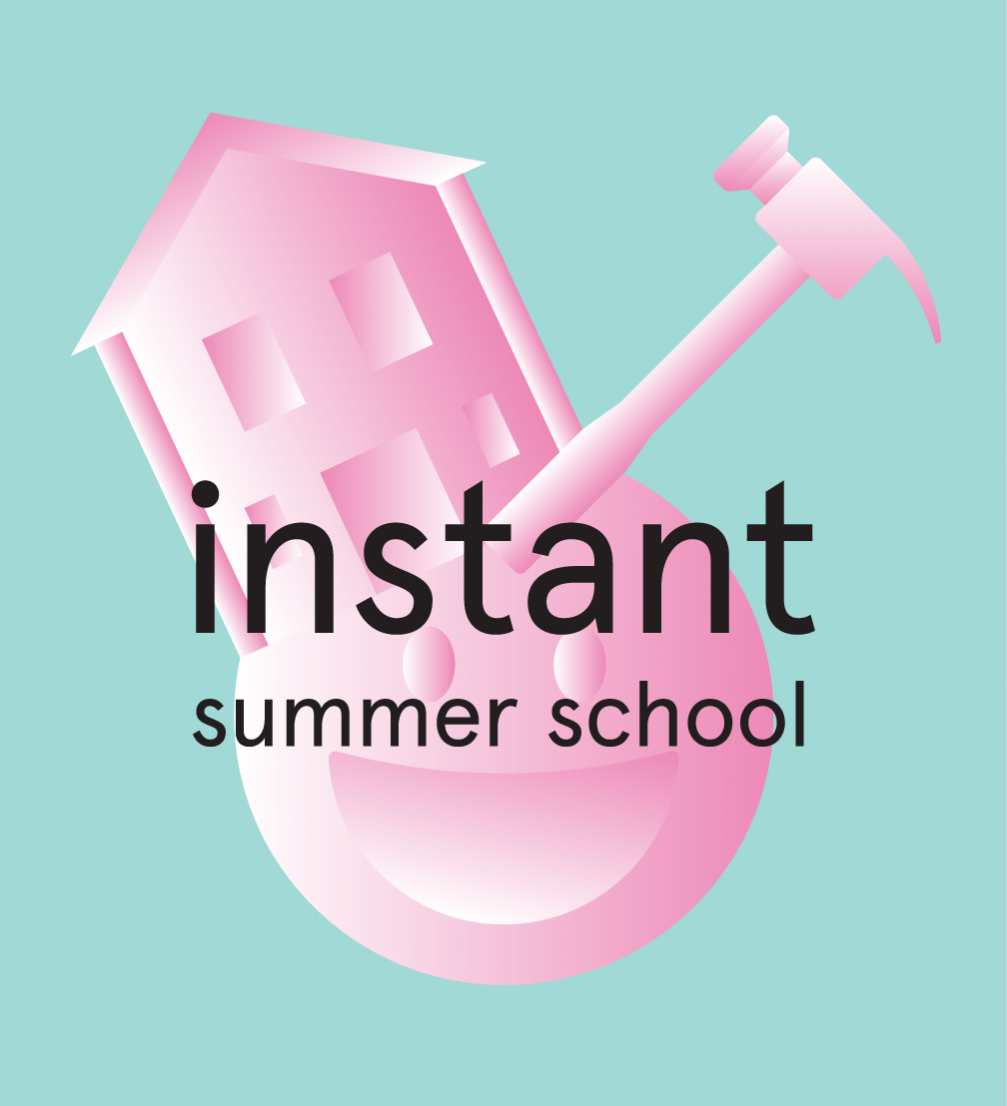 Illustration by Evelina Ozola
Instant Summer School of architecture, urbanism and design is open for applications until May 1, 2016. This year, participants are invited to create a vocabulary of small–scale, emotional and immediate architecture. The Summer School will take place in Cesis from July 26 to August 6.
Topic
In 2015, for the first time ever, Oxford Dictionaries declared an emoji — the «Face with Tears of Joy» — to be the Word of the Year. Conventional language, allegedly, is impoverished and lagging behind the times. Emojis, however, are increasingly recognised as a nuanced form of expression that crosses cultural barriers. Likewise, architectural language is under pressure to bring it up to the speed. From contemporary art to commerce, housing and humanitarian aid, small–scale instant architecture is proving to be an adaptable, diverse and resilient answer to the urgent needs of our day. Like emojis, these spatial interventions are symptomatic and temperamental protagonists of the architecture of now. With this in mind, the Summer School invites participants to research, write and improve the rudimentary vocabulary of instant architecture. Can it help us open up new channels of communication to the public?
Location
The Summer School is based in Cesis, a small town located within the Gauja National Park, the largest protected natural area in Latvia. Cesis takes pride in its rich medieval heritage and boasts an attractive cultural life. The town's most iconic industrial building — the old beer brewery — will become our construction site.
Programme
We offer an intensive two–week programme of lectures, discussions and workshops, as well as sightseeing trips and parties. Experienced tutors will guide the participants through a complete architectural project: research, design, prototyping and construction of life–size installations in the public realm. Participants will work hands–on with creating actual events and spatial structures that accommodate public interactions. At the activation of the installations, the results will be instant.
This year, the team of tutors includes Latvian architects Niklāvs Paegle, Austris Mailītis and Andra Odumāne, as well as Theodore Molloy and Thomas Randall–Page from the UK, and Reiji Kobayashi from Japan.
Application
We welcome students and young professionals, aged 18–35, of architecture, urbanism and design as well as related disciplines — geography, sociology, arts etc. Applicants should have completed at least one year of studies by the beginning of the course, speak English fluently and enjoy working in a team.
The fee including tuition, accommodation, meals, materials and tools for the workshops, field trips and parties is € 880. A limited number of scholarships are available. The deadline for applications is May 1, 2016.
For more information and the application form go to the Summer School's website and follow updates on its Facebook page. For questions — send a message to instant@fold.lv.
Academic credits
Participants will be awarded a Certificate of Riga Technical University and 3 ECTS points upon successful completion of the course.
Organisers
Instant Summer School is organised by FOLD in collaboration with Riga Technical University Faculty of Architecture and Urban Planning. The Summer School is supported by State Education Development Agency and State Culture Capital Foundation.
Summer School 2015 — Arcadia