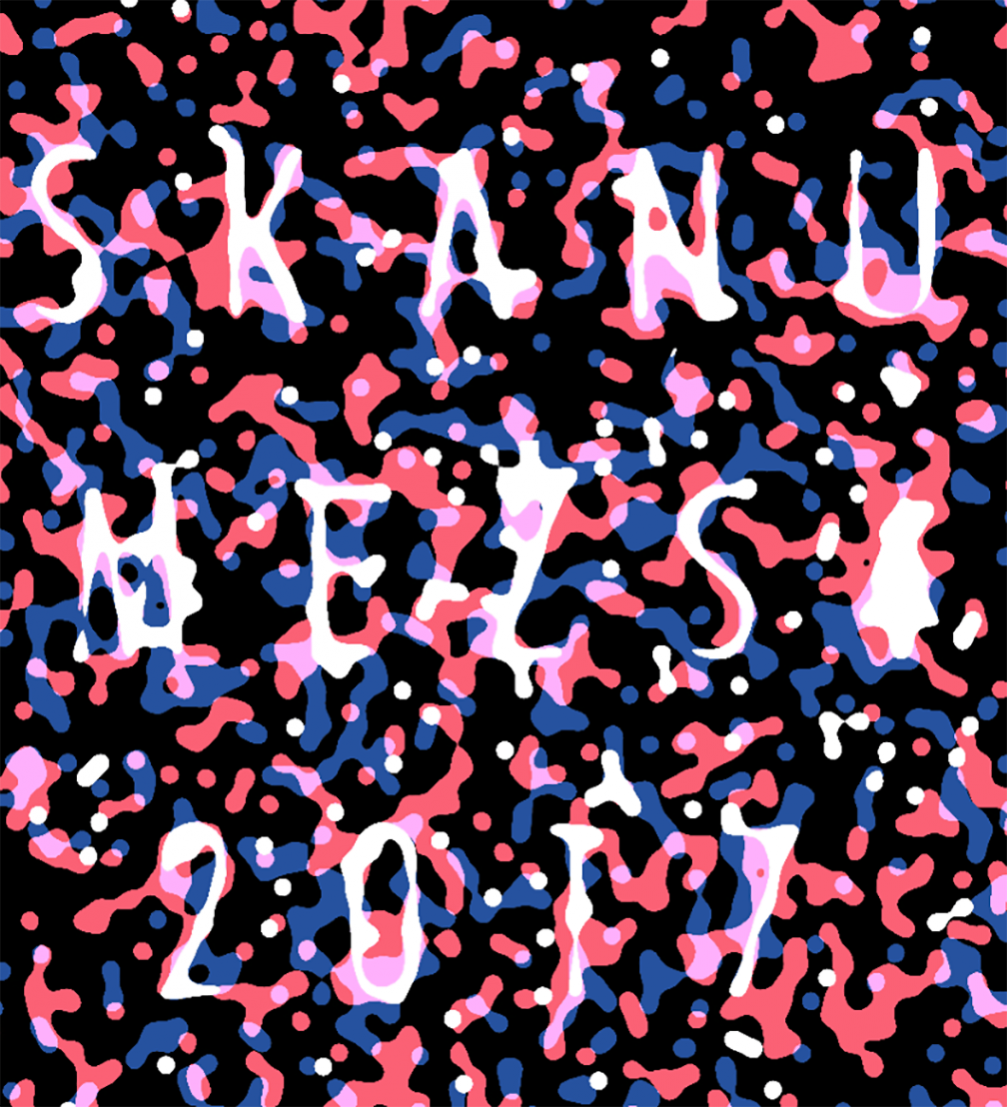 Visual identity of the festival by Zigmunds Lapsa and Simon François
In 2017, «Skaņu Mežs» festival marks its 15th anniversary. The festival will take place at the music house «Daile» on October 13 and 14 with an opening event on October 6 at the art museum Riga Bourse.
The «Skaņu Mežs» festival will be launched with a free–entry event at the art museum Riga Bourse, where experimental vocalist Sofia Jernberg will perform solo and contemporary music ensemble «Nordic Affect» will play works by Icelandic contemporary composers. The evening will also feature a special performance by «AMM», the British pioneers of «laminal improvised music» in their «classic» line–up.
After a lengthy break, noise music will return to the festival — on October 14, the legendary «Merzbow» will perform in duo with Hungarian drummer Balázs Pándi. The noise music part of «Skaņu Mežs» will also include a performance by Margaret Chardiet's power electronics project «Pharmakon».
Continuing the festival's recently launched exploration of forward–thinking hip–hop, «Skaņu Mežs» welcomes Seattle–based duo «Shabazz Palaces» to its stage. According to «Rolling Stone» magazine «Shabazz Palaces are responsible for some of the most strangely alluring hip–hop of the 2010s». This exploration will be continued by «Moor Mother» — the viscerally charged output of Philadelphia based interdisciplinary artist, Camae Ayewa.
Another festival's guest, James Dillon, is a Scottish composer who is often regarded as belonging to the New Complexity school and is known for particularly expressive works. A solo performance will be given by Roscoe Mitchell, renowned musician, composer, and innovator, who began his career in the spirited 1960s of Chicago, Illinois.
New works by Latvian composers Anna Ķirse and Rolands Kronlaks will be premiered — Kronlaks' work «Akusmātika» is a multi–channel piece of electronic music, while Ķirse's «Artifex Auditionis» is a composition for nine players.
Improvised string music will be performed by the duo of guitarist and educator Joe Morris and cellist Daniel Levin.
The rhythmic music programme of «Skaņu mežs» will consist of performances by Oliver Ho's dark techno project «Broken English Club», «footwork» innovator «Jlin» and dub techno legends «Porter Ricks».
The duo of harpist Mary Lattimore and guitarist/keyboard player Jeff Zeigler will take the stage right before the extreme noise performance of «Merzbow».
The SHAPE platform for innovative music and audiovisual art, co–founded by «Skaņu Mežs», will be represented by Lancaster pianist Stephen Grew, Latvian beatmaker «Oriole», who will play an audio–visual show in collaboration with artist Linda Konone, and «Machine Woman».
Local acts, playing at the festival, also include industrial music project «STROPS» and Agata Meļņikova's ambient music project «Sign Libra».
Workshops by Joe Morris, Roscoe Mitchell and James Dillon will be conducted at the Jāzeps Vītols Latvian Academy of Music.
More information is available on the festival's homepage. The tickets can be purchased at «Biļešu Serviss» box offices and online.