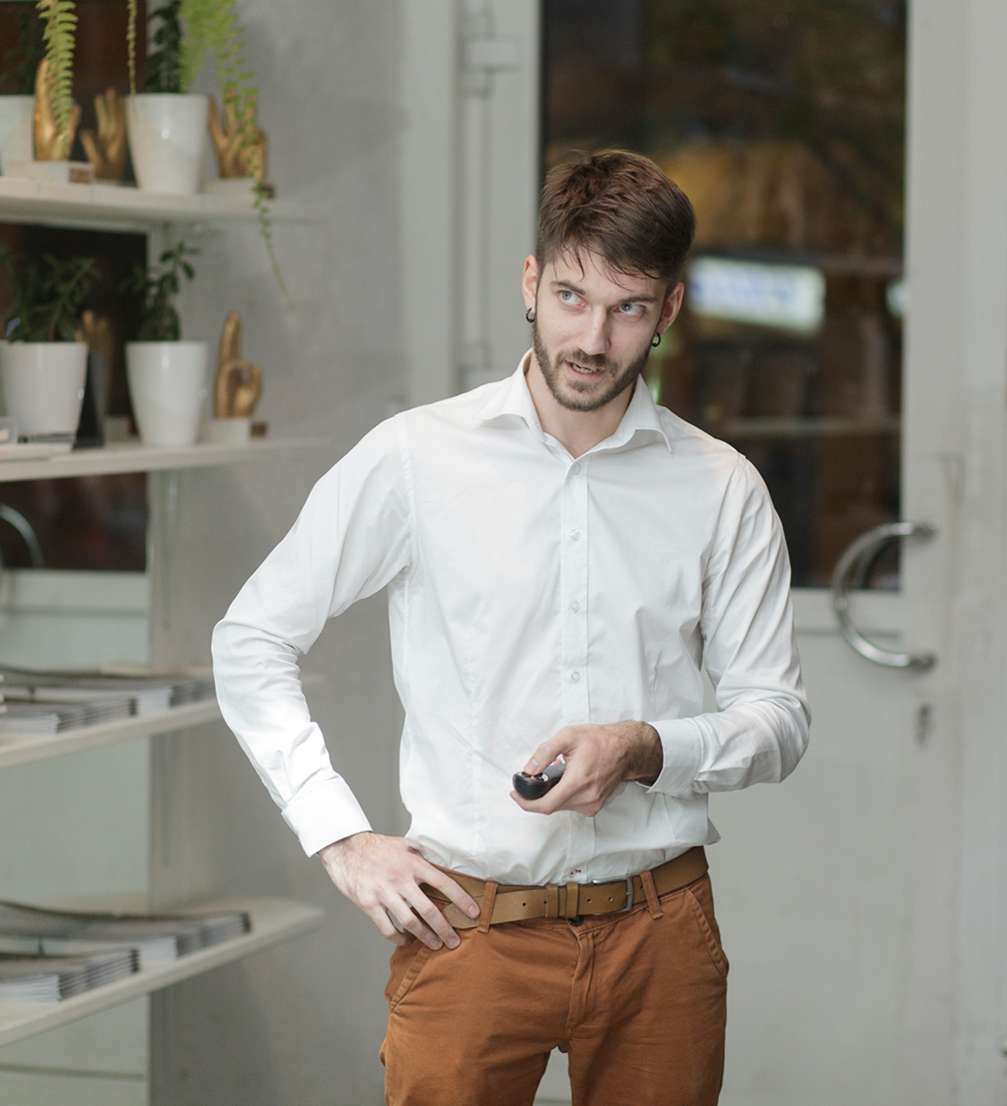 Kaspars Jursons. Photo by Andrejs Strokins
At last night's event «Unfolded» Nº6 it was determined who will represent Latvia in the international creative industries competition Creative Business Cup. The jury decided that the most convincing product and its presentation was the urinal «STAND» by the designer Kaspars Jursons.
Four contestants competed for a place in the international Creative Business Cup finals: fashion designers «Mareunrol's» with a new leather accessories line, «Design Catering» studio with a street gymnastics system «Gymnasium», design studio «Mājo» with a wickerwork lamp series and designer Kaspars Jursons with a 2–in–1 urinal «Stand».
The presentations were judged on their compliance with a number of criteria: uniqueness of the product or service, ways and costs of production, sales channels, market and customers, planned marketing activities, expected revenue streams, experience and knowledge of the project team, business partners and other factors. It was also crucial to test the presentation skills of the contestants — logic of narration, flow of language, quality of the slides, making of contact with the public.
The jury was:
Simon Drewsen Holmberg, director of Danish Cultural Institute in Latvia,
Imants Gross, director of Nordic Council of Ministers Office in Latvia,
Signe Adamoviča, head of Creative Industries Division at the Ministry of Culture of Latvia,
Mārtiņš Krūtainis, director of finance consultancy «Superia» in Latvia and member of SSE Riga Mentor club,
Agnese Hermane, head of Culture Management and Creative Industries Program at the Latvian Academy of Culture,
Māra Ābele, partner of architects' office «Jaunromāns un Ābele»,
Edgars Zvirgzdiņš, head of graphic design studio «Associates, Partners et Sons», member of FOLD.
The jury noted that Kaspars Jursons's presentation complied with most of the evaluation criteria, besides the designer managed to make a natural connection to the public during his talk. The fact that the product is already in production and has been tested in use, was also an advantage. Kaspars Jursons will soon travel to Copenhagen to take part in the international Creative Business Cup finals, which take place on November 18–20. The trip to Copenhagen is provided by the Danish Cultural Institute.
Kaspars Jursons's presentation received appreciation from the audience as well, but winner of the public vote was designer Rihards Funts with the gymnastics system «Gymnasium».