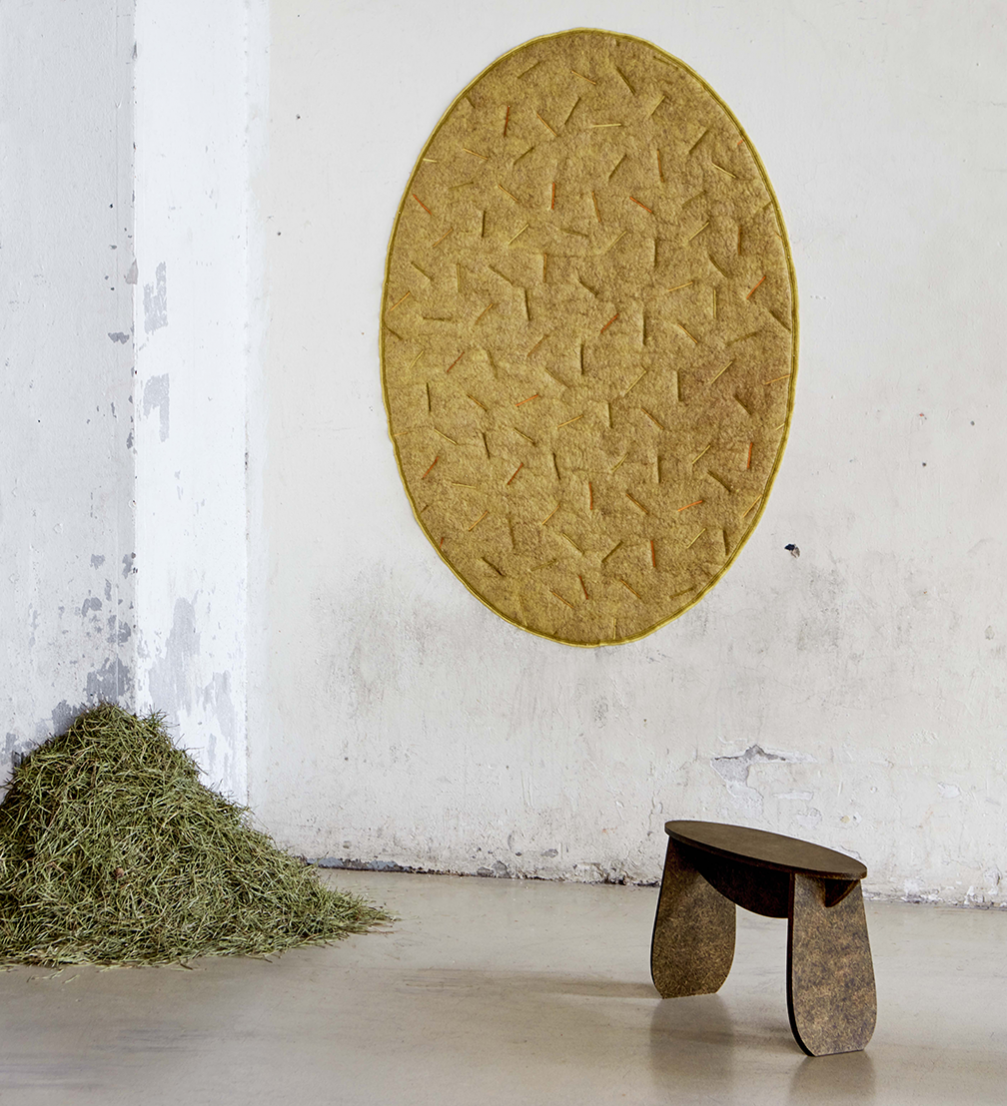 Photo by Ronald Smits, Design Academy Eindhoven
Graduating with honours from the Department «Man and Well–Being» at the Eindhoven Design Academy, young designer Tamara Orjola has created interior objects, made from an unusual material — pine needles' «wool», invented and developed by the author herself. This project was awarded as the best of Dutch Design Week in the end of October 2016, thus gaining recognition in the media.
Pine trees are the world's main source of timber. Every year, 600 million pine trees are felled in the European Union alone. But there is more to the tree than just wood — pine needles account for 20 to 30 percent of its mass. These facts prompted designer Tamara Orjola to further investigate the possibilities of the potential use of the billions of needles so that this enormous amount wouldn't end up in waste. After more than a year­–long research and experiments Orjola found them to be a great alternative for all kinds of fibres. With standard manufacturing techniques — crushing, soaking, steaming, carding, binding and pressing — pine needles can be transformed into textiles, composites and paper, extracting essential oil and dye in the process.
To show some of these features to public, Orjola created «Forest Wool», a series of stools and carpets made of nothing but pine needles, which together with works by other graduates of the Eindhoven Design Academy were exhibited during the Dutch Design Week. The project proved that this ecological material has a high–quality look and feel to it.
For the second year in a row, the most surprising project or the most impressive presentation was awarded with the «Best of Dutch Design Week» prize. From October 22 to 30 a panel of seven designers and visitors compiled a shortlist of 16 projects. At the end, designers Maarten Baas and Bas Van Abel awarded the prize to «Forest Wool» by Tamara Orjola out of these highlighted projects. She received 2500 euros and a guaranteed presentation venue during the next edition of Dutch Design Week.
Before Eindhoven Design Academy, Tamara studied in Riga, first in the wood and furniture design programme at the Riga Secondary School of Art and Design, later at the Department of Environmental Design at the Art Academy of Latvia. Currently, Orjola works at the design studio «Studioilse» in London and, as stated in the interview with «Dezeen», she is looking for a partner to further develop the pine needle material and expand the manufacturing process on industrial scale.