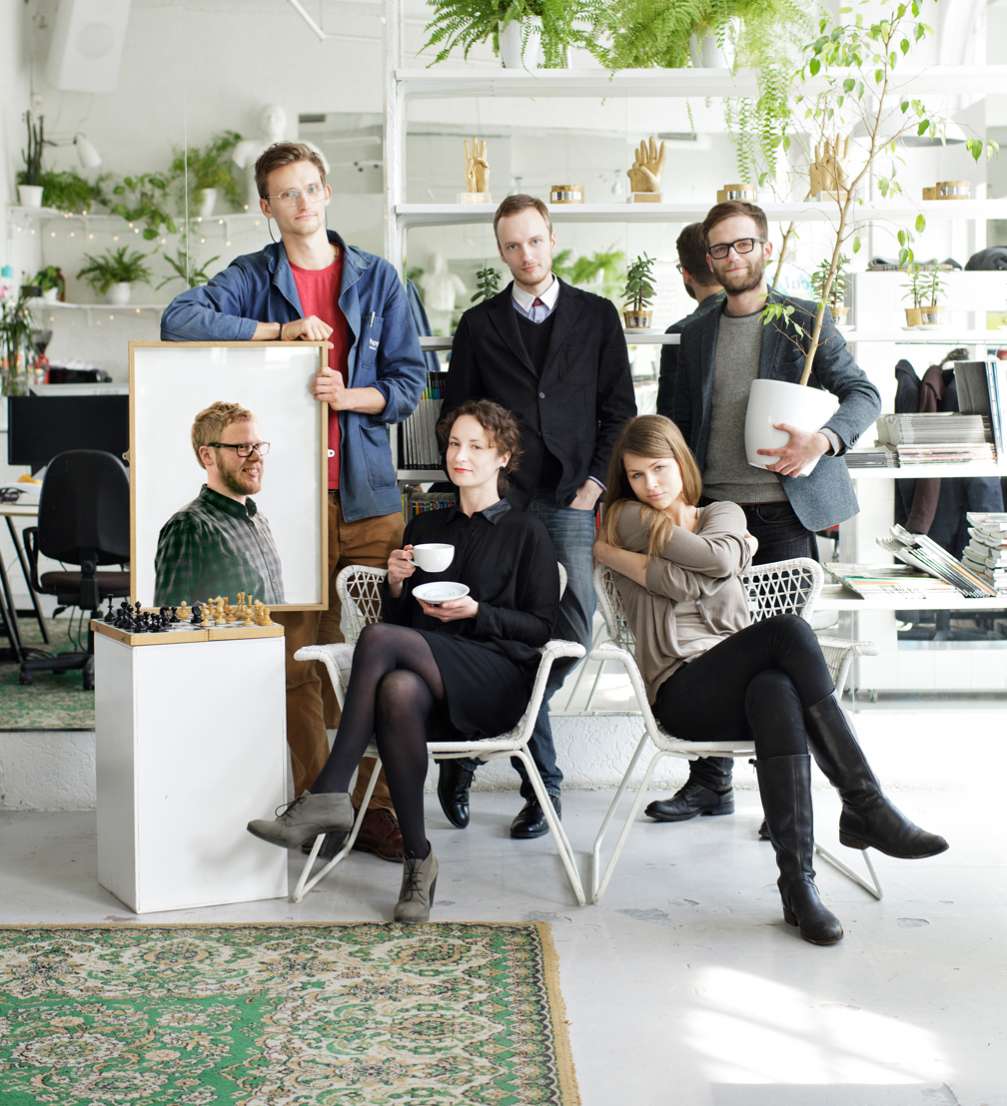 Fold komanda — Sandijs Ruļuks, Miķelis Baštiks, Evelīna Ozola, Edgars Zvirgzdiņš, Ilze Peipiņa, Toms Kokins. Foto — Andrejs Strokins
Today, on the 2nd of May, the English version of platform for creative industries FOLD is launched. We are delighted to meet you, make yourself at home!
FOLD brings forward the best in Latvian and foreign creative industries and gives an opportunity to learn news, get to the core of processes, acquire new knowledge, and collaborate. FOLD focuses on design and design thinking, because we believe this is where creativity meets rationality to form a new productive force.
Formation
FOLD is born out of a merger of previously existing blogs — «Plikums» and «DesignBlog», both created in 2009, which gathered news on the interesting in Latvian design, and a slightly younger «Fine Young Urbanists», which wrote about urban planning and design. At the end of 2012, the joined team took part in and won a competition by the Ministry of Culture of the Republic of Latvia to create a communication platform for Latvian creative industries. The funding provided us with the needed springboard to become a powerful online medium.
The creation of FOLD marks a completely new approach to the implementation of nation-wide projects, where the Ministry of Culture acknowledges its trust and grants budget funding for small, self-initiated social projects that have proven themselves in a course of several years.
Team
FOLD is Evelīna Ozola, an architect and urbanist, Miķelis Baštiks, a graphic designer, lawyer Ilze Peipiņa, Sandijs Ruļuks, an interactive and digital solution and graphic designer, Toms Kokins, an architect and urbanist, and graphic designer Edgars Zvirgzdiņš. FOLD collaborates with contributing authors, theoreticians and professionals in creative industries to broaden its thematic spectrum.
Forum
FOLD is an acronym for «Forum of Latvian Design». «Forum» is a word that means both a public gathering space and a medium that facilitates a flow of information and discussion. «Fold» means not only to change shape, a process used in design, but also a group or a community with common values and ambitions.
Content
At the moment, FOLD contains highlights of creative processes, in-depth articles, interviews and documentary shorts about creative people, and a calendar of upcoming events. In the coming months, we will update it with new sections that will help you navigate Latvian creative enterprise environment, offer and find jobs and partners. FOLD will speak both in Latvian and in English, with fresh content appearing regularly. «Plikums», «DesignBlog» and «Fine Young Urbanists» are going to be maintained as an online archive of our previous publications.
Meeting place
Virtual or actual, FOLD is a place where people from different creative backgrounds meet. Online relationships are important, but when meeting in private, communication works on a completely different level — with time, a sense of affiliation and common values are formed. This is why, even before the launching of the online medium, we began a series of events called «Unfolded», with two meetings already held — Sandijs Ruļuks' lecture, and a drawing masterclass by the illustrator Reinis Pētersons. «Unfolded» N°3 is soon to come.
Openness
In the beginning of this year, when we started to develop FOLD, «Pērle», the meeting spot for Riga's creative intellectuals, was approaching the end of its mission. For more than three years serving as a platform for bringing together people and events, «Pērle» was able to change ways of how we perceive and inhabit urban space. That is why FOLD were glad to take over «Pērle's» premises, which we currently share with several creative businesses, thus exchanging skills and knowledge. Our work process is public and transparent in the very sense of the word — FOLD is located on the ground floor, with large windows. If you wish to introduce yourself or show us your creative work, come visit!