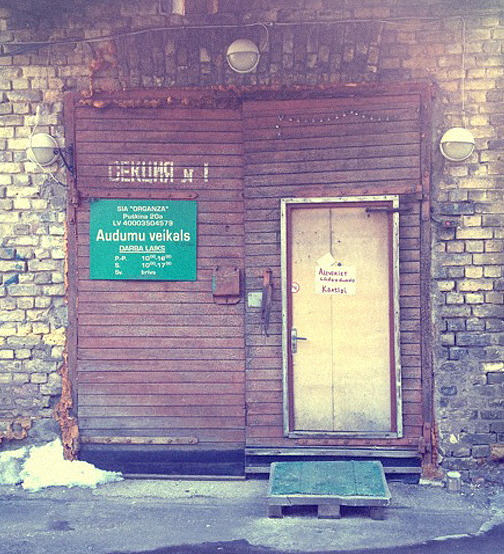 Ieeja audumu veikalā Rīgā. Foto — Anita Irbe
Most start–up design labels run into similar problems in the first rounds of sourcing, production, and marketing. In a budding fashion industry, centralized advisory services can make a difference.
The design process often begins with a story, feeling, or idea an artist wants to express. Afterwards, there is hard work, management, and entrepreneurial bootstrapping. Each clothing label in the first stages of development is a micro–organization usually made up from a small and efficient team who are guiding their business from existence to survival — with a feeling of success looming around the corner. Initially, this team sources the fabrics themselves, makes the patterns, takes care of the rapid prototyping, organizes their marketing activities, and then finally approaches retailers and wholesalers through trade fairs, and endless phone calls.
Treasure hunt — sourcing
Newer labels, producing in smaller volumes have to be creative in keeping costs low when sourcing fabrics and trimmings. Regardless of the price point — luxury or contemporary —, a careful balance between price of materials and quality is necessary. The management team from the Latvian sample manufacturer «Modes Manufaktūra» can speak for both emerging and established labels. Krista Simkiņa, owner, explains that it takes time for brands to build reliable relationships with their suppliers: «There are two sides to the sourcing conundrum, at first extra costs are incurred because fabrics and trimmings are more expensive when purchased in small quantities. On the other hand, if a brand wants to take advantage of economies of scale, they have to work with the rules set by textile manufacturers. There are often high minimum orders, which exceed the budget of a growing label. Fortunately, there are many tipping points, either the brands can make large fabric orders because their stockists have made a commitment to the collection, or the fabric manufacturer is willing to work with a long term approach in mind.»
Alise Avota, marketing manager at the label«BlankBlank» explains that there are plenty of trade–offs during sourcing:
«The production team has to make sure it doesn't spend too much time searching for the right fabrics, because the treasure hunt also shows up on the bottom line. The optimal case includes good price, a quick process, and variety.»
 Making it to production
Sourcing is already a maze, but finding reliable manufacturers that are skilled in prototyping, and producing in small quantities, takes even more time, especially in the early phases of business. «BlankBlank», already in it's third collection, shared that it was a journey of trial and error until they found reliable small volume and prototype manufacturers.
There isn't just a challenge for individual brands, but also for the industry as a whole. Larger factories locally and abroad that are tried and tested, and have quality controls, are primarily interested in large orders. To avoid the burden of extra stock, new labels sub–contract from sewing studios, or hire individual talented seamstresses to complete their collections. These practices are a great solution to the immediate issues, but how does it play out for the fashion industry in the long run? What happens when skills, talent, and experience aren't centralized? We will get into more detail shortly.
Connect the dots — sales
The third obstacle for a budding industry and the players in it is sales and marketing. Getting into a local market is a considerable task. Once a label has gained the trust of their clients, there still remains untapped potential in overlapping markets, and the group of people that aren't completely convinced about Latvian design. Fortunately, over the past years we have strong support of our own emerging designers through the creation of Latvian–brand concept stores such as «Paviljons» and «Riija», both with their own flavour. We also have seen fantastic bloggers such as Agnese Kleina represent our brands in a favourable way here and abroad.
When it comes to expansion abroad, markets have different values and expectations, and different business practices. The managing director of «Retail Baltic», Zulfukar Tosun, emphasizes the importance of partnering with retail managers that understand the retail business environment in markets abroad: «To get into a new market, the brand itself, or its representatives, must speak the consumers' and the buyers' language. This can only be achieved by partnering with managers already active in those markets, and by packaging offers with such expertise that it naturally generates attention.»
Who has the roadmap?
All the labels that have achieved success within Latvia have already found their unique solutions to the challenges in sourcing, manufacturing, and distributing. But if we look at the industry as a whole, what solutions can be applied in a smaller economy? Let's return to the question asked earlier – what happens in a system without centralization? Without leadership, some version of the survival of the fittest model comes out to play. This leads to many doing it alone, finding support elsewhere, or setting up their business abroad. Support does not always imply financial help – businesses often require advisory services and mentoring opportunities. Great Britain sets an excellent example of advisory support programmes they offer their fashion and textile industry.
Support does not always imply financial help — businesses often require advisory services and mentoring opportunities.
British Fashion Councils Designer Fact File was developed as a guide for preparing and starting a designer business. To make this project happen the editors listened to designers and industry experts at different levels in their experience who were kind enough to share their advice and experience. Much time and money can be saved if brands that face similar problems in sourcing, manufacturing, and sales in their early phases of development avoid making same mistakes because of guidance through a centralized support system.
We have talented designers and management teams paving the roads for the future of fashion in Latvia. Communication and organization could lead to a speedy learning curve, quick turnover and overall economic growth within the industry. One thing to consider, an industry without centralized support is like trying to reach a destination without a roadmap.