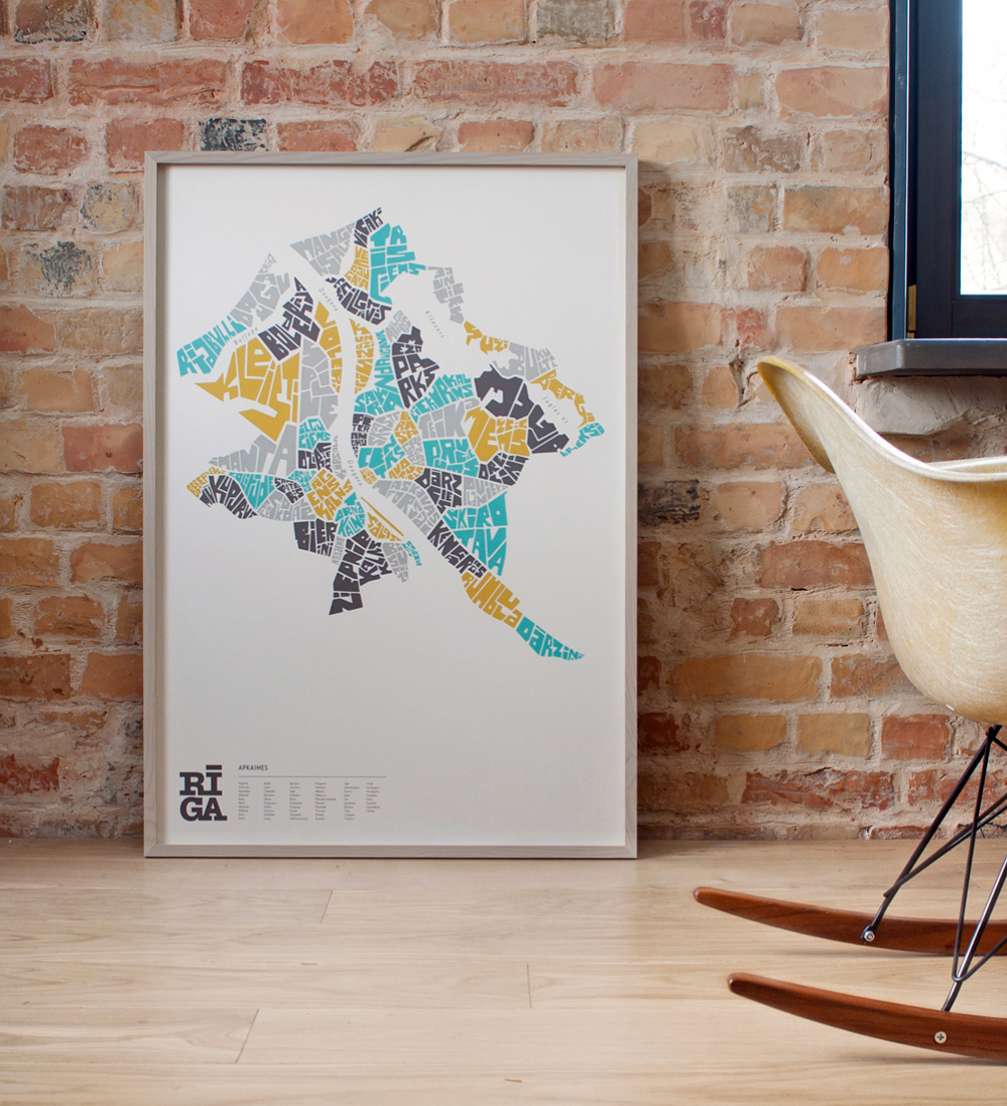 «The map is a statement of love not only to Riga, but to each of our city's 58 neighbourhoods. Every one of them has its special name, size, characteristics and form, but all together they shape the pattern of our city. It is comparable to how each one of us with our small contribution today makes what Riga is going to be tomorrow,» explains Jānis Barlo, developer of the brand «Miesai».
The website rigasapkaimes.lv shows a video that explains the map and the making of it. «Collaboration with Ansis Drāznieks was an irreplaceable gain, his personal sincerity and love for print adds extra value to the graphic. In the short clip the master of print reveals his attitude that relates to the values of our brand,» Jānis continues.
«Thick paints, uncoated ivory paper… There are people who notice that, and they are looking for the perfect match of materials and surfaces, the genuine result and fine feeling,» says Ansis Drāznieks. He has been gathering experience in print over 30 years. His clients are Latvian National Opera, Contemporary Art Centre «kim?», news agency «Reuters», and many others. The neighbourhood map of Riga is printed in 4 colours on specially selected «Munken Pure» 170 g/m2 paper. Size of the map — 69 x 99 cm.
The brand «Miesai», which is owned by the company «Asketic», previously gained popularity with the Riga t-shirts. The shirts triggered a whole movement and served as a proof that Riga's residents want to be proud of their city. The neighbourhood map of Riga is the next initiative of the same collective of authors. In the future the brand intends to develop various products that are going to help celebrate everyday and the environment we live, work and recreate in. A new website and product line that are going to mark the future development of the brand are expected in the beginning of June.
Konkurss
FOLD and «Miesai» offer a chance to win one of these 200 maps, print Nº99, to be precise . To take part in the competition, choose one of Riga's neighbourhoods and capture what you think is its most significant place. The choice of medium is free — it can be photo, video, text, graphics or anything else. Post a link to what you have created before 12.00 pm of Thursday, May 23 to your Twitter account with the hashtag #58apkaimes and the name of the portrayed neighbourhood. The winner is going to be chosen by us, FOLD team, and announced on Friday, May 24. Number of submissions is unlimited.