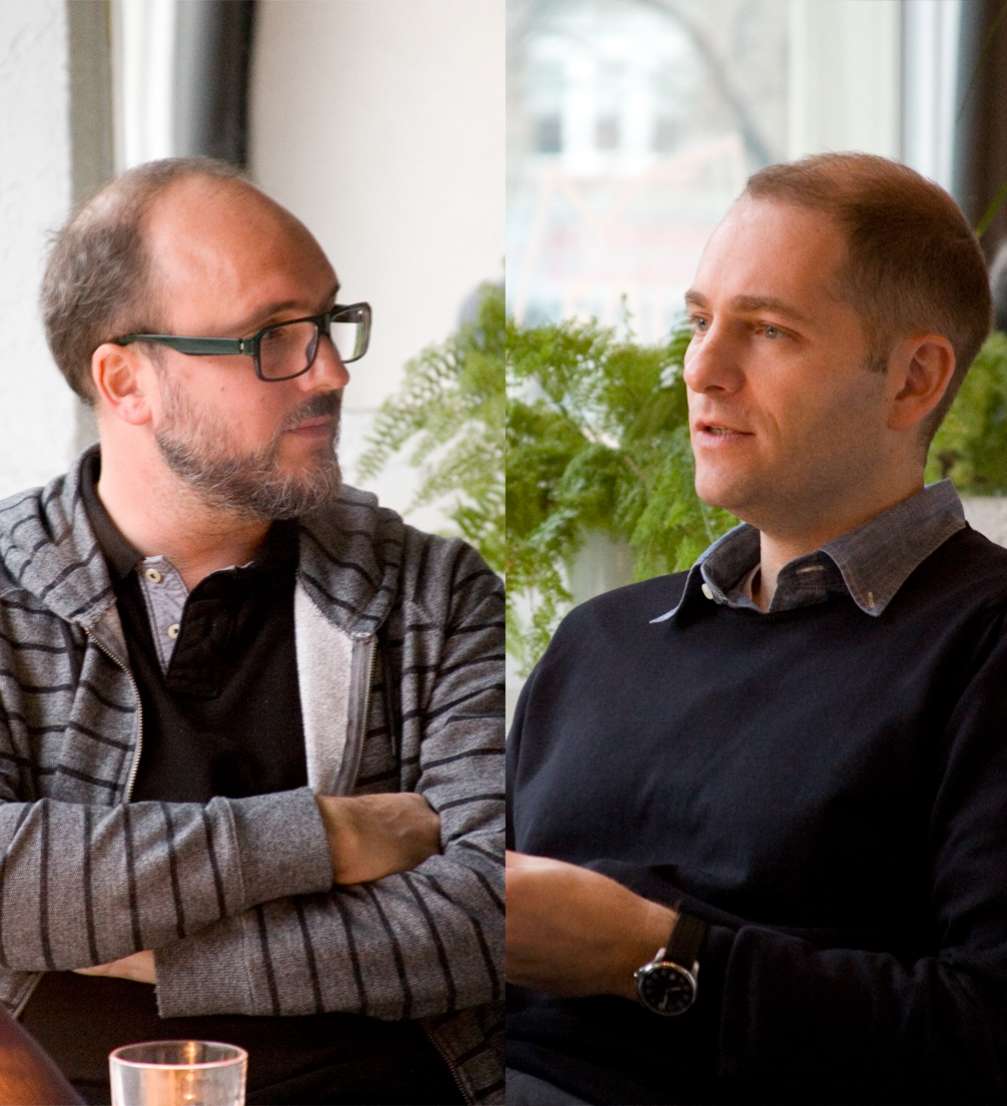 Joakim Borgström and Sergio Mugnaini. Photo — FOLD
Shortly after «ADwards» 2013 we invited head of the jury Sergio Mugnaini and member of the jury Joakim Borgström for a conversation with Zigurds Zaķis, one of the most experienced communication, advertising and marketing strategists in Latvia, and Edgars Zvirgzdiņš, graphic designer, who also took part in the judging this year.
Sergio Mugnaini currently is Creative Director at «Loducca» in São Paulo, having previously worked at «Ogilvy», «Almap BBDO», «Goodby Silverstein & Partners» and other significant agencies. Sergio's work at «Almap BBDO» helped the firm rise to the most awarded agency in the world in 2010 (according to «The Gunn Report») and «Cannes Lions Agency of the Year» for two years in a row. On his list of clients are «Red Bull», «Volkswagen», «Pepsi», «IBM», «Unilever», «Honda», «Havaianas» and «Greenpeace».
Recently «Business Insider» placed Joakim Borgström Nº8 among the 30 most creative people in mobile advertising in the world. Joakim has been working as Interactive Creative Director at «DoubleYou» in Barcelona and «Wieden+Kennedy» in Amsterdam on global campaigns for brands like «Coca–Cola», «Nike», «Audi», «Carlsberg», «Diesel», «Electrolux» and «Yahoo!». In 2008, Joakim dropped the «interactive» part of his job title to become a «normal» Creative Director and in 2011 he joined «Goodby Silverstein & Partners» in San Francisco.
Sergio and Joakim are both winners of numerous awards at international advertising festivals; both possess outstanding talent in digital and interactive advertising, and are good friends.
Brazilian improvisation
Zigurds:
— Sergio, you are the first ever head of «ADwards» jury from Brazil — one of the most creative countries in the world with a permanent position in the top six in advertising industry awards. Having a big market helps, but what are the other preconditions to the Brazilian success in communication?
Sergio:
— Improvisation is very Brazilian, embedded in our culture. We have great soccer players, but nobody takes classes in soccer. You just take the ball and start to improvise on the field. The same applies to advertising — sometimes we don't have big budgets, but we improvise.
Zigurds:
— How about Brazilian design? It seems that Brazil is discovering design through advertising.
Sergio:
— Brazilian design is not strong yet, advertising is much more developed. We tend to look too much around and copy things from other countries. We haven't discovered our roots, our identity yet.
Edgars:
— At the same time there's a strong tradition of illustration and street art in Brazil that has influenced advertising a lot.
Sergio:
— Let's separate the two things — product and graphic design. Brazilian product design is not there yet, but graphic design and illustration are coming along pretty well. We have a very nice naive way of expressing ideas in illustration, world famous local talents as «Os Gêmeos» and others. Some years ago the mayor of São Paulo forbade all outdoor advertising in the city [Lei Cidade Limpa, 2007]. Later he relaxed the law and allowed graffiti and street art in some areas. And what happened was that clients who wanted to advertise had to pay for art, try and express their concept through illustration and graffiti. Last year «Almap BBDO» came up with a really good series of ads for «GE» in São Paulo [The «GE Gallery»]. ­
The move to digital
Zigurds:
— You both have helped great classical agencies go through a successful transformation to become leading players in digital and interactive advertising as well. Can you comment on these changes in retrospective?
Joakim:
— When we started doing digital advertising, it was something new. It felt like being a gold digger. It was easy to do what nobody else had done before and win all the awards. At «Doubleyou» we were fighting against traditional agencies, moving away from TV and just doing digital and online ads. Ten years later that wasn't interesting anymore, because everything was online. I learned that it doesn't make much sense to separate different media.
You need to address the client's problem first, to think of the communication of the brand. Choice of the right medium comes afterwards.
Sergio:
—At «Loducca» we follow the main idea with whatever means, we don't separate different media — TV, social, press.
Joakim:
— You know why agencies divide media? Because clients have so many partners — digital, social, TV, strategy. That divides the budget, and the message becomes fragmented.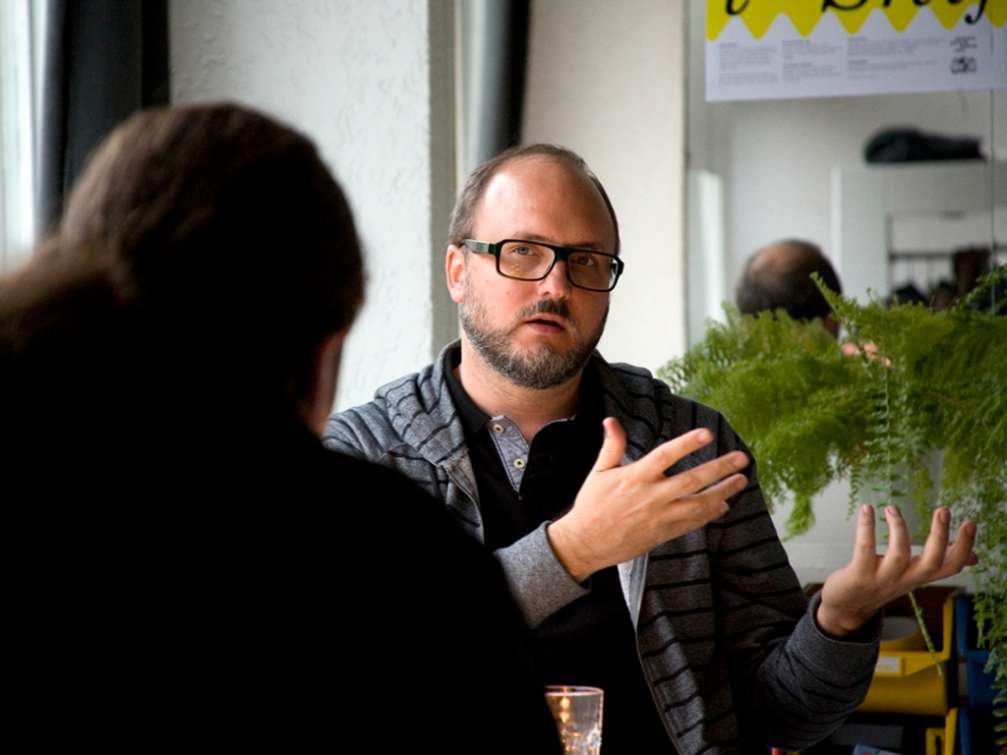 Management of talent
Zigurds:
— This leads to a practical question about organization of skills and knowledge in agencies. On the one hand, you need universal soldiers, but on the other hand, specialization is also required. How do you organize your teams?
Sergio:
— As a team leader I need to be aware of the possibilities, but I don't need to be able to retouch an image or code myself. I'm like a soccer coach — I can't enter the field, I need to manage from a distance, assigning different tasks to people.
Joakim:
— Traditional teams with separated roles still exist — where a copywriter thinks of the script and an art director takes care of the image. But we're changing that, working more as a group. It shows best when we work on pitches. We all sit in a room together — the planner, the account manager, the creatives, the interactive producer —, and we all put ideas on the wall. It is a very democratic process.
The best ideas come when you mix different skills together.
Edgars:
— Pairing of copywriters and art directors is very common in the UK, to the point that they even apply to jobs as a team. Whereas in Latvia often they don't even sit in the same room. Obviously, more innovation can take place if people of different backgrounds mix.
Sergio:
— Different people don't even have to be teamed up, it's just good to sit together. If the designers sit near to art directors, it may happen that the solutions include more design, instead of pure advertising.
Joakim:
— The advantage of the whole team sharing a space is that you don't have to set up meetings. It becomes much easier to talk to each other, that saves time.
Hunger for work
Zigurds:
— When you hire somebody new, what qualities are you looking for? How do you test young creatives?
Sergio:
— A great portfolio doesn't matter as much as the personality. I need to get to know the person, to see if we can get along, because I like to make mixed teams with people of different ages and backgrounds, making sure they complement each other.
Joakim:
— The amount of work you have done before doesn't matter to me. It's more important how hungry you are, how much you want to work. I normally show the applicants a little of what we do at the agency. If they understand and react to the way we work, then we're on the same wavelength.
Sergio:
I like young people that are like rockstars, those that are having pleasure instead of just doing good work.
Joakim:
— Another important thing is the willingness to learn and start over. Everything changes so quickly, and you constantly need to stay up to date. We don't know what the media landscape is going to look like in five years. Not everybody's interested to change.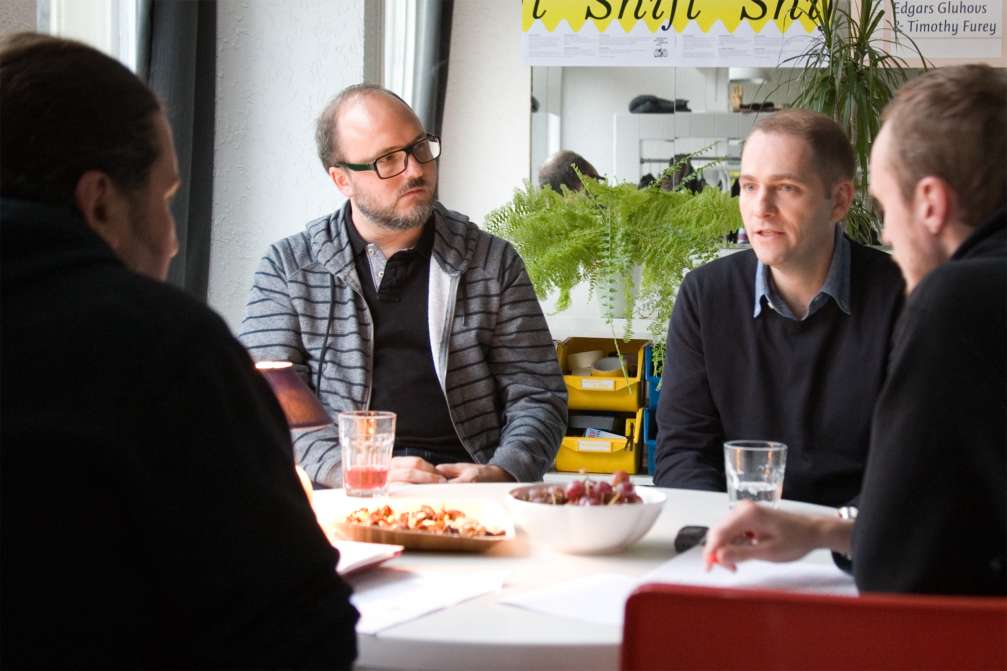 Leadership and respect
Edgars:
— What can a director do to keep up a creative climate in the agency?
Sergio:
— When you are the boss, you have to understand that your employees might have come to work there just because of you, so behave well and respect your team, be cooperative.
Joakim:
— To be respected you need to first listen and respect, second — give good feedback. Sometimes people in high positions dont give a proper reaction, they don't tell when they see something good. They just go: «Work harder, try again!» We work in a very subjective industry, where nothing is really wrong or right. As a leader, you need to help people understand why you think something does or doesn't work. It is bad if the team becomes scared of asking questions. The higher you get, the lower you can fall.
The smallness of Latvia
Zigurds:
— Let's talk about Latvia for a moment. Can you summarize what you've seen here during the «ADwards» week?
Sergio:
— For a creative it is amazing to go to places that are different. I noticed that publishing — magazines, books — is really good here. I could see care and craft, something we don't have in Brazil. Second of all, the connections here are amazing, in Riga you can easily reach half of the country. That is a huge opportunity for digital and social advertising, everyone is connected and has a mobile phone.
Joakim:
— While judging at «ADwards» I saw a lot of basic advertising — product here, title here, following the same formulas, not much new. But in this small market you could do really interesting things, if you apply a start–up mentality. Then we could come back and copy you.
Talking with other jury members it seemed to me that agencies in Latvia are struggling in production and that projects need to be delivered very quickly. In–house production is a norm here. Where I come from, we only do the thinking part, we never work with the people that actually do things. I miss the doing. You have it here, it's inherited, and that's what I really value.
Edgars:
— I think the budgets here dictate a lot – less money limits you to in–house creativity, or you try to build production in­–house. You want to keep it close to you in order to have control and spend less.
Joakim:
The downside of working with big budgets is having too many cooks in the kitchen. When budgets are smaller, there's less control and more space for innovation.
FOLD sincerely thanks LADC and Zigurds Zaķis for the interview.