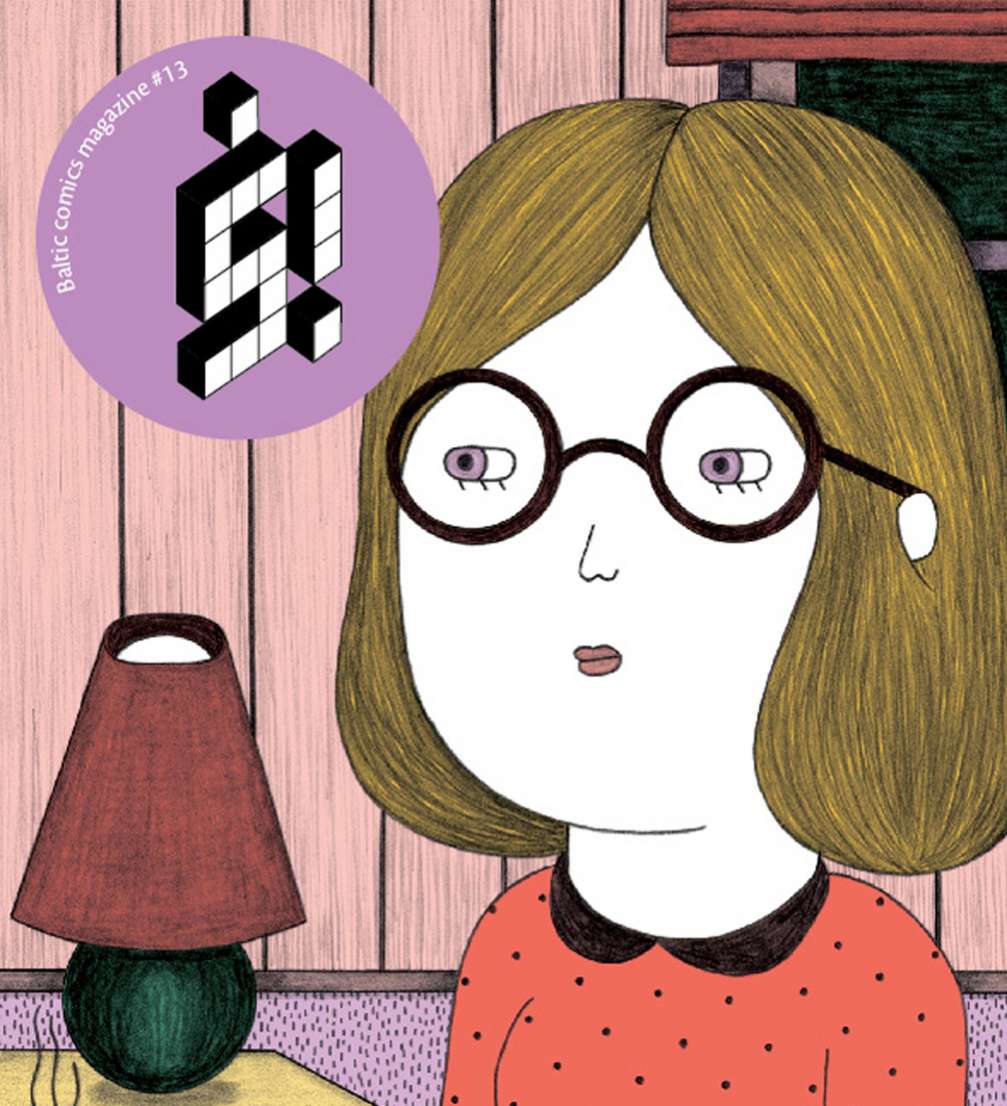 «š!» N°13 cover illustration — Ana Albero.
In the 13th issue of the miniature comic culture magazine «š!» artists from Latvia, the Baltics and elsewhere have created illustrations of autobiographical stories.
Twenty-six international cartoonists have contributed to the latest issue «Life is Live» of Baltic Comics Magazine «š!». Most of the published artists usually don't draw autobiographical strips, but accepted the challenge and interpreted the theme freely from different perspectives. Some of the stories are semi–autobiographical and others even autobio–fictional. «Life is Live» reveals colorful, weird and surprising stories about life — someone getting their leg prosthesis stolen, someone forgetting their pin code because of «Modern Talking», or drinking beer with temple knights…
Contributors
Ana Albero (Spain / Germany) Akvilė Misevičiūtė (Lithuania / Spain), Anete Melece (Latvia / Switzerland), Anna Vaivare (Latvia), Berliac (Argentina / Norway), Bianca Bagnarelli (Italy), Dace Sietiņa (Latvia / the Netherlands), Dogboy (UK), HTMLflowers (USA / Australia), Ian Andersen (USA), Inés Estrada (Mexico), Ingrīda Pičukāne (Latvia), Jonny Negron (Puerto Rico / USA), Julia Gfrörer (USA), Kārlis Vītols (Latvia), König Lü.Q. (Switzerland), Liisa Kivimäe (Estonia), Līva Āboltiņa (Latvia), Maciej Sieńczyk (Poland), Maija Līduma (Latvia), Marlene Krause (Germany), Oleg Tischenkov (Russia / Canada), Rūta Briede (Latvia), Sabīne Moore (Latvia), Simon Hanselmann (Australia), Thomas Wellmann (Germany).
«š!» N°13 «Life is Live» is supported by Latvian State Culture Capital Foundation. Available in stores «Lukabuka», «Muhamors», «Randoms», gallery «Istaba», design print studio «Telpa», Jānis Roze bookshops. Can be ordered online — shipping worldwide.