Liene Jākobsone — a toy that advances a child's feeling of calm and psychological development.
Liene Jākobsone's graduation project is a toy that advances a child's feeling of calm and psychological development. Its colours are not bright and it does not resemble an animal, but the rough textures of its surfaces pleasantly stimulate the skin and provide comfort, and the differently shaped parts train the fine motorics of fingers.
Skin is the largest and most important sensory organ of a man, besides, it is the first one to develop — much earlier than hearing and vision. Since the 20th century seventies tactile stimulation has been used as a therapy method for people with mental or physical disorders, autism, after a stroke and in palliative care. It has equally positive effects on a healthy person as well. Touch relieves pain and stress, strengthens immunity, improves stomach and intestinal performance, creates comfort.
Fine motorics means small movements and coordination of finger muscles. Fine motorics allows us to grasp small objects, write, flip pages of a book, button up or tie shoes. Development of motorics of the body is closely related to forming of speech, therefore especially important for children of pre–school age.

The toy is suitable for 3 month to 3 year old children. It is adaptable to the skills and needs at various development stages of a child. The toy engages both physically and emotionally — touch provides the necessary comfort at moments of stress, allows to use imagination and form a long–lasting mental contact with it. The toy is made of natural local materials and consists of several parts: a wooden «head», two «sausages» with different fillings, a crocheted «body» and two small blankets. The parts are added gradually, as the child grows. After reaching a certain age, shildren can combine all parts themselves, putting together and taking apart various creatures.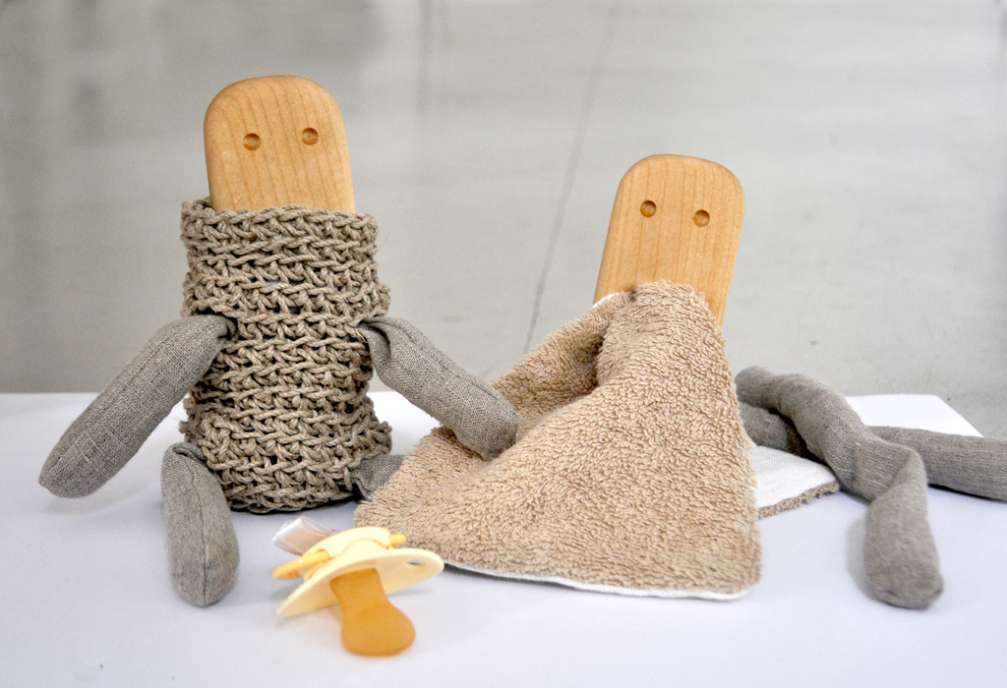 The wooden part or «head» can be used from 3 months of age. Its shape is fitted to the size of a baby's hand to ensure easy gripping. The hole in the piece of wood allows it to be tied to something, and for attaching other parts of the toy. The blankets can be attached to the wooden head and function as tactile stimulators. They have a practical function as well — to wipe the baby's mouth. There are two kinds of blankets — one is made of a double natural linen cloth, the other has two different sides — smooth linen and cotton terry cloth. There is a loop with a press–button as well — for fastening a soother.
«Sausages» are two longish fabric parts. One of them is filled with dried peas that make a lightly rattling sound, but the other — with buckwheat hulls that softly rustle. The fillings differ in weight and feel.
The crocheted string «body» is a small container for putting in and fastening together other parts of the toy, thereby creating a manlike creature. It can also be used separately — putting different object in and taking them out, which is a traditional way of developing coordination of movement and fine motorics for small children.
Design of the learning toy is Liene Jākobsone's master's degree project at the Art Academy of Latvia, and it was supervised by docent Ervins Pastors.