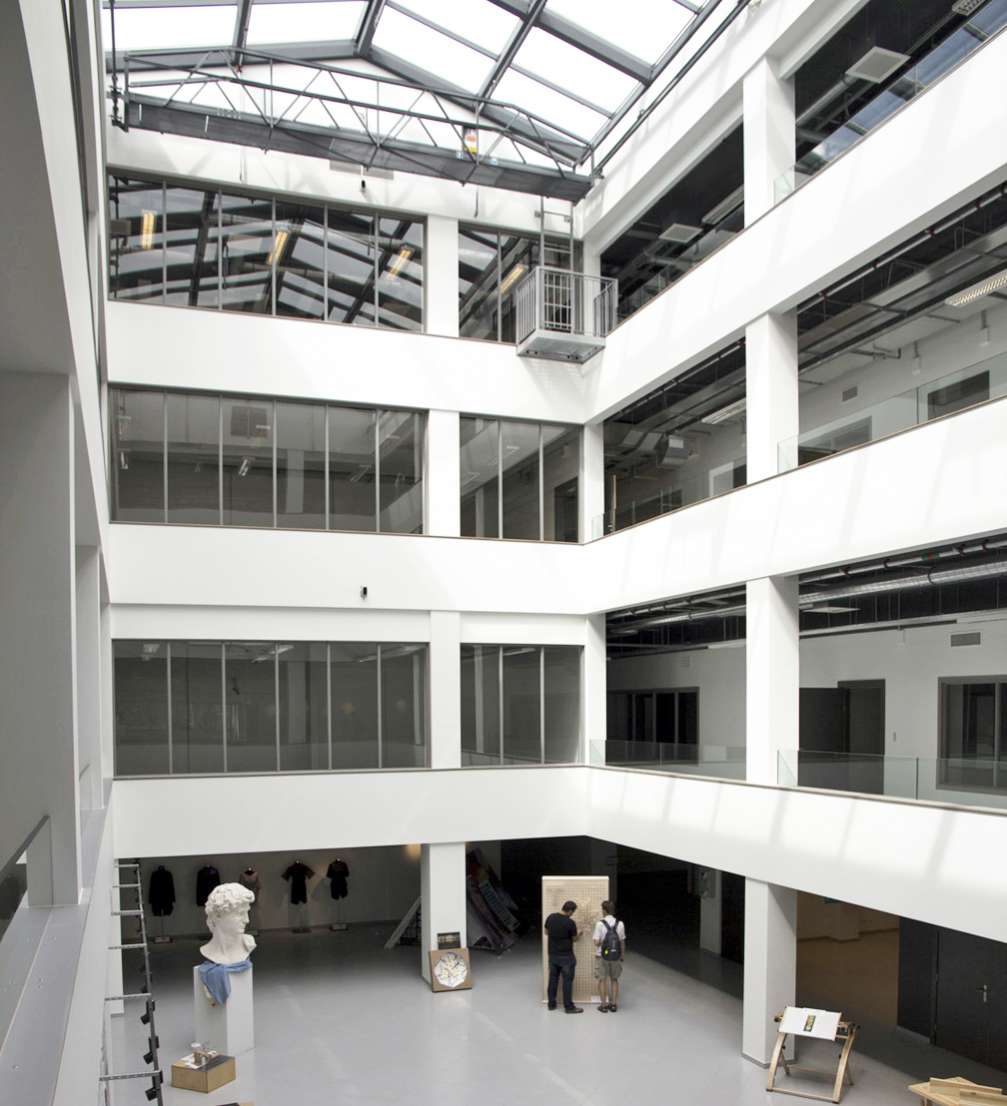 On Monday the new Creative industries centre of Riga Technical university was officially opened in Ķīpsala, Āzenes iela 18. The renovated building will accommodate Faculty of Architecture and Urban Planning, as well as Institute of Textile Materials Technologies and Design of the Faculty of Material Science and Applied Chemistry. The centre is going to open for students in autumn with the beginning of the academic year, but the Faculty of Architecture and Urban Planning is hosting a housewarming and reminiscing about the years gone by tonight.
The new building is expected to restructure the current format of studies — separate classrooms are replaced by large design studios, allowing students of different years and specialities to work closer together and maintain the same location for a longer time. Students of architecture and textile design already follow the same composition, drawing and painting programme. Future plans are to share other resources as well, for example, the wood workshop and exhibition spaces.
RTU Creative IndustriesCcentre is the first renovated building within the university's campus project «RTU — City within a city». Ambition of the project is to create the most progressive centre of engineering sciences in the Baltics — a campus that would accommodate all RTU faculties, administrative buildings and the Scientific library. The project aims to provide a more effective improvement of study programmes, modernization of spaces and equipment, and new educational programmes for people with disabilities. The Creative Industries Centre is the most contemporary and versatile RTU building to date. The building provides not only laboratories, spaces for design and research, but also possibilities to hold exhibitions, fashion shows and other events of the respective disciplines. It is planned to equip the Centre with state of the art multimedia technologies. The building is designed by «Valeinis un Stepe» architecture office.
RTU Faculty of Architecture and Urban Planning invites its students and alumni tonight, on June 13 at 19.00 to an informal gathering to explore the new premises and to say goodbye to the old drawing studios, lecture rooms and the dean's office.