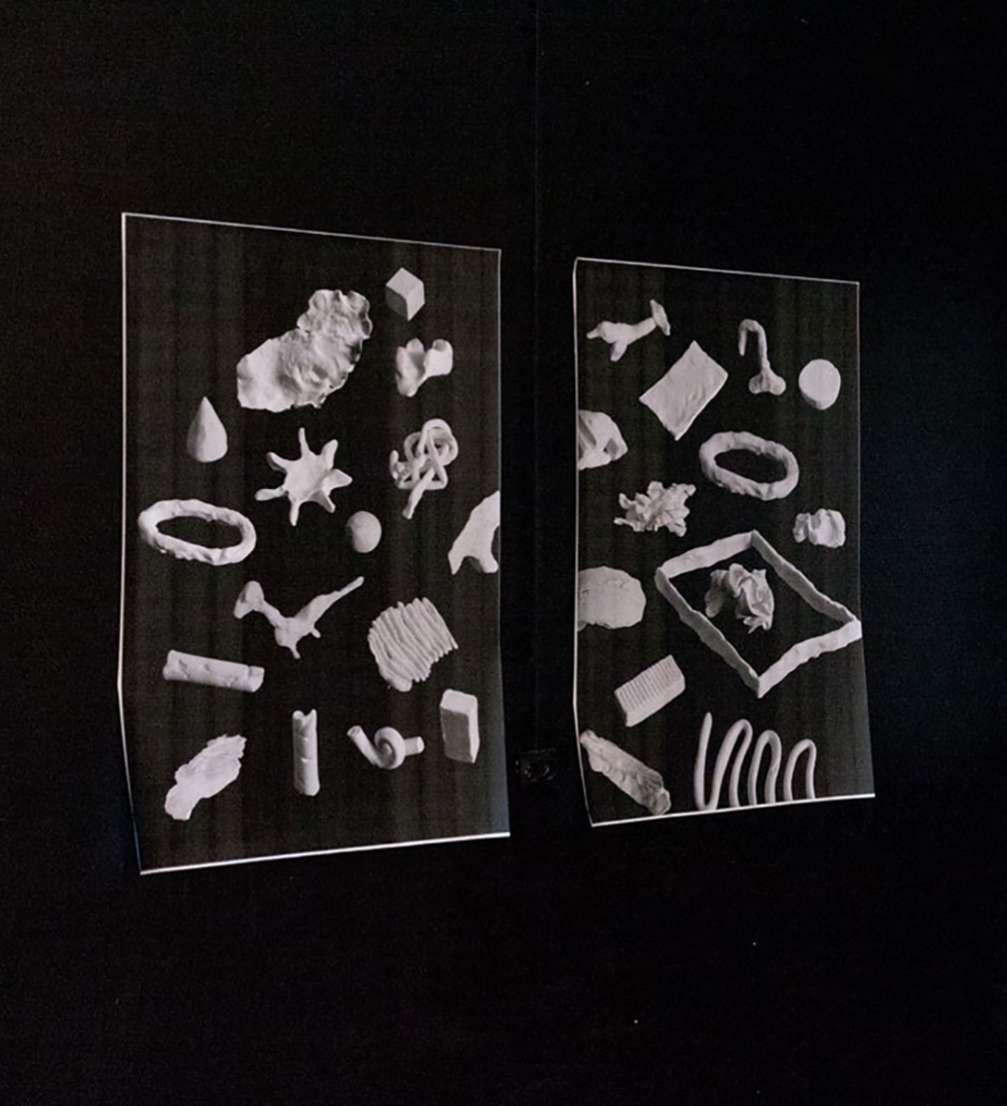 Souvenir visualisations, Talsinki workshop. Photo by «Asterisk»
Watching fall turn into winter, this is a piece about an event that took place in summer — the «Asterisk» summer school in Tallinn. It completes a kind of circle, because it was in FOLD that I first learned about it.
«Asterisk» was born in 2009 as a small independent bookshop with an aim for supporting the students, graduates, and tutors of the Estonian Academy of Art by preparing and publishing their papers in small print–runs (more on this here). The people behind the idea are Estonians Elisabeth Klement and Laura Pappa, who both have graduated from the Estonian Academy of Art and Gerrit Rietveld Academy in the Netherlands. Gradually, they achieved what was intended — a wider audience was introduced to new approaches to publishing and design, and a close circle of participants was created. The creators of «Asterisk» wanted to further develop and establish a new platform for the international movement and debate on the versatility of design, so the first summer school was organized.
Thirty–four applicants were enrolled, most of which were students from the graphic design department of the Estonian Academy of Art. The rest were various professionals from Finland, Germany, Great Britain, Switzerland, Belgium, Italy, and also Lithuania. Some participants were already studying in different countries — the mentioned Gerrit Rietweld Academy in Amsterdam, Central Saint Martins in London, and others. It provided the students with in–depth, first–hand information about these establishments better than the information found on the internet. If planning to go abroad for studies, this is another reason why it could be useful to participate in such summer schools.
The «Asterisk» took place in the old town, in the Sleeping Beauty castle (seriously), which was convenient mainly for two reasons — majority of the objects we visited, as well as our accommodation, were located in close proximity.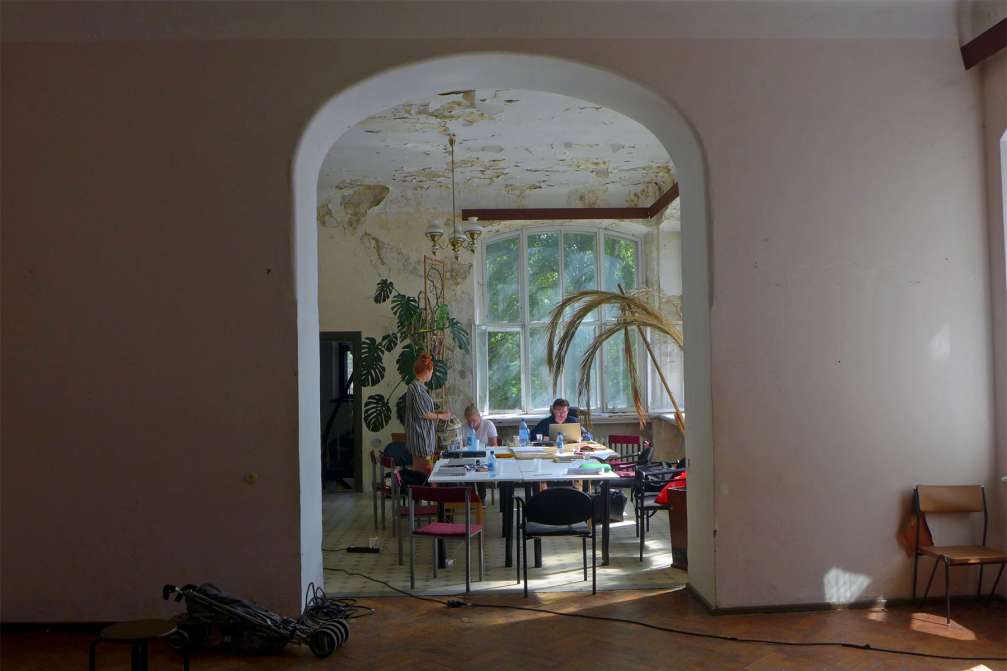 The main principle of the summer school was that the participants could choose between two simultaneously happening workshops, and four days, from 9.30 am until 4.30 pm (although usually longer), were spent working in small groups or individually, depending on the initial concept. After the workshops, there were final presentations.
The first workshop: Talsinki
The word «Talsinki» was coined by Estonian writer Jaan Kaplinski in early 90s, meaning an economic and cultural space that began to develop between Tallinn and Helsinki. The term is also used in relation to an old idea to build a tunnel connecting both cities and a proposition by an Estonian architect Martti Kalliala to create an artificial island from the construction leftovers.
The task of the workshop was to come up with an idea for the island — how it could look, and what its social, economic and political meaning could be in the context of the two cities. We split into groups of three and went to the harbour to research visual materials and other factors, because it is where the busiest traffic between the two cities can be observed. After that, we started group work with free discussions, writing down ideas that we could develop later; we individually carried out research of given topics, and selected materials for further discussion, hence gradually narrowing down to an acceptable version. What I appreciated the most in the process was someone's ability to lift someone else's idea to a different level by looking at it from a different perspective. We also made a small prototype, which was a necessary break from the all–consuming theoretical work. Occasionally, the groups were joined by the workshop leader, a Swiss Urs Lehni, who guided the ongoing process or helped solve situations where members of one group had different opinions on the development of an idea.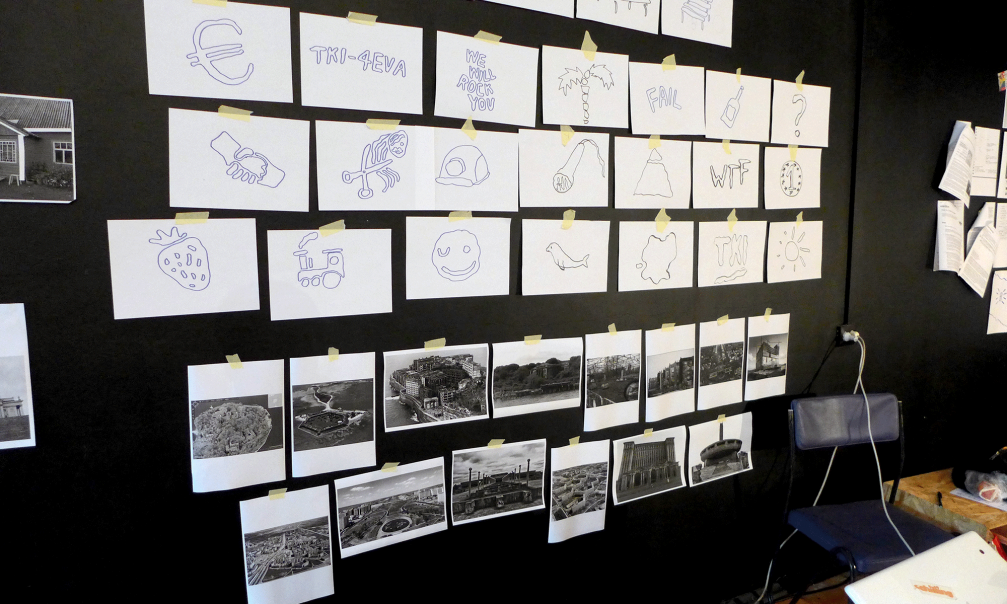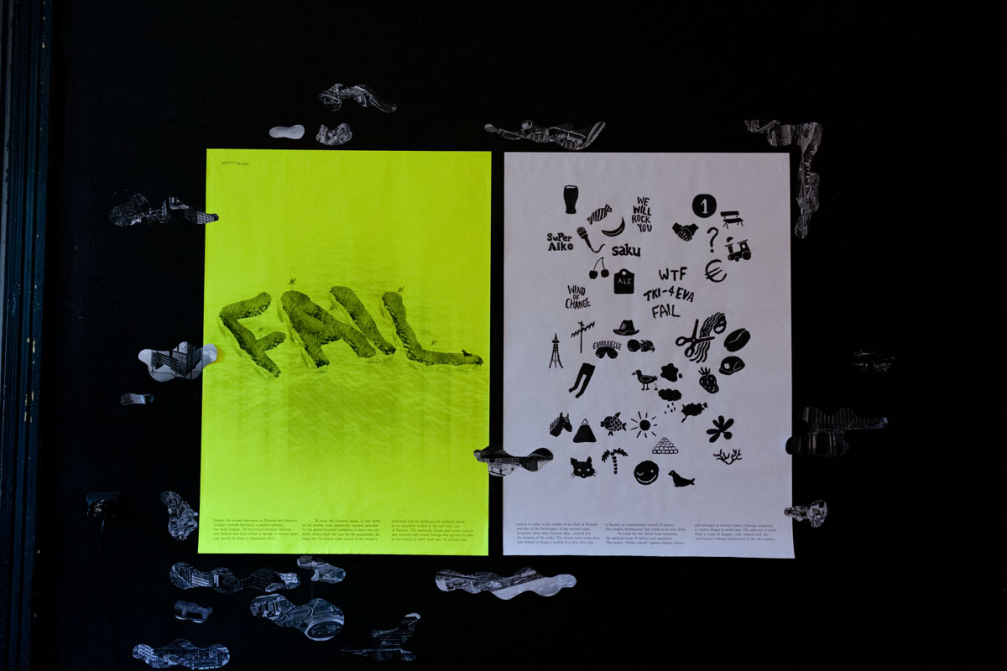 No one noticed how the day of the presentations came. We needed to prepare posters that would reflect each group's ideas. Solutions were very different — from pragmatic to ones full of poetics and humour. For example, one group had an idea based on the similarities of Estonian and Finnish languages, which could be used to create a newspaper fashioned in Dadaist aesthetics, and that peoplee in each city would read it in their own way. Another idea didn't even include building of the actual island, offering instead souvenirs made out of materials left from the building process, and a legend about an island where this object had come from, thus allowing everyone to imagine for themselves what this island could be like.
Added value from the presentations: ideas and their justification, so that everyone else could understand why the particular solution was chosen — a useful skill in everyday life.
The second workshop: Mirrors
Thematically, a mirror could be studied not just as a physical object but also as a symbol. With my partner, we soon realized we are both interested in self–reflection, and that it fits the topic well. We decided that for the next few days we will only talk to each other, looking for what is common for us, and then later understand how to present it. In terms of the process, it was completely different from the previous workshop, which was based on the research of a foreign material, while here the material was us. The topics of the conversations varied from counting everyday objects and activities to relationships, favourite childhood comics and gender equality. It is easy to open up to a stranger, because you know that, in a few days' time, you'll be going home and will possibly never see the person again. It was a valuable experience, because when you reveal seemingly personal things, they can lose their importance — in a good sense, because it can turn out that they limit rather than help improve.
We presented the work by standing in front of each other and reading alternating sentences from a sheet filled out on both sides, which we held between us. Each sentence implied something mutual for us, only later letting the audience understand that what was being said related to each of us.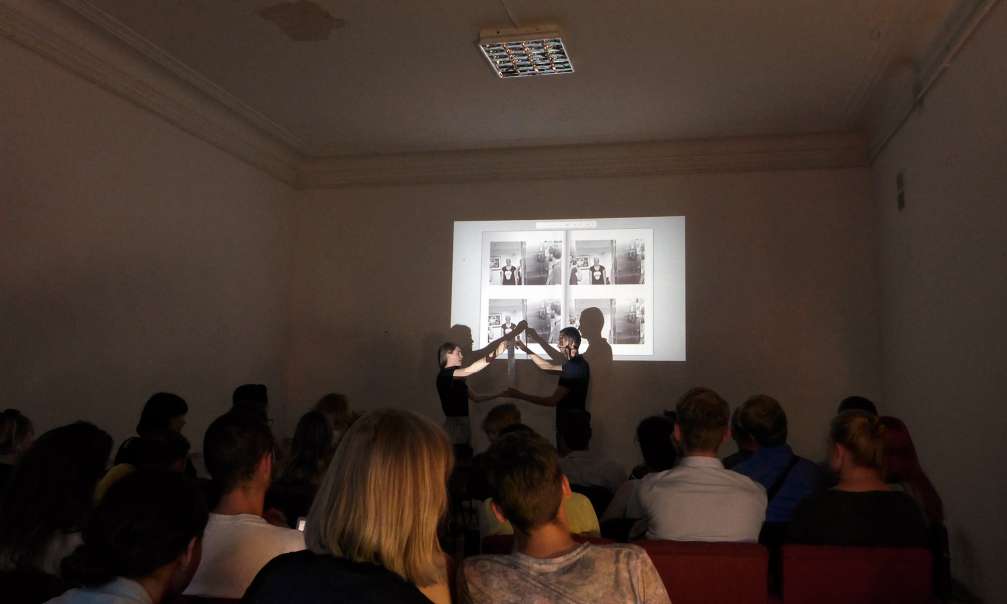 Other activities
Extracurricular activities were managed really well—– there were lectures, visits to KUMU, Estonian Contemporary Art Centre, Linnahall, which is now closed for the general public, as well as to places less known to tourists.
A thing to remember was a lecture–conversation where two tutors — Rebecca Stephany and some local artist — each showed and told about their work, asked questions and commented on the other's work. Such a format can be more exciting than a one–person performance. Urs Lehni's lecture about a self–initiated «Rollo Press» project — a small–format publisher for yourself and your friends — was also interesting.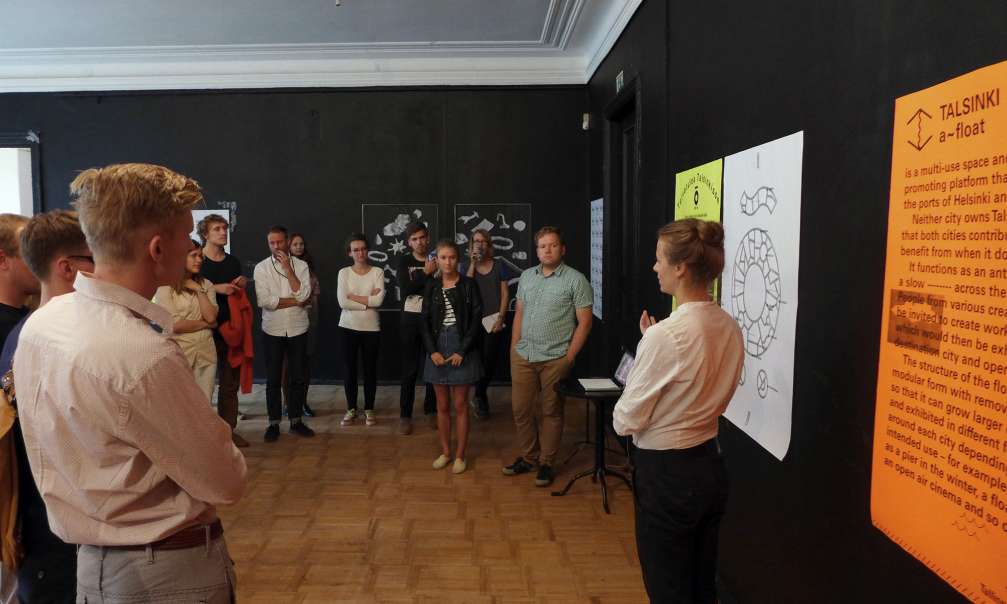 Conclusion
I have understood that it's impossible to avoid your expectations. Spontaneous models appear suddenly in your mind, and the only thing that could be done is to remind yourself that it is an object that could have nothing to do with reality. This occasion wasn't an exception, while what was exceptional was that the event turned out to be better than expected. If the summer school takes place next year, I would encourage people to apply, keep fingers crossed, get in and experience everything for yourself. «Asterisk» provided me with a chance to take a look outside the box and understand how easy it is to accept a usual approach to a problem and how difficult it is to try to look at it from different perspectives that can allow for a greater result. One doesn't have to be talented for that, but indeed motivated.