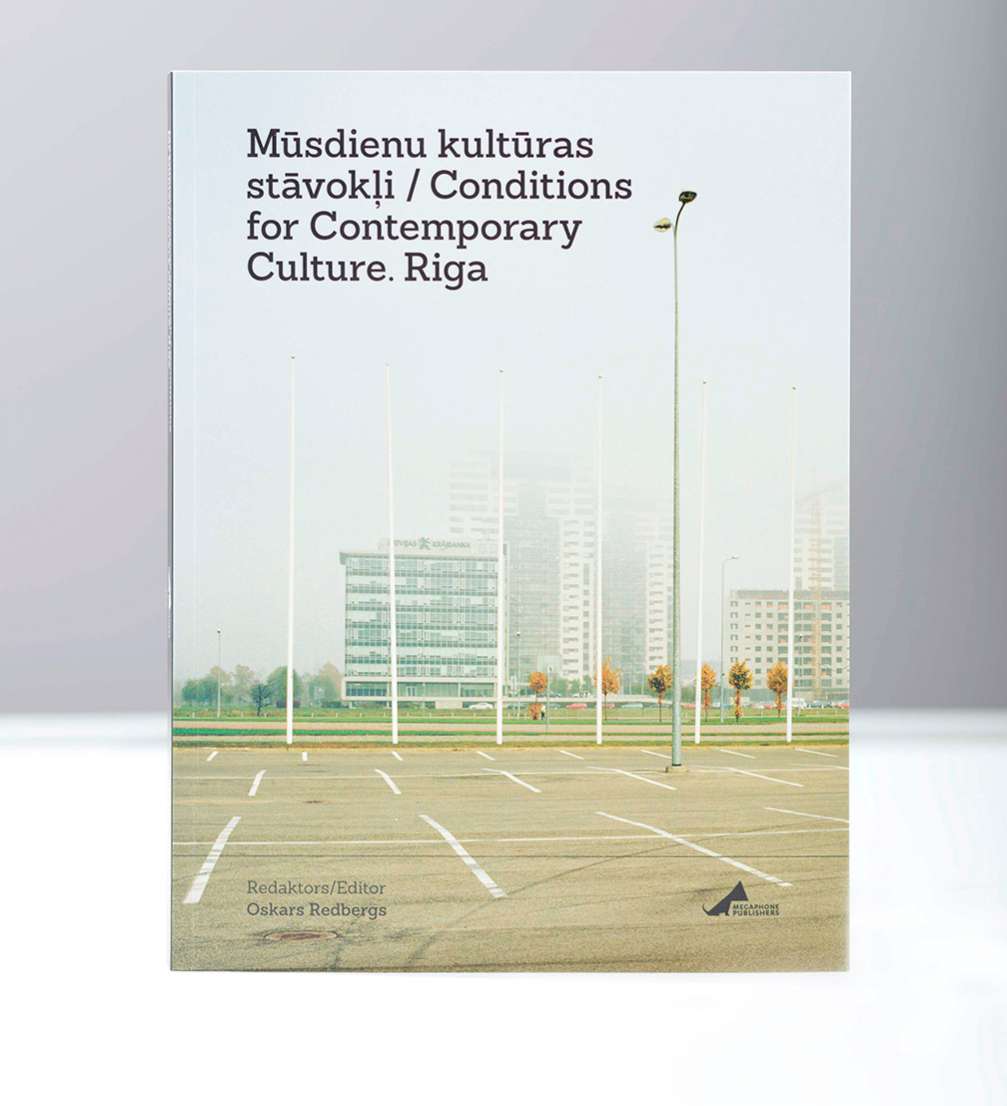 Photo of the book by Andrejs Strokins
The recently founded «Megaphone Publishers» have published a bilingual book of essays «Mūsdienu kultūras stāvokļi / Conditions for Contemporary culture. Riga.», which has brought together 20 Northern European authors and 4 photographers.
Stories Editorial December 20, 2013
The book «Conditions for Contemporary Culture. Riga» tries to identify and analyse the conditions underlying the development of contemporary culture and civic society. During the production of this publication, an interdisciplinary space for the exchange of thoughts was created allowing to gain better understanding in the structure of this society, its potential, strengths and weaknesses and to understand how these qualities could be used in a positive way to support further development within the age of knowledge and cultural economics.
Editor–in–chief of the book is architect Oskars Redbergs. He has assembled twenty different authors who have devoted their work to Riga and Latvia and therefore have come across and experienced the most common and topical issues of this place. Although these authors represent different fields of study, all of them have previously expressed independent, critical and well–grounded views in the mass media about the concept of culture, models of social relations, historic notions and interpretations as well as other issues which influence society's overall understanding of culture therefore having a strong impact on its further development.
The authors are: semiotician Sergejs Kruks, historians Kaspars Kļaviņš and Leons Taivāns, psychotherapist Viesturs Rudzītis, anthropologists Vieda Skultāns and Viesturs Celmiņš, urban theorist Krzysztof Nawratek, researcher of social and political development Andrejs Berdņikovs, migration expert Aija Lulle, journalist Jukka Rislakki, cultural theorist and communications science specialist Deniss Hanovs, researcher of politics and philosophy of economics Xavier Landes, architects Juhani Pallasmaa and Alexander Rappaport (Александр Раппапорт), poet Guntars Godiņš, art historian Hans Lepp.
An important role in this publication is given to five photo essays, each of which reveal the relationships and interaction between people and the environment they surround. These photo essays were created by contemporary Latvian photographers Arnis Balčus, Aivars Siliņš, Andrejs Strokins and Reinis Hofmanis.
The book was designed by Artis Tauriņš in collaboration with «Megaphone Publishers».
«Megaphone Publishers» is a publishing endeavor which began with the recent exhibition of Latvian architecture in Frankfurt during the European Cultural Days of the European Central Bank (ECB), when the first book «9 Conditions of Riga» was published. The publishing house was established by art historian Inga Karlštrēma and architect Oskars Redbergs, and their focus is criticism, theory and fiction of art, architecture and culture.
The publication of the book has been supported by State Culture Capital Foundation and Friedrich–Ebert–Foundation.
The book is available at Jānis Roze bookshops, map store «Jāņa sēta», and other bookstores, or by contacting «Megaphone Publishers».