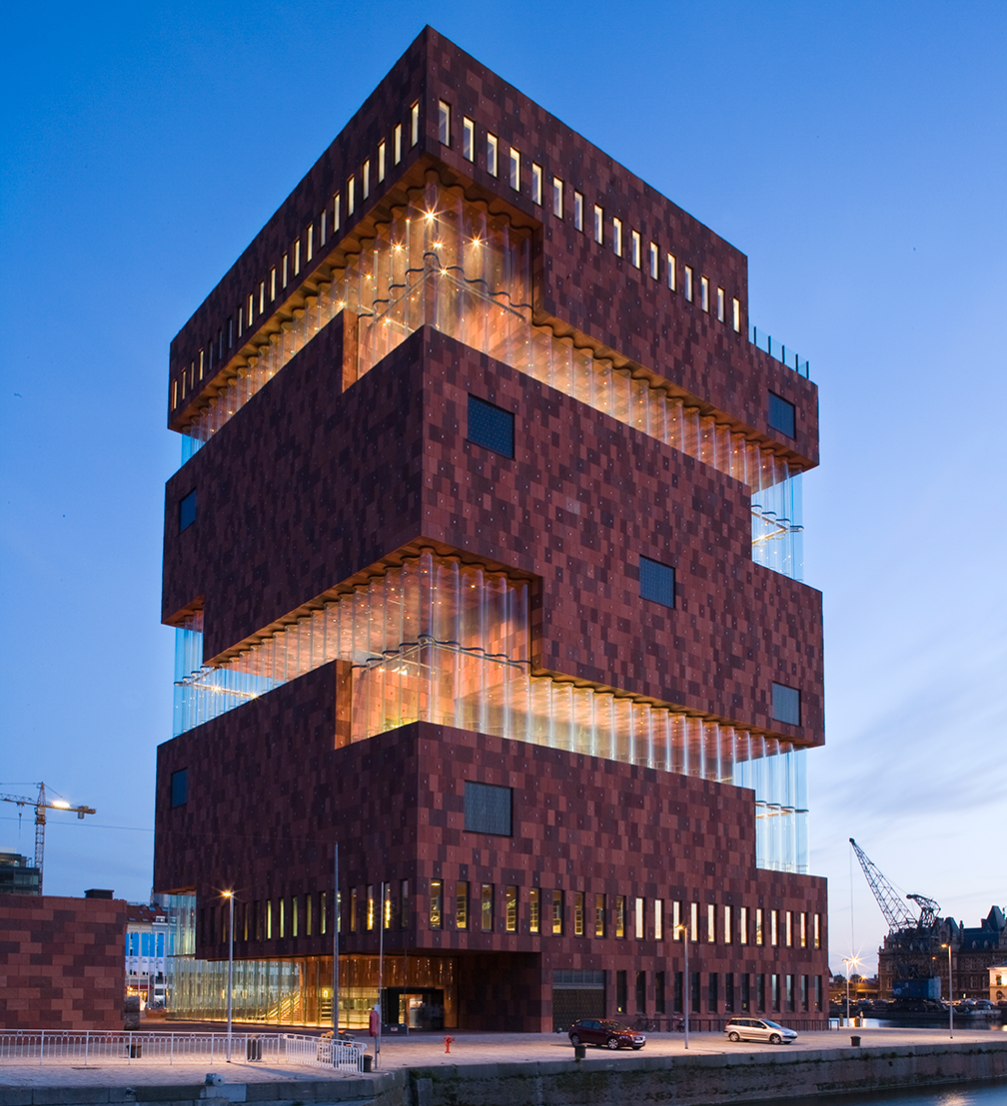 MAS (Museum aan de Stroom) museum in Antwerp, «Neutelings Riedijk Architects», 2011. Publicity photo
Next week Dutch architect Willem–Jan Neutelings will visit Riga to give a lecture Identity, Ornament and Public Space on November 12 at 19.00 at the co–working space The Mill.
Willem–Jan Neutelings is the co–founder of one of the most widely acclaimed Dutch architecture practices, the Rotterdam–based Neutelings Riedijk Architects. The work of Neutelings Riedijk Architects is often characterised as having a sculptural quality and a playfulness of form and ornament while following a clear rationality in programming and context. Because of the public nature of most of the firm's work, Willem–Jan Neutelings and Michiel Riedijk see this sculptural quality as a way to communicate the building's role within its urban or social context. Projects like the Museum Aan de Stroom in Antwerp, the Netherlands Institute for Sound and Vision in Hilversum, and the Shipping and Transport College in Rotterdam have been published in numerous international architectural magazines and have won a variety of awards and nominations.
The lecture Identity, Ornament and Public Space will be dedicated to the latest public building projects of Neutelings Riedijk Architects. «Public buildings are the perfect objects to create a local identity to which the city dweller can relate to. The secret of successful public buildings is that they create new public spaces where large groups of people can come together in a completely new setting. Since the new object is not directly related to a previous history, religion or ethnic group, everyone can join this new common history from the beginning,» writes Willem–Jan Neutelings in his notes for the lecture.
The lecture is part of the Belgian Days in Riga, organised by Sampling with the support of the Dutch Embassy in Latvia and Belgian Embassy in Riga. The lecture Identity, ornament and public space will take place at The Mill, Brīvības iela 33, Riga on November 12 at 19.00; entrance is free of charge.