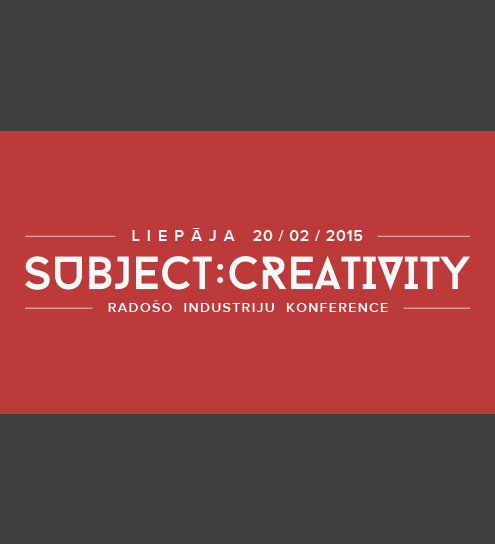 Next year, on February 20, the city of Liepāja will host an international creative industries conference «Subject: Creativity». The conference will feature talks on creativity, innovation and change by the most eminent actors of creative fields in Latvia and Northern Europe.
The conference is particularly relevant for entrepreneurs, communication specialists and to those working in development departments that wish to improve their company's current scope of supply, as well as develop new services with a high added value. The conference is based on four significant stages of every entrepreneur's daily agenda — thinking, the surrounding environment, development of new products and communication. Nowadays innovation and creativity are acknowledged as a mainspring for human resources development in every sphere, and the creative industries — a key for revitalising economy and ensuring growth. This statement is also affirmed by one of the lecturers of the conference, the director of Cesis Art Festival Juris Žagars: «It's not that creative industries are necessary. They are simply inevitable in future economic processes.»
The conference will be attended by overall 18 lecturers and practitioners well known in Latvia and worldwide, among them lecturer, director and writer Baņuta Rubess, co–founder of «TechHub Riga» Ernests Štāls, creative director of «ir» magazine Voldemārs Dūdums, one of «Ikea» product designers Tomek Rygalik, sales expert Nikita Kellermann and other distinguished representatives of various fields who will share their experience and knowledge of creativity, innovation and change.
The city of Liepāja was chosen to be the host of the conference because the organisers wish to grant the possibility for guests from Riga, where most of Latvian creative industries enterprises are based, to tear away from the daily work and to focus on the conference to the utmost. Moreover, by the conference puts Liepāja on the Latvian and Northern Europe's creative industries development map.
Conference «Subject: Creativity» will take place on February 20, 2015 at the Liepaja Theatre, Teātra iela 4, Liepaja. Number of participants is limited, and the application process has been opened, the participation fee is 109 euro. The event will be held both in English and Latvian with synchronic translation. The conference is organised by the marketing and communication agency «Addiction» in collaboration with Liepaja Creative Industry Cluster, established by Liepaja City Culture Department. More information on the conference, as well as the application form can be found on the homepage of the conference.