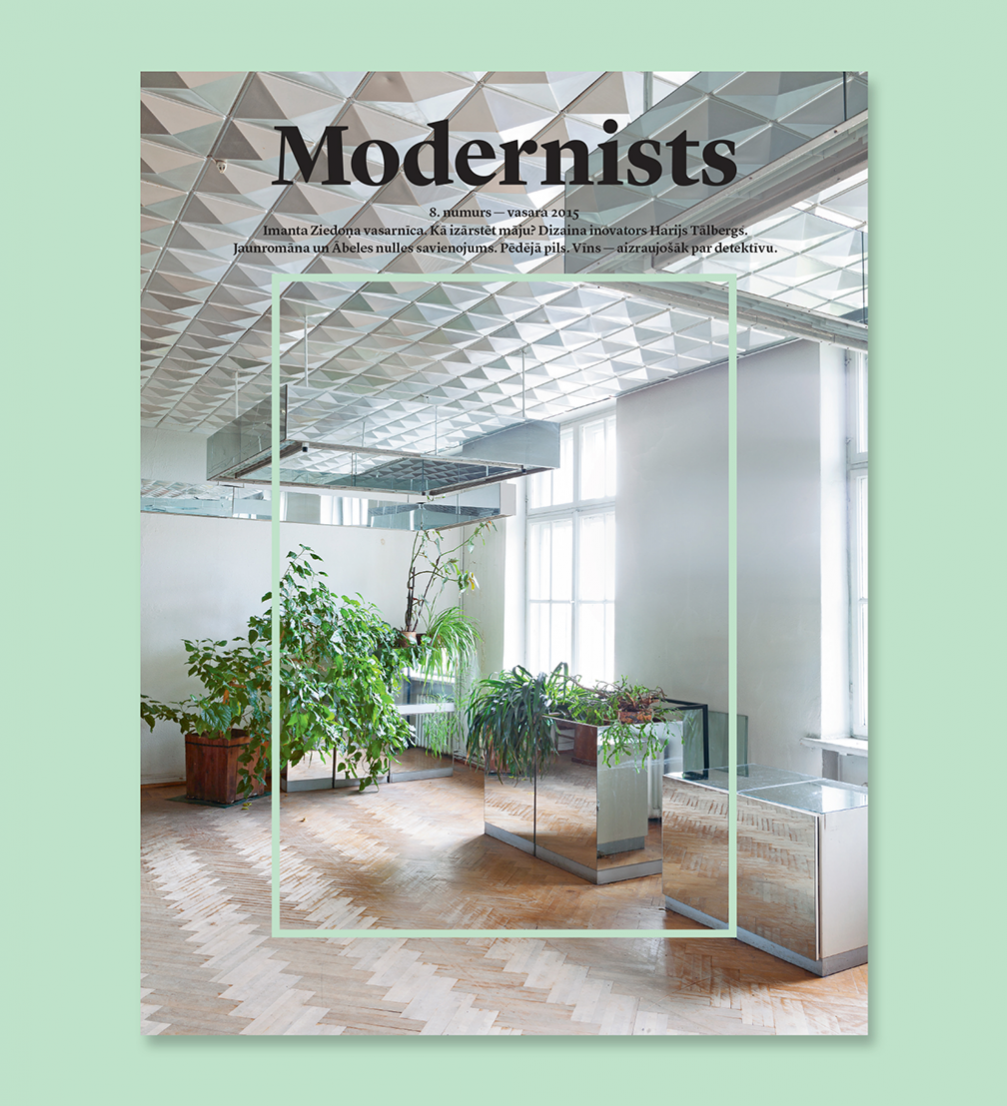 Cover photo by Reinis Hofmanis, design by Madara Krieviņa
When summer is in full swing, issue number eight of «Modernists» magazine reveals the diversity of architecture in Latvia today and in the past, delivering stories on palaces, manors, wooden cottages and concrete blocks.
The team of «Modernists» has paid a visit to the new Rēzekne University Faculty of Engineering, an ascetic lingerie shop in Vilnius, and an apartment with an oriental vibe in the centre of Riga. Architects Mārtiņš Jaunromāns and Māra Ābele talk about zero connection in life and on the building site, but Juris Zviedrāns and Kristīne Veinberga, restorers of the Tāši manor in Kurzeme, explain their approach to healing old houses.
Flat is not a roof — Imants Ziedonis once said and built a wooden cottage with a steep pitched roof in Murjāņi. After the passing of the poet, it has become a summer residence for creative work and tells about the meaning of a home in the life of a Latvian, as well as construction process under the Soviet economy. Words of Maija Rudkovska and photography of Reinis Hofmanis invite to take a look at the premises of VEF Culture Palace for one last time. The soon–to–disappear interior features unaltered evidence of all postwar styles: late Stalinism, postwar modernism, the 1970s with wooden paneling, and the more recent times with mirrored surfaces at the Innovators Club hall, pictured on the cover of the magazine. The interior theme continues in Toms Zariņš' article on the architect and furniture designer Harijs Tālbergs.
Wine enthusiasts will enjoy the piece by Mārtiņš Pīlēns where he explains ancient methods of making sparkling wine and champagne, and the guide by Artūrs Veics which will help to purchase, open and enjoy old wines. Elīza Kauce always keeps several pens in her pocket to write down her experiences during the Master of Wine studies. Mārtiņš Vanags has written an essay that defends the right of being intoxicated, with illustrations by Pauls Bankovskis.
«Modernists» magazine is published four times a year, and available for purchase at newsstands in Latvia.