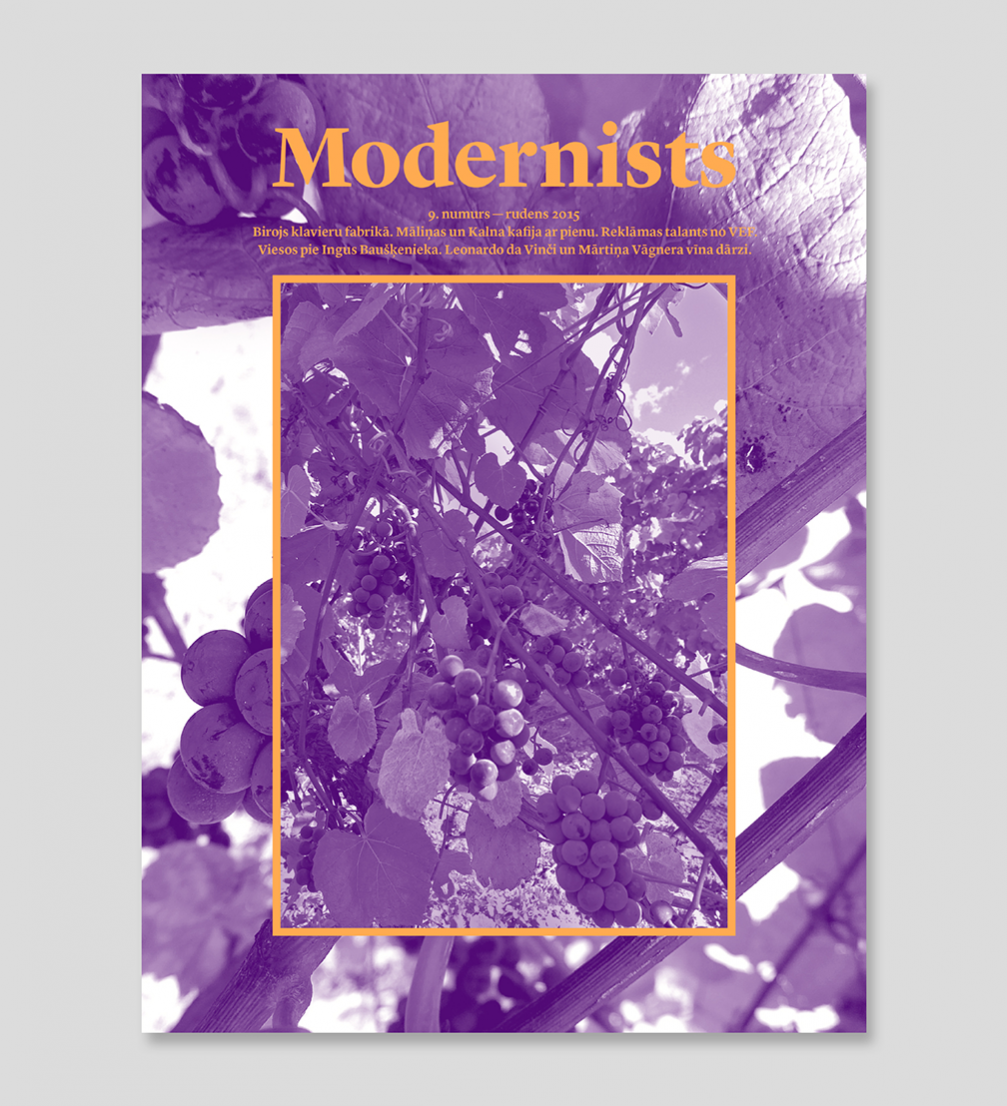 Design by Madara Krieviņa
The autumn issue of «Modernists» magazine explores packaging design today and advertising design in the 1930s, as well as accentuates the topic of wine on the cover and in illustrations in the spreads.
The magazine's first pages, as usual, feature design, fashion and architecture news, discover new names, places and ideas. An office in a former piano factory, a healthy food restaurant in Vilnius, latest trends from the collections of Baltic Sea region fashion designers are where next to functionality and aesthetics one can find a good dose of irony and the skill of adding individuality to a design item.
Joy about the new finds goes hand in hand with discoveries in the local cultural history. The readers will get to know Zelma Baboliņa — artist of the VEF factory advertising office who by the end of her days even denied her outstanding copy and illustrations. Her work is an exciting part of Latvian history, and, as historian Gustavs Strenga says in his interview, «People care about stories about the past, especially when they're well told.»
Artists Sarmīte Māliņa and Kristaps Kalns work together as coffee with milk. In their interview they talk about a method for co–creating in a pair. In the section on homes and interiors of creative personalities, musician Ingus Baušķenieks admits that he doesn't have a clue how he's going to live when incandescent light bulbs won't be available at shops anymore.
The issue concludes with an extended wine section. Readers will find out how an English language and music teacher can become a world–class wine critic. The magazine visits the recently re–opened vineyard of Leonardo Da Vinci in Milan and the wineries of Martin Vagners in Canada and Renda, Latvia. There are several personal essays on wine business, oxidative wines and the correlation between the quality of wine and the design of its label.
«Modernists» magazine is published four times a year, and available for purchase at newsstands in Latvia.