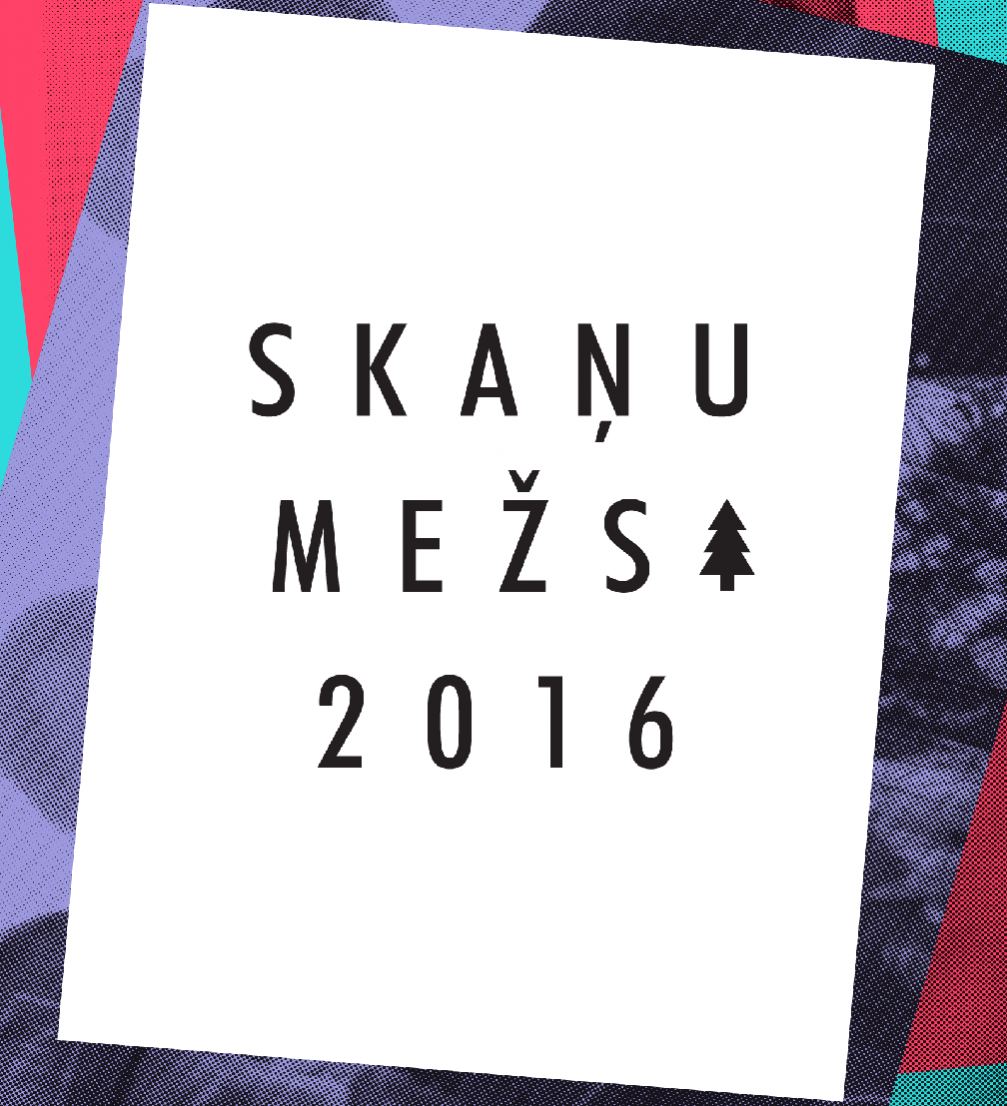 Visual identity of the festival by Zigmunds Lapsa
From October 13 to 16 the adventurous music festival «Skaņu Mežs» will take place in Riga for the 14th time. It will feature performances by the IDM duo «Autechre», experimental hip–hop artist «Zebra Katz», the «supergroup» of «King Midas Sound» plus «Fennesz», and many others, as well as six audiovisual acts.
Stories Editorial September 26, 2016
The festival «Skaņu Mežs» will be launched with a special free entry event at the Art Museum Riga Bourse on October 13: contemporary music pianist R. Andrew Lee will perform Dennis Johnson's five–hour long composition «November», the re–surfacing of which has «effectively rewritten the history of minimalism in one swoop» («Detroit Metro Times»), as, being written in 1959 and having influenced La Monte Young's «The Well–Tuned Piano», it may turn out to be the first piece of American minimalist music.
The concert nights of October 14 and 15 will both take place at the music hall «Daile». The first evening will feature performances by «Vatican Shadow», the lo–fi industrial techno project of Dominic Fernow a.k.a. «Prurient»; the joint project of The Bug's experimental dub group «King Midas Sound» and glitch electronica veteran «Fennesz»; U.S. free jazz icon Charles Gayle (tenor saxophone, piano) in collaboration with British improvisers Roger Turner (drums) and John Edwards (double bass); composer and pianist Michael Finnissy, who, along with Brian Ferneyhough, is considered to be one of the fathers of the so–called «new complexity» movement, even though he disapproves of this term; string quartet «ReDo» that will give a Latvian premiere to Santa Ratniece's piece «Silsila».
October 15 will include performances by experimental hip–hop artist «Zebra Katz», best known for the viral hit «Ima Read» as well as his visual mini–album «Nu Renegade» as well as two acts, which, coincidentally, have both published music on the renown label «Blackest Ever Black» — the psychedelic dream pop project «Tropic of Cancer» and «Killing Sound» — a dub and trip–hop influenced ensemble that unites four producers from the «Young Echo family» with spoken word artist Chester Giles. Oakland–based free–form experimental music project «Black Spirituals» will perform their unique version of multi–idiomatic, afro–centric free improvisation, while the aforementioned percussionist Roger Turner will return for a second performance, this time improvising with German analogue synth player Thomas Lehn.
The concert nights of October 14 and 15 will feature a selection of artists from the «Skaņu Mežs» co–founded «SHAPE» platform for innovative music and audiovisual art. In addition to the previously mentioned «Killing Sound», there will also be performances by «post–grime» producer «M.E.S.H.» who exemplifies the sound of Berlin's club night series and label «Janus»; Swedish producer Peder Mannerfelt, who has worked with «Fever Ray» and «Blonde Redhead», and whose album «Controlling Body» has been named one of the best albums of 2016 thus far by «FACT Magazine»; electronic music composer Klara Lewis, whose both full–length albums have been published by the legendary Austrian label «Editions Mego».
On October 16, in collaboration with the Goethe Institute in Riga and with the support of the Ministry of Foreign Affairs of the Federal Republic of Germany, «Skaņu Mežs» will organise a concert at the Daugavpils Mark Rothko Art Centre with the participation of «M.E.S.H.» and Thomas Lehn.
On November 12, after nearly a month–long break, the festival will return to the music hall «Daile», concluding with performances by the electronic music innovators «Autechre» and noise musician and curator Russell Haswell as well as a DJ set by Andy Maddocks, founder of «Skam Records».
Most of the concerts of «Skaņu Mežs» will take place at the music hall «Daile», Kr. Barona iela 31, Rīga. More information is available on the festival's homepage. The tickets can be purchased at «Biļešu Serviss» box offices and online.