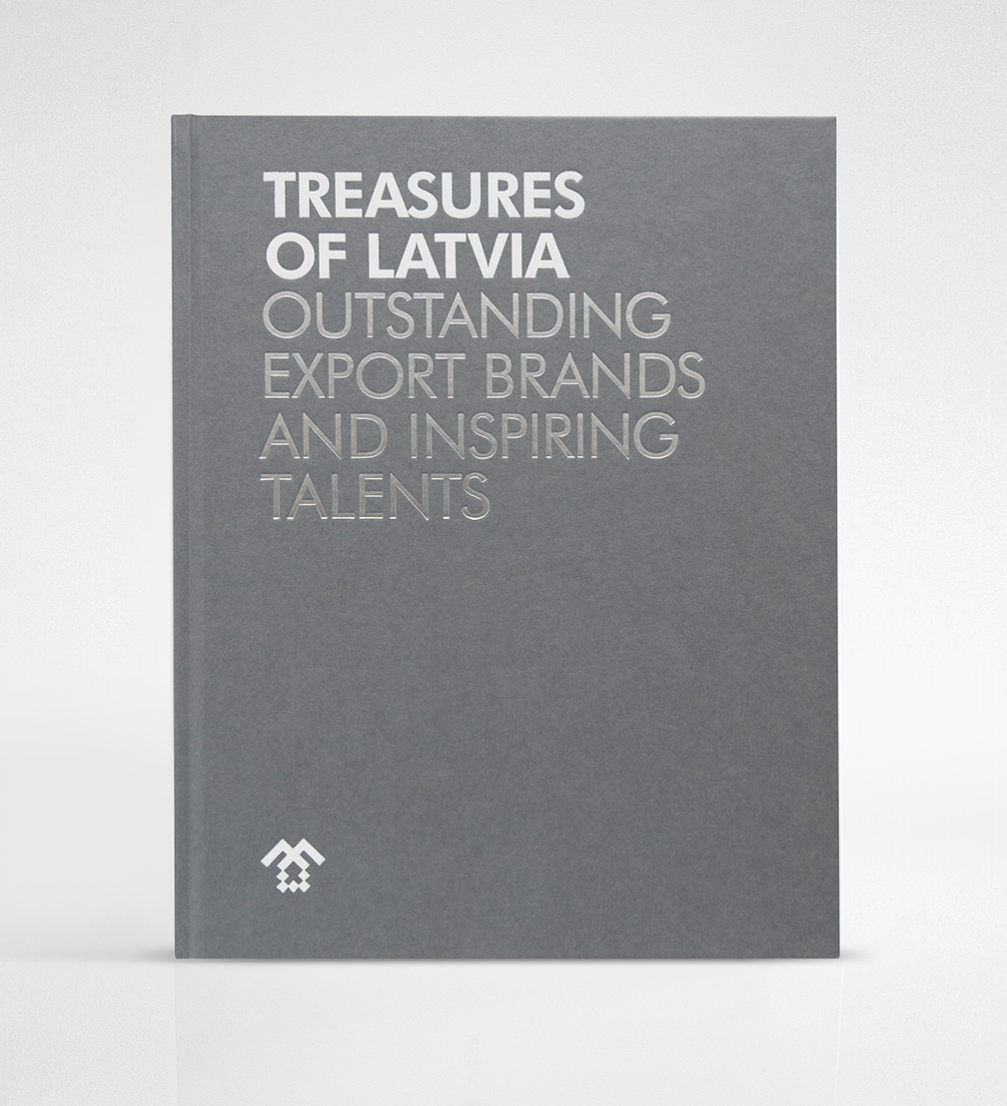 Photo and design of the book by «B&K design»
The exporting brands support movement «The Red Jackets» has published its second book of inspiration «Treasures of Latvia — Outstanding Export Brands and Inspiring Talents» with 70 stories on excellence. It features outstanding brands and companies, their leaders, as well as talented personalities from Latvia.
Stories Editorial November 15, 2016
«We have compiled stories of both mature businesses and rising export stars. In addition, each one of the brands nominated a talented personality from Latvia that they would like to highlight. This way, we acquired a unique perspective for showing our diversity,» founder of «The Red Jackets» movement Inese Andersone tells about the publication.
The book represents businesses of various fields — from pharmacy and food industry to peat extraction and furniture production, whereas the section «The Rising Stars» mainly consists of creative industries brands: «an&angel», «Ērenpreiss», «GIGI bloks», «Amoralle», and others. The book tells about Latvian culture and sports as well — among the personalities nominated by the businessmen are: painter Janis Rozentāls, ballet dancer Māris Liepa, opera soloist Inese Galante, as well as basketball star Kristaps Porziņģis, tennis player Ernests Gulbis and heptathlon athlete Laura Ikauniece–Admidiņa.
«The Red Jackets» is a support movement of Latvian exporting brands. It aims to create a unified, personified, comprehensible story about Latvia as a country of origin — where we come from, what our values are, what makes us different, as well as to encourage all exporting brands to use this story to develop communication with unified values and qualities. Until Latvia's centenary in 2018, «The Red Jackets» is planning to compile 100 most outstanding export brands and publish three books of inspiration. Until now, «The Red Jackets» best Latvian export title has been awarded to 50 companies, but «The Rising Stars» title — to 25 companies. The next winners are to be announced in 2017.
The texts of «Treasures of Latvia» are written by Ilze Pole, portrait photography is by Māris Ločmelis, but design by Jānis Birznieks («B&K design»). The book is available in English and in Russian at Jānis Roze bookstores as well as by contacting «The Red Jackets» movement personally. The publication is supported by: «ABLV Bank», «NPK Expert», «Food Union», «Groglass», «Karavela», «Olainfarm», «Smartlynx», «Live Rīga», «Jelgavas Tipogrāfija» un «Public ID Group».