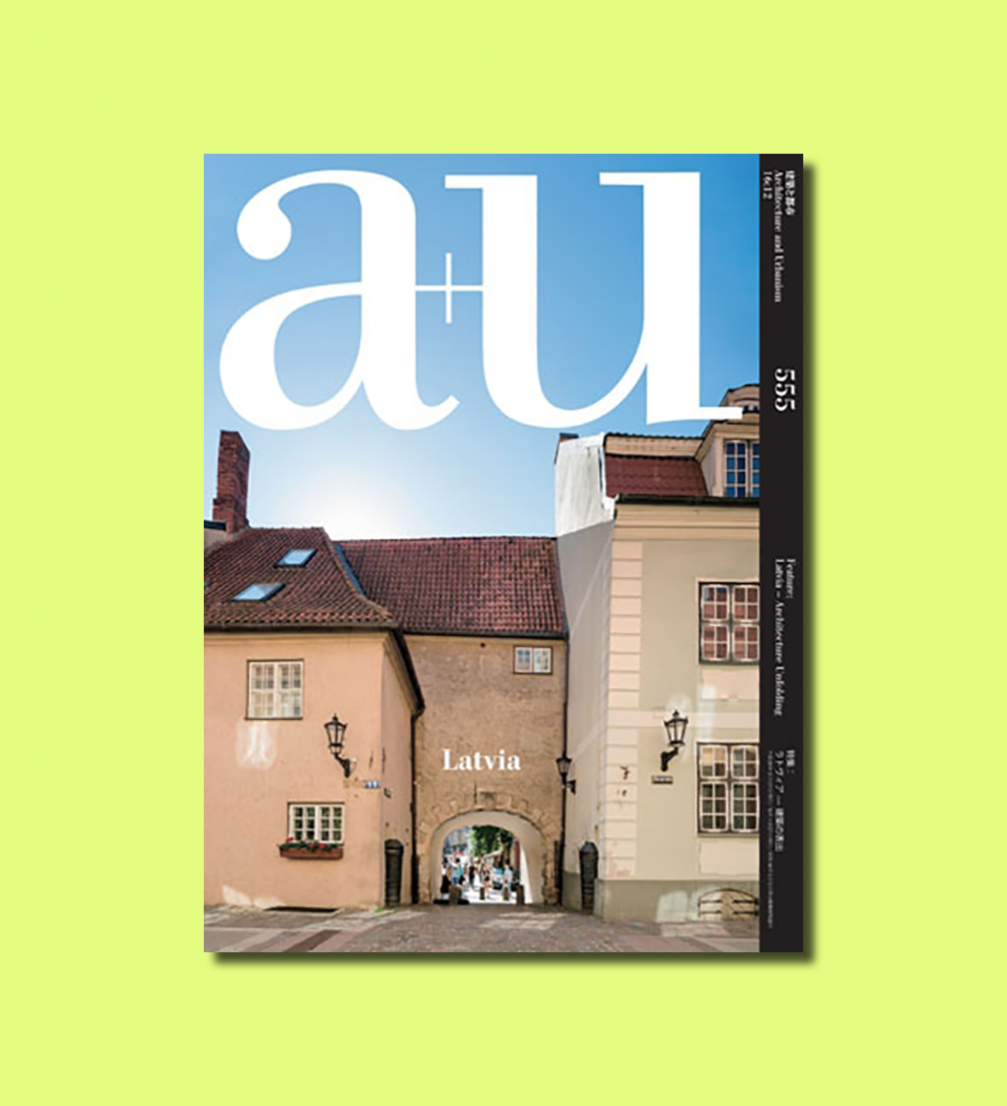 «a+u» Nº555 «Feature: Latvia — Architecture Unfolding»
The Japan–based architecture magazine «a+u» has published a special issue — Nº555 «Feature: Latvia — Architecture Unfolding». «a+u» («Architecture & Urbanism») is a monthly architecture magazine in English and Japanese. Since its founding in 1971, it has established itself as one of the most renowned architectural publications worldwide, available in over 100 countries. Although the name of Latvia is familiar for the Japanese public, such a profound publication on Latvian architecture is unprecedented in Japan.
Stories Editorial December 19, 2016
The magazine's 175 pages explore Riga's urban environment and its cultural and historical layers in today's context, as well as portrays the characteristic lifestyles outside of the capital. The introduction to Latvian architecture is supported by interviews with Latvian architects of various generations and essays on the history and present of architecture in Latvia and Riga.
The guest editor of the issue is Dr. Arch. Ilze Paklone, a Latvian architect who has conducted her PhD work in Tokyo University and is co–founder of «Studio Wasabi» in Japan. She has also worked at architecture offices «Wiel Arets Architects» in the Netherlands and «NRJA» in Latvia. The editor–in–chief of the issue is Mari Hatori who has recently completed an «a+u» special on Vienna. Work on the issue about Latvia started back in 2015, during the Latvian Art and Design Week in Tokyo when the magazine's editorial board were first introduced to Latvian design. The encounter was followed by a visit of the editorial team to Riga.
The special issue features the following Latvian architecture offices: «Arhis arhitekti», «Arhitekta J. Pogas birojs», «Brigita Bula arhitekte», «Didzis Jaunzems Architecture», «Fine Young Urbanists», «Outofbox Architecture», «Jaunromāns un Ābele», «Lienes Griezītes Studija», «MADE arhitekti», «Mailītis A.I.I.M.», «MARK arhitekti», «NRJA», «SAALS», «Substance», «Sudraba Arhitektūra», «SZK un Partneri», «Zaigas Gailes Birojs», as well as «Gunnar Birkerts Architects» from USA, «Volker Giencke & Company» from Austria, «Processoffice» and «Andrius Skiezgelas Architecture» from Lithuania.
The essays are authored by the well–known Latvian architecture critics Vents Vīnbergs and Jānis Lejnieks. The special also features short interviews with architects Zaiga Gaile, Andris Kronbergs, Reinis Liepiņš, Didzis Jaunzems, Evelīna Ozola and Toms Kokins.
The special Nº555 «Feature: Latvia — Architecture Unfolding» of «a+u» magazine is available for purchase online.