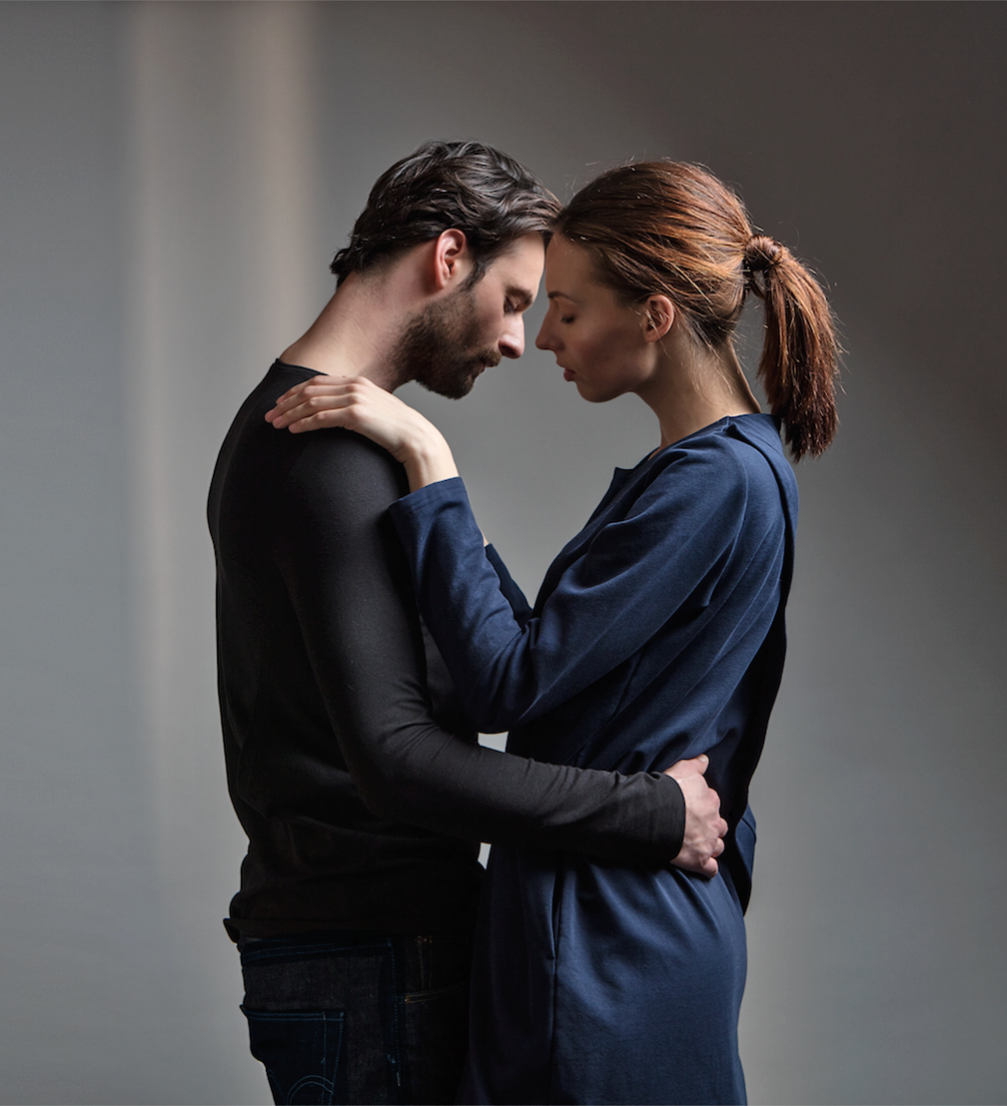 The main aim of the new clothing brand «Be–with» isn't just to conquer a place in the already saturated fashion world, but to offer a unique product that caters to the natural human desire for a warm, affectionate touch. The brand values relationships and offers innovative ways to keep the bond between partners strong in the long–term.
Stories Editorial February 14, 2017
Although love is blind, unexplainable and immeasurable, Anna Andersone and Monta Kairēna, the creators of clothing brand «Be–with», trust scientific studies about its physical aspects and impact on human psychological comfort. The 75–year–long Harvard Grant study states that warmth of relationships throughout life have the greatest positive impact on life satisfaction. Whereas physiology studies suggest that there are two main hormones embodying warmth in relationships in the long run: vasopressin and oxytocin. While vasopressin is a hormone mostly released during sex, oxytocin can be released with a simple touch, hugging, talking and being together. «Be–with» wants to encourage actions that will release the bonding hormone — oxytocin. Hence, the touch–through clothing boosts mutual couple chemistry, literally.
The founders of «Be–with» are Anna Andersone, a well–known figure in the start–up environment (the founder of «Froont», «Berta», «Mill Riga» and «Riga Tech Girls») and fashion designer Monta Kairēna, who studied in the UK and Denmark and has interned at the studios of Keta Gūtmane and Katya Shehurina. Inspired by the Grant study, Anna got carried away with a new business idea — to create an unprecedented clothing collection for couples.
Research shows that a hug a day can improve the nervous system and boost the immune system among other benefits. The human touch is like a lightning conductor for stress relief. That is why each garment of «Be–with» has its especially designed secret passages on the back that allow to touch the partner, without anyone noticing. Brand's first dark–tone collection features shirts with short and long sleeves for both women and men, as well as dresses. The passages do not reveal skin and cold does not get through them. The garments are made of selected, pleasant for the touch fabrics: cotton, brushed cotton, Micro–modal® and eco certified bamboo fibre. Some models were designed in collaboration with Inese Gibeiko, while designer Līva Bambale works at «Be–with» on daily basis to help chief design officer Monta. Brand's visual identity was created by Zigmunds Lapsa.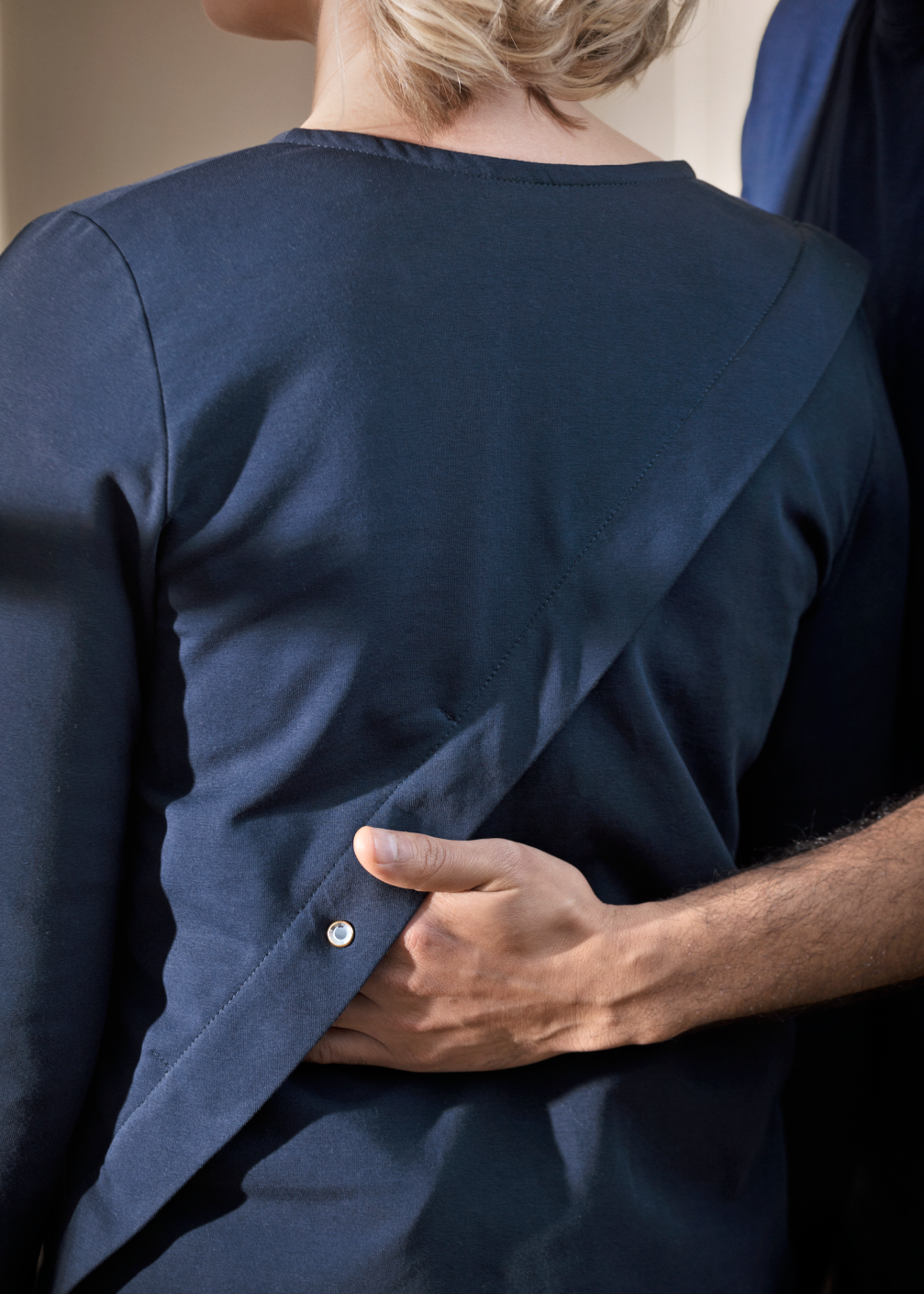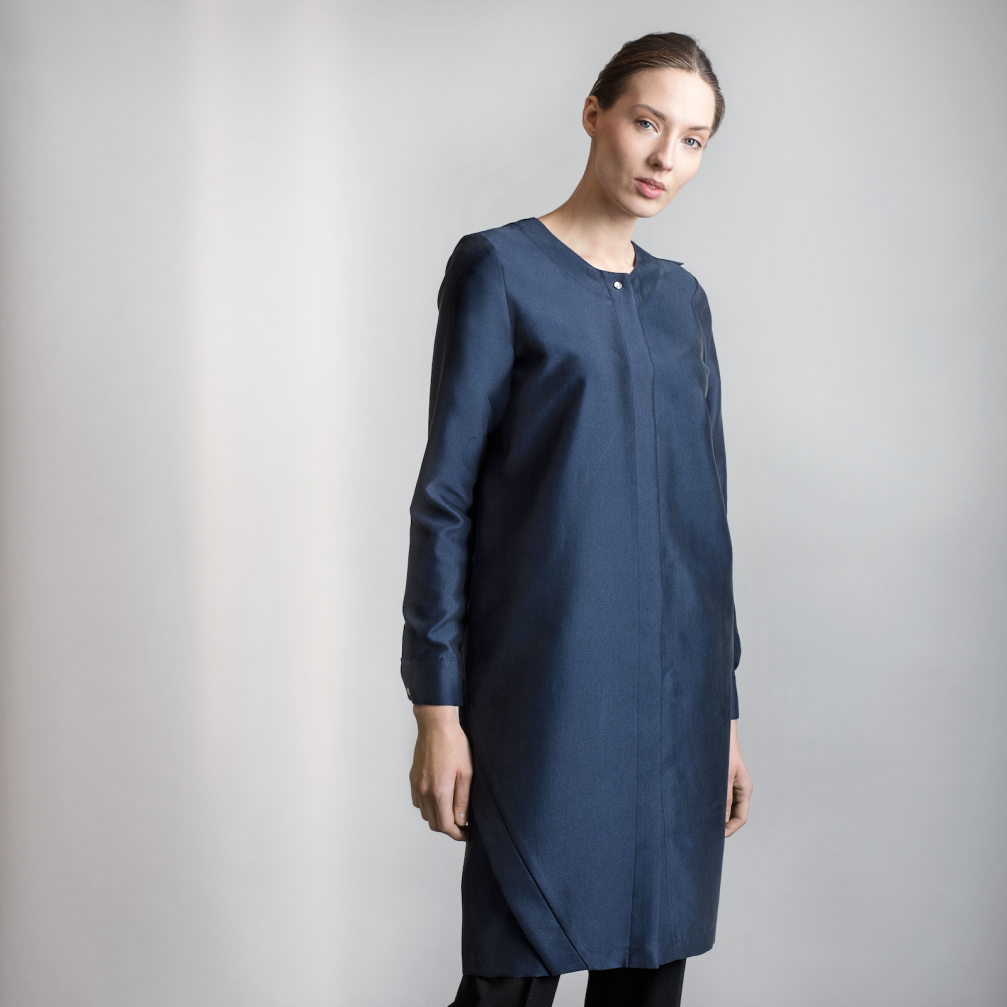 Over a year and a half of product development, Anna and Monta have tested more than fifty different prototypes, examining appropriate fabrics, passage design, form and placement, and gathering and analysing feedback from couples on the effectiveness of the product. It was the encouragement from others that made Anna turn this project into her full–time job last October. «Be–with» was built with her personal savings and, knowing how time–consuming raising investment is, the entrepreneur hopes to continue to devote her energy to product development, widening the product range and increasing sales. Currently, «Be–with» clothing is sold exclusively online.
When asked about the most interesting findings from conversations with the potential clients of «Be–with», Anna admits that they confirm the Grant study. Touches are important for and loved by women and men alike, and the most pleasant areas to touch seem to be one's back, neck and shoulders.