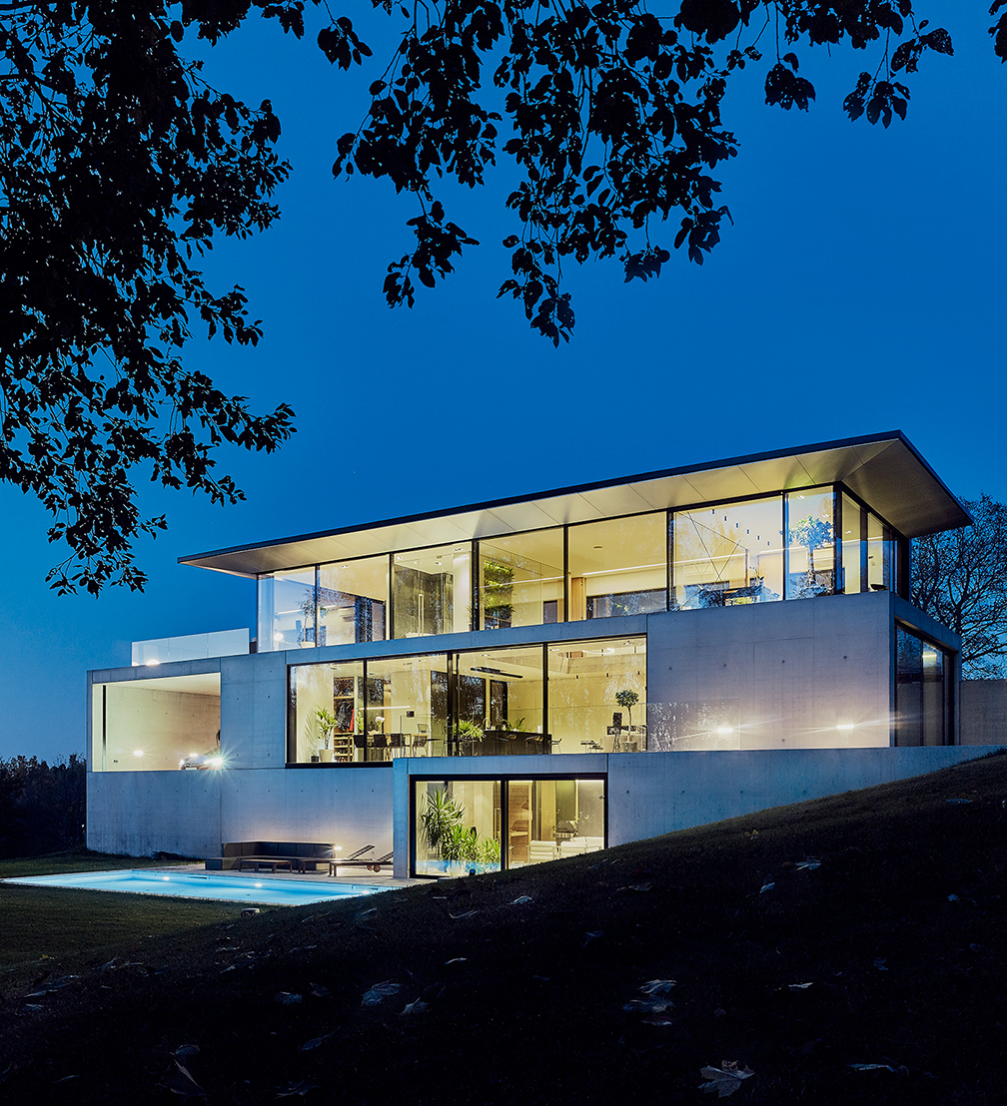 The villa by «Outofbox» architects sits comfortably in the steep terrain — small and sheltered towards the street, it rises three storeys tall towards the forests of ancient Gauja river valley, featuring floor–to–ceiling windows that let the nature come inside.
Stories Editorial February 16, 2017
The lowest level of the building accommodates leisure and sauna facilities, a wine cellar, and a terrace with a swimming pool. One floor above, at the entrance level, a large living room with a kitchen and a fireplace, and two guest bedrooms are situated. Spanning 12 metres, the glazing faces a group of birch trees and can be opened fully, removing the partition between the interior and the nature. The double height living room is encompassed by a concrete bridge that leads to the private quarters of the house's owner, i.e. his office and bedroom, with a terrace that offers a stunning view over the tree tops of the ancient Gauja river valley and the rays of the setting sun.
Pēteris Bajārs, the leading architect of «Outofbox» studio, tells that low–energy principles have been applied in the building — it has a compact volume, an almost completely blind northern façade, and minimal exterior surface for reducing heat loss. The extensive glazing on the southern and western sides is designed to capture sun energy. Solar collectors on the roof too contribute to the building's low energy consumption.
The first two floors of the building have massive reinforced concrete structure, with exposed concrete surfaces in both the interior and exterior, but the third floor has a metal frame. Rough concrete surfaces and wide glazings dominate the interior, while natural oak flooring provides a feeling of warmth and cosiness. Carefully designed elements such as the black fireplace slab, metal stairs and kitchen furniture contrast with the light concrete walls. The combination of inbuilt lighting fixtures, concealed within and hanging from the surfaces, offers countless lighting scenarios, which can be easily controlled by a smartphone, thanks to the application of smart house principles.