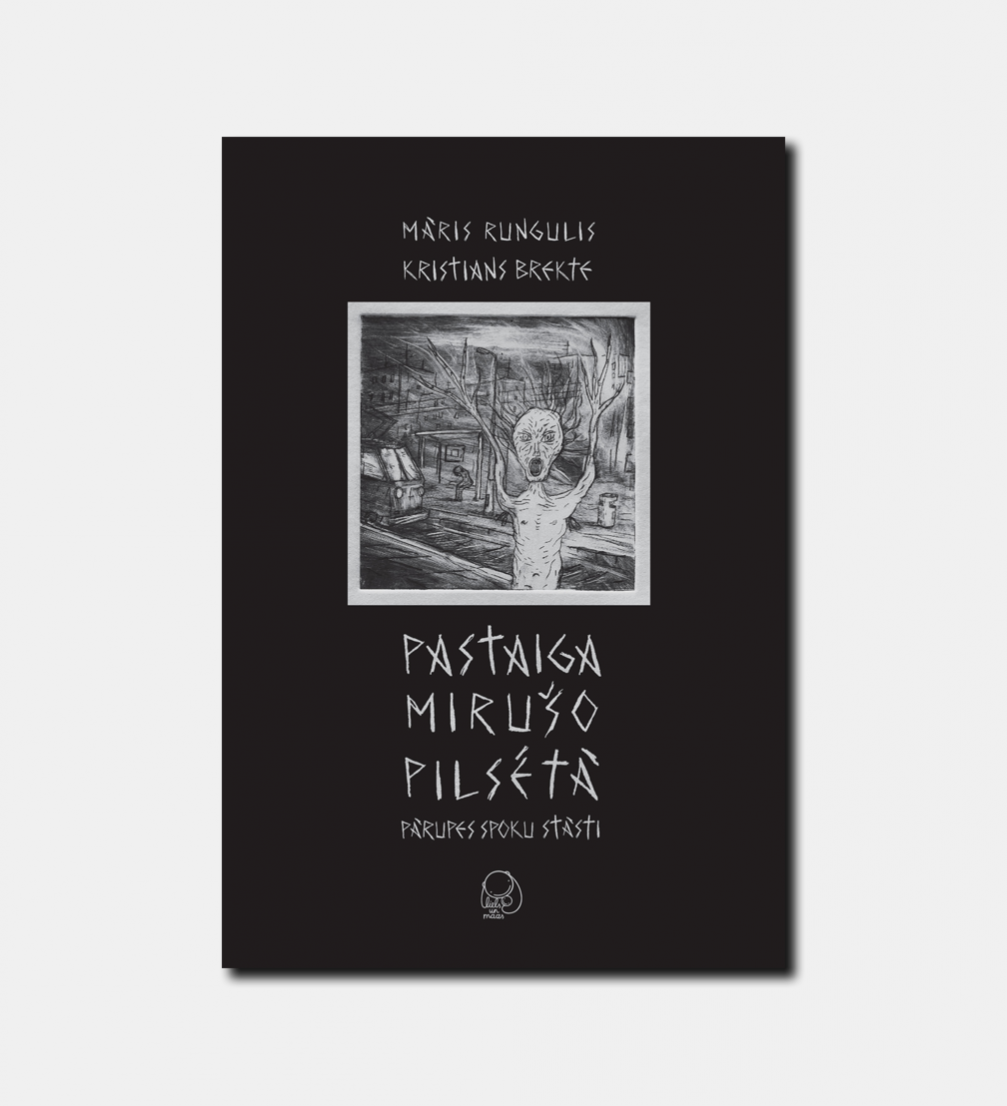 Design by Ūna Laukmane, illustrations by Kristians Brekte
In late March, the most beautiful books of 2016 were awarded at the annual Book Art Competition «Zelta ābele». The winner in the category «Children's Books» was «Pastaiga mirušo pilsētā» («A Walk in the City of Dead») by Māris Rungulis. It is a ghost story for elementary school–aged kids that features thrilling illustrations by artist Kristians Brekte.
Since 2005, more than 40 books by the publisher «Liels un mazs» have been nominated for the Book Art Competition «Zelta ābele». The recent winner, «A Walk in the City of Dead» by Māris Rungulis is an original story, based on research of contemporary folklore.
Since mid–eighties writer Māris Rungulis has been crisscrossing the country collecting typical horror and joke stories so popular among children — short, concentrated anecdotic outlines of stories, which he has now, in the 30 episodes of the book, expanded and merged together, filled out with time and place characterising details, incorporating associations with similar events and his own childhood memories, revealing glimpses of the storytellers' personalities and relationships.
The combination of humour and fear in this work meets the children's psychological need for stories, rituals and traditional characters that allows to experience and to get rid of their own existential fears. The black and white illustrations by Kristians Brekte also interpret the image of fear by using a technique frequently used in children's folklore and combining the scary and comical. The designer of the book is an artist and art editor at «Liels un mazs» Ūna Laukmane.
114 books were submitted to the Book Art Competition «Zelta ābele 2016» by publishers, 41 of which were nominated for the awards. All nominated books are on view at the Reference and Information Centre in the National Library of Latvia until April 2018.