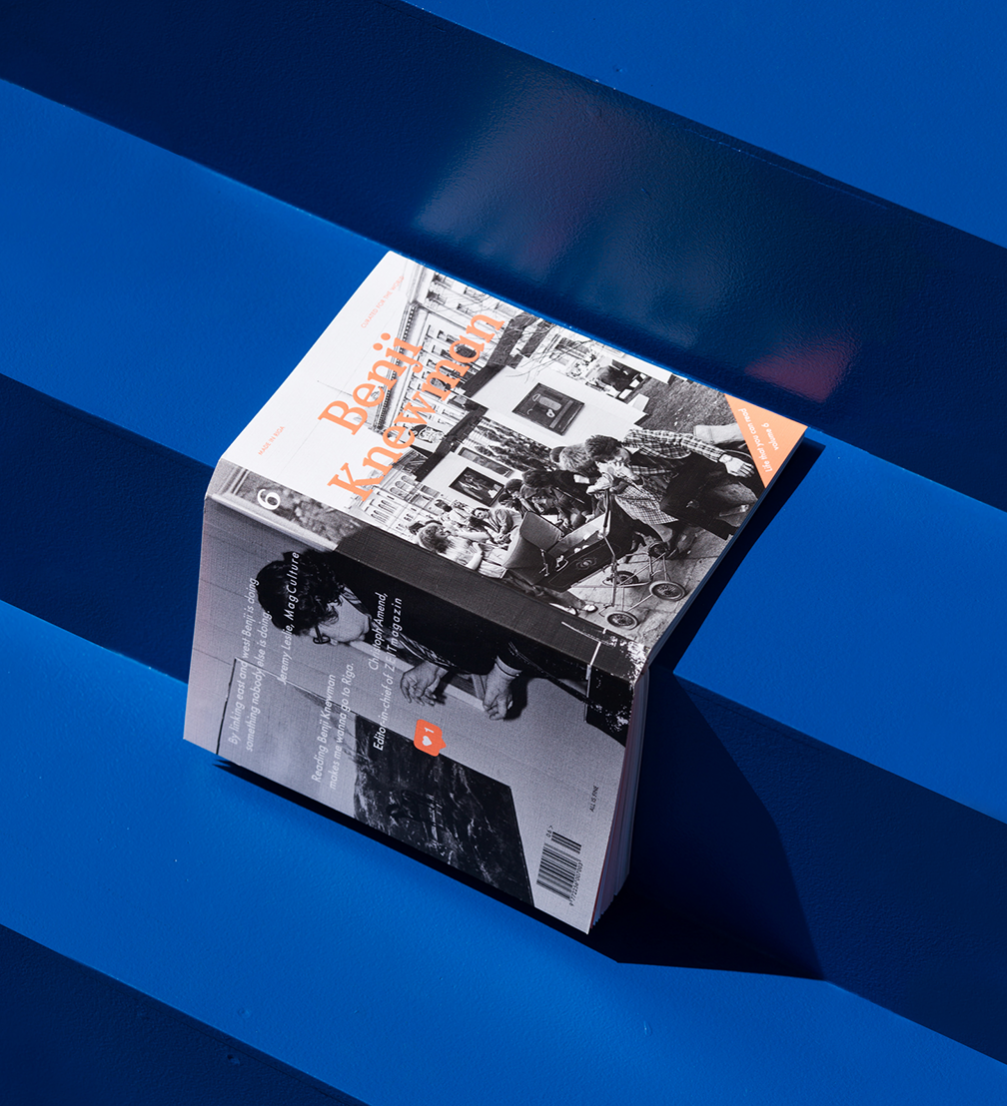 Cover photo by Gunārs Janaitis, editorial design by Madara Krieviņa
The sixth issue of the bilingual bookazine «Benji Knewman» is out, with a new design and in a take–away friendly format. Its cover is adorned with a photograph by Gunārs Janaitis from Art days in 1978, but the inside pages, as always, contain visual stories and captivating interviews.
In the new «Benji Knewman» edition, which was just presented in Amsterdam in a magazine shop «Atheneum Nieuwscentrum», one can read a story by writer Jānis Joņevs with an unexpected ending and the diary of the magazine's «Rigas Laiks» author Rvīns Varde. Photographer Gunārs Janaitis shares photographs unpublished until now of Art days in Riga from the end of the 1970s and beginning of 1980s. In the self–ironical photo story «Plastic bag, you need?» are discovered the reasons why every Latvian has a plastic bag filled with bags at home, and the fans of films by Riga Film Studio can go on an excursion in Riga and locate the places that appear in films. Also, in this edition, there are revealed unknown facts from the biography of the writer Jānis Jaunsudrabiņš, told by a German lady that was close to him.
The people interviewed this time are the graphics designer Sasha Ushakov, who arranged his office in one of the century–old Riga water towers, and the shopkeepers Dite Jurcāne and Armen Nacherian tell about the tragicomical side of their profession.
The issue has a new, improved design which was shaped by the «Benji Knewman» designer Madara Krieviņa. It was created with the aim to emphasise the historical and cultural place of Latvia in the world map, as of being at the crossroads between East and West.
To create a new «Benji Knewman» look, Madara Krieviņa and editor Agnese Kleina studied the design of Soviet–era magazines, books, and paper. They set themselves the goal to understand how designers worked in an era where one could not freely buy typefaces or order fine print jobs in the printing house and had to manage with the options that were limited by the time and the territory. Their conclusions are integrated into the design of the sixth edition of «Benji Knewman».
Bookazine «Benji Knewman» can be purchased in bookstores in Riga that specialise in design and fashion, as well as online. It is currently available in 22 countries, including Canada, USA, the Netherlands, Great Britain, Austria, Lebanon, Australia, New Zealand and elsewhere.