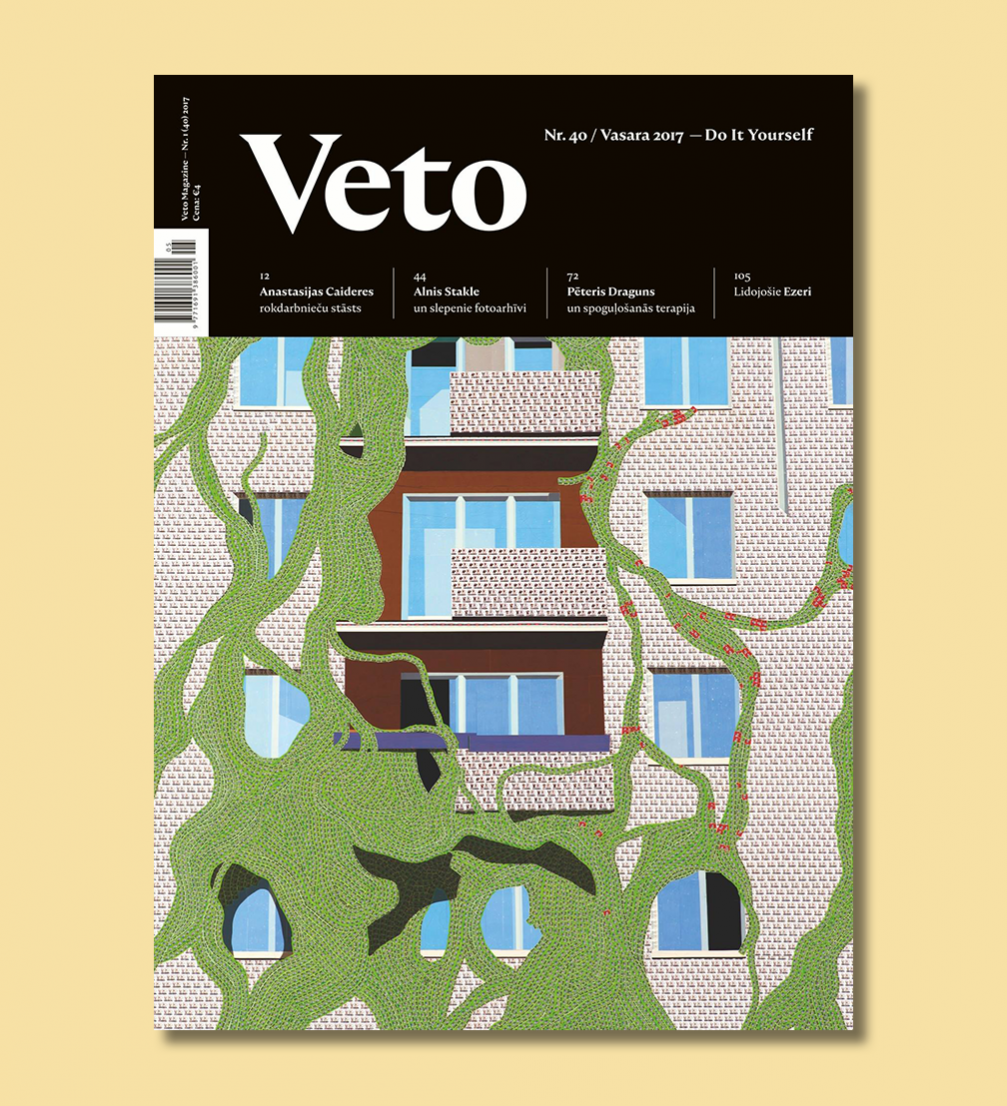 Cover illustration by Marta Veinberga
Music, art, and fashion magazine «Veto» has released issue Nº40, this time exploring the topic of «Do It Yoursef» (DIY) culture. The magazine has been redesigned and is now thicker, as always, featuring interviews with people from various creative fields, essays, illustrations and photography.
The new issue of «Veto Magazine» features conversations with musician, poet and psychotherapist Pēteris Draguns, leader of the band «Ezeri» Miķelis Putniņš, photographer, nominated for the prestigious «Prix Découverte» award, Alnis Stakle, adept at critical thinking Edgars Lapiņš and artist and cultural activist Rene Boonekamp from Iceland.
In the discussion section professor at the Faculty of Communication at Riga Stradiņš University (RSU) Ilva Skulte, photographer Viktorija Eksta, journalist and producer Kārlis Lesiņš and RSU lecturer and subculture researcher Normunds Kozlovs talk about the theory of DIY culture.
While the practical aspects of DIY have been researched by meeting people, who in addition to their professional activities have embraced a new profession or lifestyle. Hairdresser–furniture restorer Pāvels Parhomenko, film expert–zero waste lifestyle enthusiast Agnese Zapāne, English teacher–ice–cream chef Ojārs Vēzis and adwoman–crossfitter Linda Delle share their stories of exploring new territories.
Also in this issue — an experiment with DIY tutorials found on the internet and articles on drugs and DIY music festival culture in Latvia.
This time a big role is given to photo stories and visual language. The issue features a project «Master's Fair» by Russian photographer Anastasia Caidere, photo series «Turbo Star» by young photographer Elizabete Džeina Rubene, collaboration of Anna Volkova and photographer Vladimir Svetlov «Temporary Decisions» and fashion pages «Blue Jeans» by stylist Jūlija Volkinšteine and photographer Kristīne Madjare. The issue's illustrations are created by artist Marta Veinberga.
The latest issue of «Veto Magazine» is redesigned by creative director Anna Volkova and graphic designer Vladimir Leibgam. After the changes, it also has 120 pages instead of 80.
«Veto Magazine» can be purchased at all «Narvesen» newsstands, supermarkets, book and lifestyle stores, museums and exhibition halls. The magazine is supported by State Culture Capital Foundation.