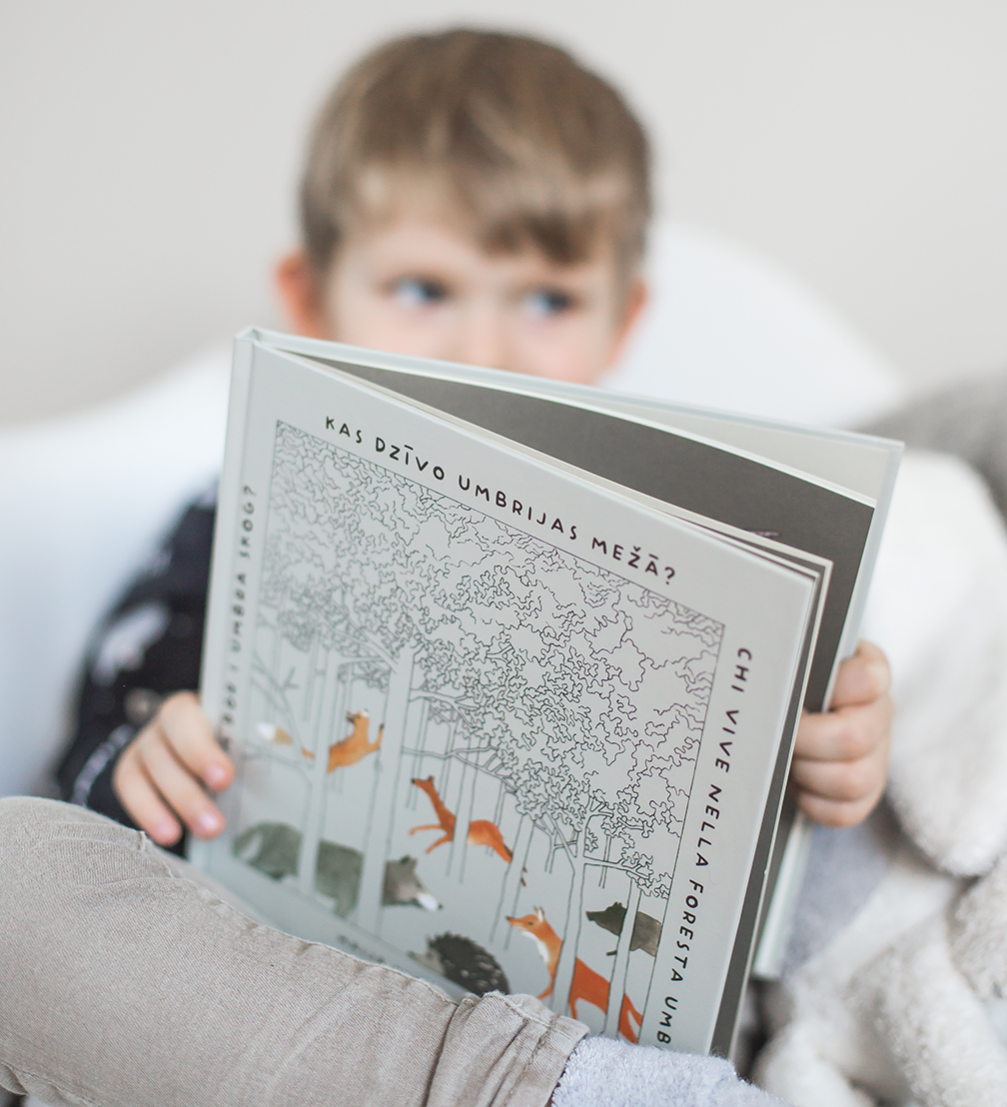 Last month, the opening event of the picture book «Who lives in Umbrian forest?» (Latvian title — «Kas dzīvo Umbrijas mežā?») took place at the Latvian Amphibian and Reptile Hall at the Riga Zoo. It is the first book illustrated by Maija Rezenberga, who is an experienced artist. Although the book is intended for the youngest readers and drawers, colouring of the fine, graphic drawings could be a meditative activity for adults as well.
Camouflage and hiding are some of the most common surviving strategies in the animal world. These can be observed both in the wilderness and at the Zoo when hippopotamus in the basin has turned into a motionless stone, or when an owl sitting on a branch completely blends in with the tree. Until January 28, during the annual event series «Winter Nights» at the Riga Zoo, the visitors have an opportunity to see the animals in twilight. This season, the «Winter Nights» was launched together with a book «Who lives in Umbrian forest?», illustrated by artist Maija Rezenberga.
«Last year, we spent six months in the woods in Umbria, Italy. Far away from people, high in the mountains, in a forest house without electricity, internet or phones, but… what we had was silence, candlelight, warmth of the fireplace and time for creative work. I had a feeling that there are eyes of curious wild animals all around us, constantly looking at us. There I saw them and drew them, too. All landscapes one can find in the book are real,» says Maija. She is a stained–glass artist, but, being the wife and business partner of the artist and furniture designer Jānis Straupe, she mostly works with their clients and helps to create the exhibitions.
The picture book «Who lives in Umbrian forest?» features animals and birds that also live in Latvia, such as fox, badger, hawk, owl and others. The book is mainly intended for creative activities of preschoolers, but could also serve as a colouring book for adults. The names of the animals are written in Latvian, Swedish and Italian. The book design was created in the design studio «Teika» (graphic designer Monta Apsāne). It is available at the «Hebe» concept store, Stabu iela 21a, Riga.