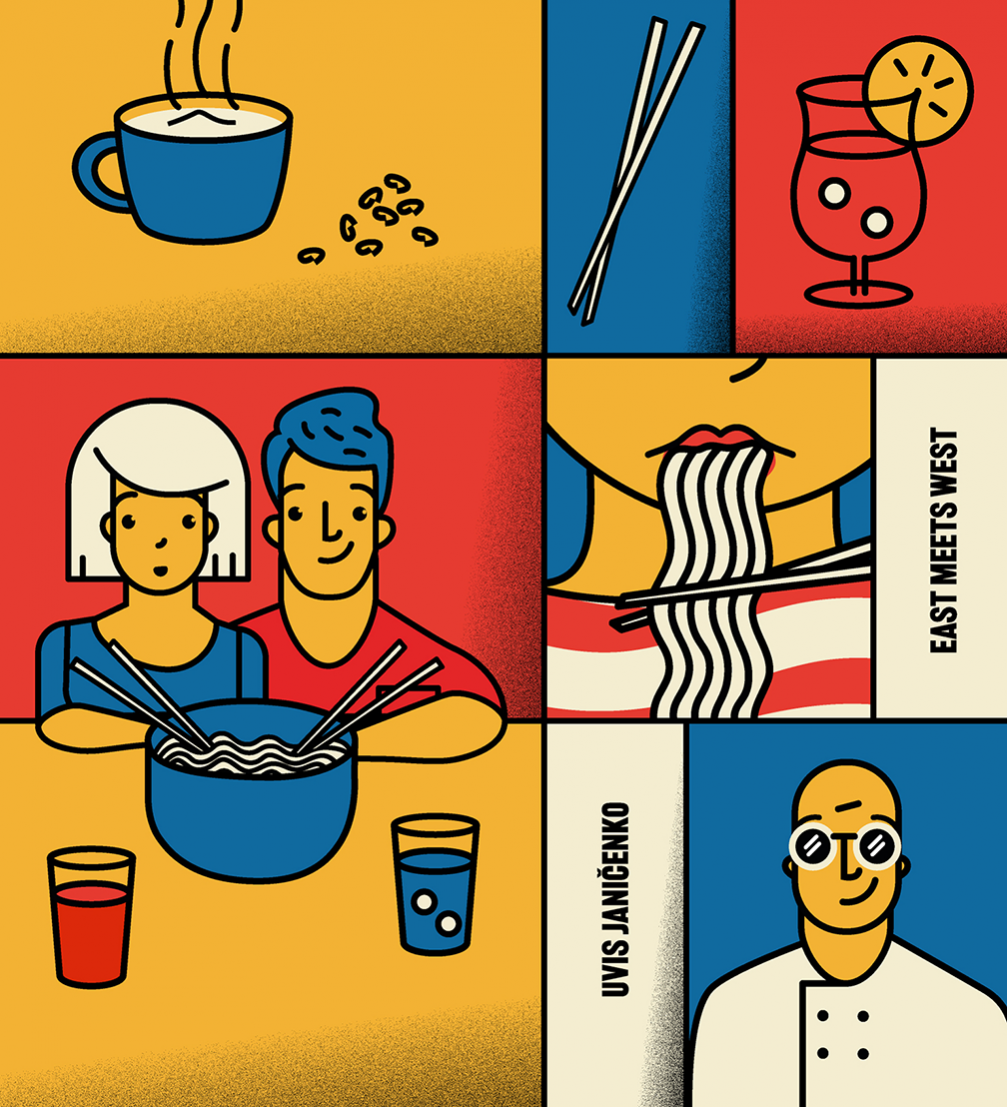 The brand concept of Rūme is about the meeting of Western and Eastern culture in a local format. The restaurant's core values, openness and an inclusive environment, have become guiding principles in the company's graphic language, which allows for a bright depiction of countless stories in a unified style.
Studio Reflect has developed the brand concept of Rūme in close cooperation with the restaurant's head chef Uvis Janičenko. He wanted to create a place where anyone would feel welcome — a student or a businessman, a group of friends or a family with children and pets. The name Rūme, meaning «space» in Latvian, embodies this openness, stating that «there is space for everyone.»
The restaurant specialises in serving ramen, characteristic of the East and steaks, typical of West, so when developing the visual identity, it was clear that it should combine both cultures, as well as a Latvian touch. The logo of the restaurant reflects the meaning of the word «rūme» — the long variation of «u» has been visually extended. The vertical nature of the logo is reminiscent of the presence of easter cuisine, while the colour palette and the grid composition evocative of the Bauhaus school symbolises the West. The chosen tones complement the natural materials found in the restaurant's interior, while the black and white graphics become the background for fine dining.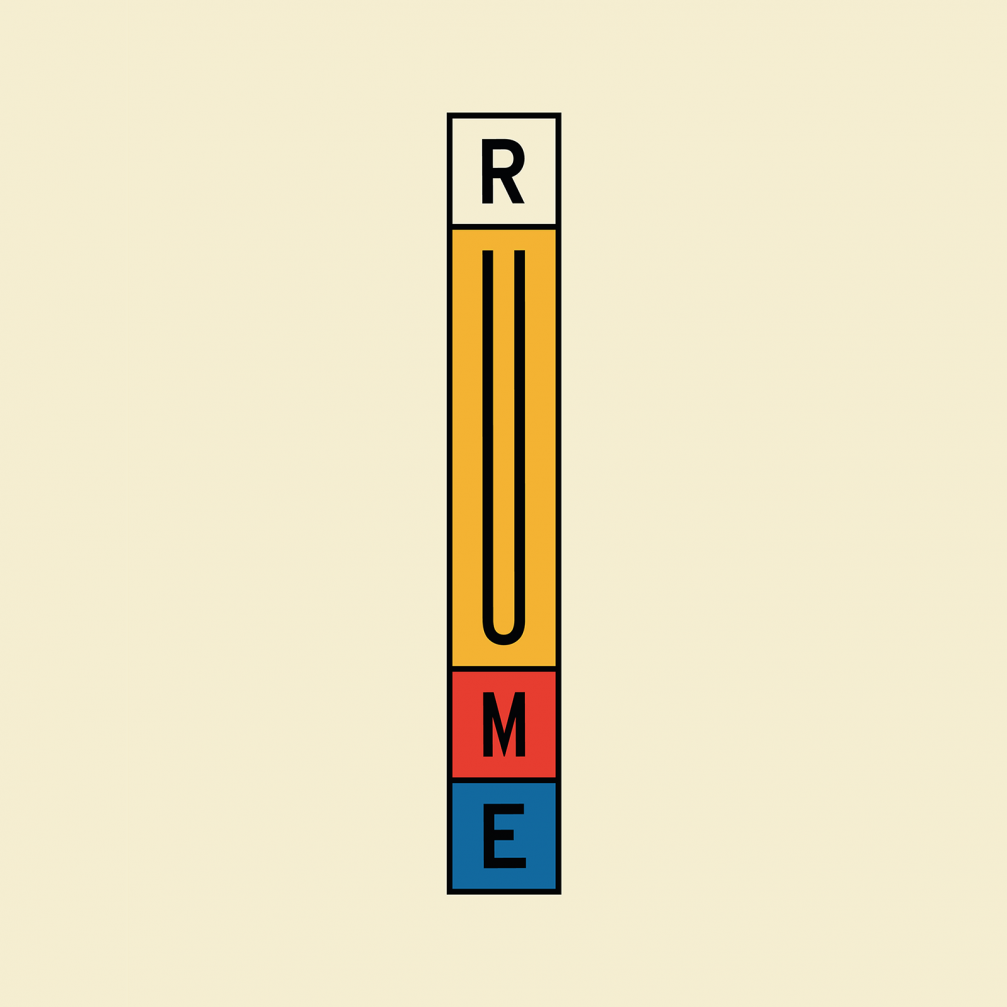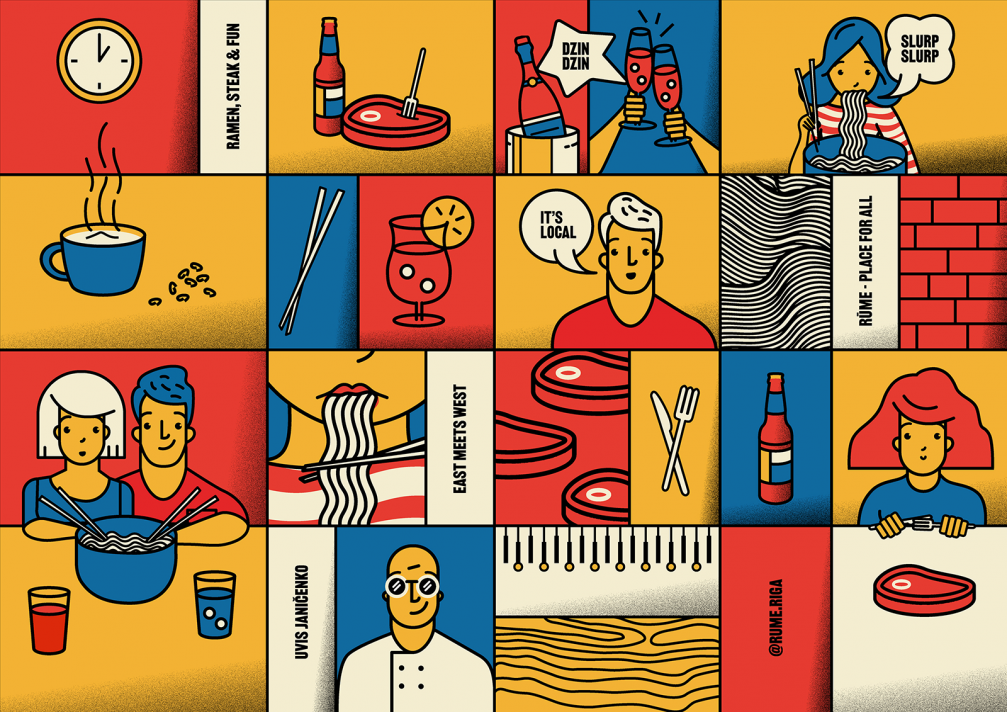 The authors emphasise: «A modern restaurant must be able to communicate in an inclusive way, take into account the different challenges of the era and be able to adapt to them.» Although opening a restaurant during a pandemic has been a big challenge, it has encouraged to think flexibly and to be accessible and present.
The graphic language of Rūme features characters that the restaurant visitors can identify with. For example, figures with face masks are used for social media communication and playful kids characters have been added to the children's menu. The brand's graphic language allows to tell stories about enjoying ramen, chatting over a cocktail glass or preparing street food. In order for the customer experience to be complete, the bright images inhabit not only the restaurant's interior and attributes, but also take-away packages and digital communication.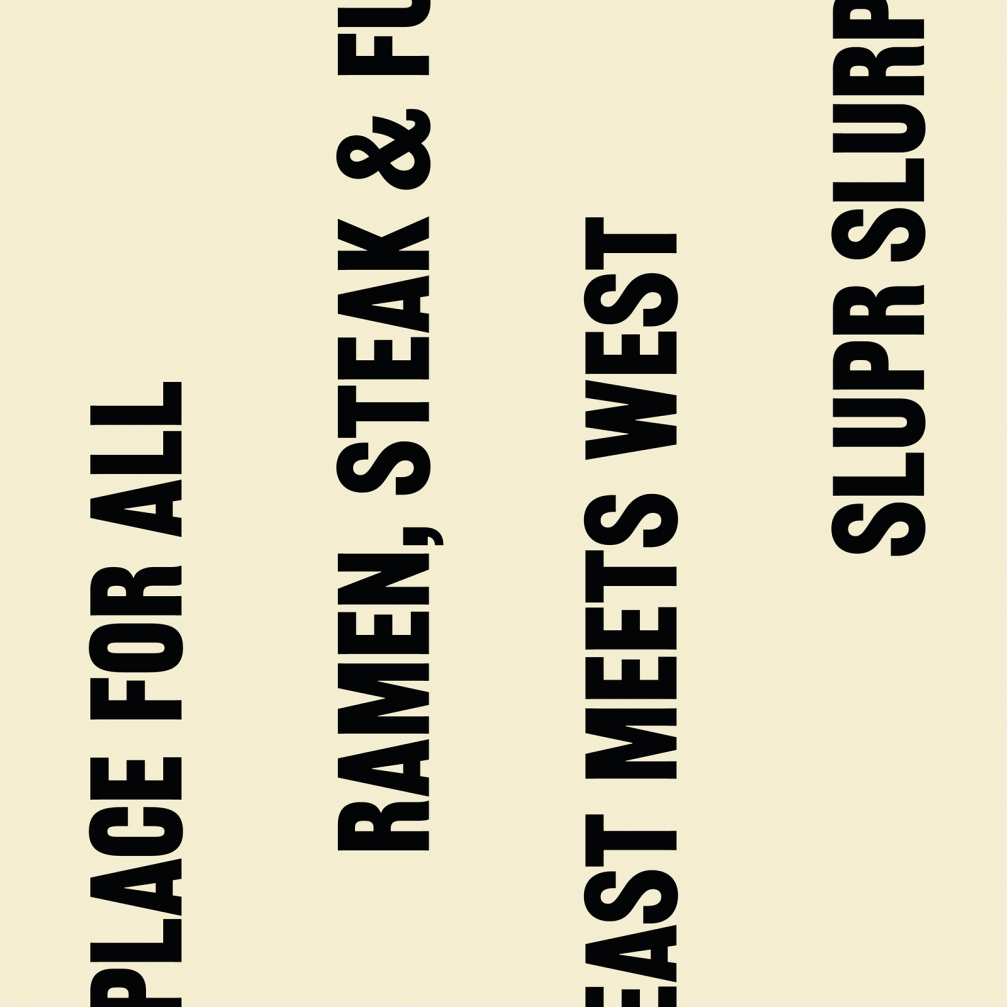 Brand strategy and design studio Reflect was founded in 2019, but its chief designer Matīss Zvaigzne has years of experience as a freelance designer. The studio creates brands, develops various digital and printed materials, as well as undertakes experimental projects like the digital exhibition Fresh Meat for Criticism they created for Latvian Academy of Arts. Reflect describes itself as passionate co-creators, they seek a holistic approach and are keen to get involved in the early stages of brand and product development.