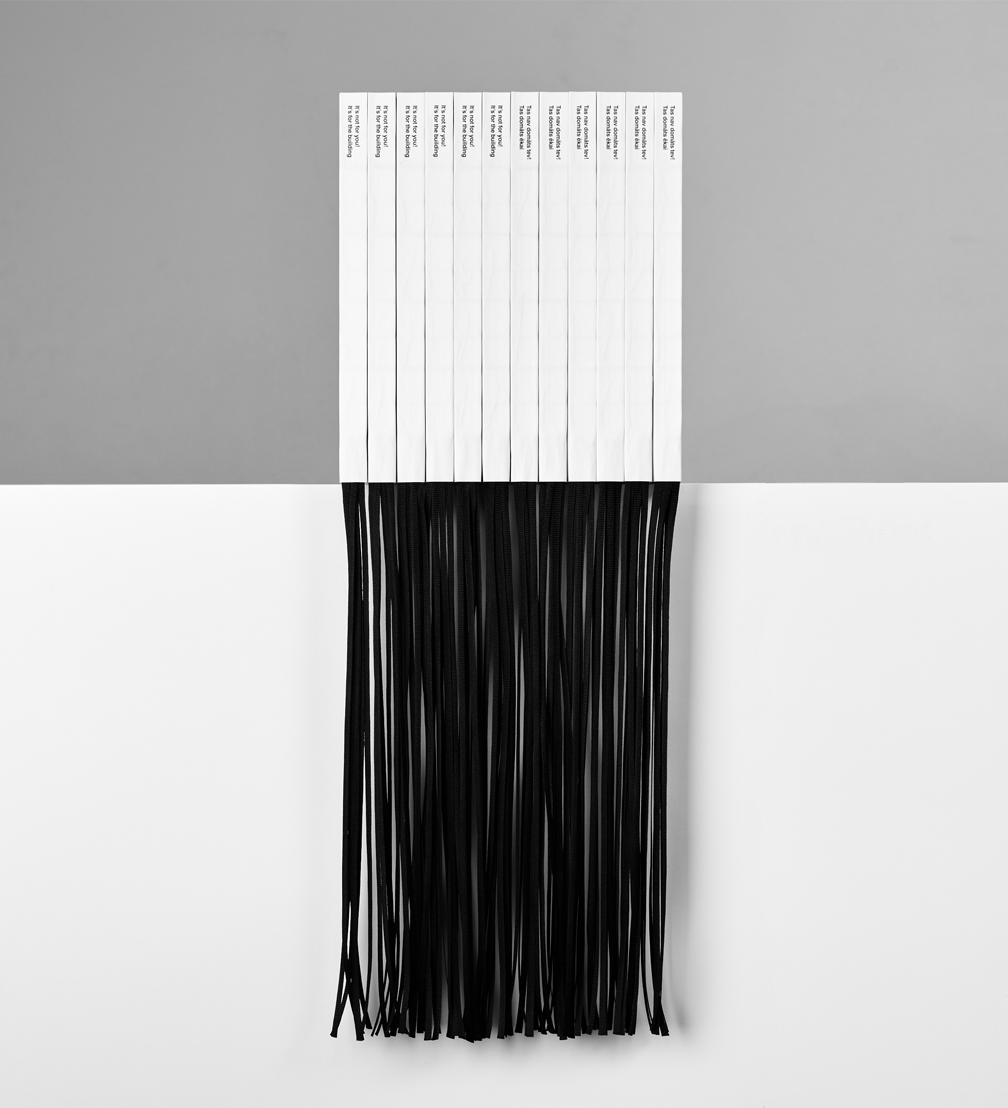 Design and photo by Alexey Murashko
Architecture office NRJA, which represents Latvia in this year's Venice Architecture Biennale, has published a book titled «It's not for you! It's for the building» in collaboration with the consulting company Levelup. The publication explores people's resistance to technology through essays, short stories, expert's commentary and illustrations.
«Windows that cannot be opened; smart systems fooled by hungry animals; buildings that are no longer mere spaces, but increasingly resemble services provided to the dwellers — these are just some uncanny effects of technological development that many people today experience as alienating and dehumanising,» the book that accompanies the Latvian Pavilion at the Venice Architecture Biennale announces itself. In over 150 pages the publication looks at instances of unsettling techno-nonsense. By highlighting the importance of the human perspective in architecture the book helps people learn to live together with today's intelligent machines in a world facing an environmental crisis.
The book's concept is based on contrast and opposition — utopian visions of techno-optimistic experts are intersected with the absurd experiences of sceptics, highlighting the complex and often conflicting relationships between people and technology. The viewpoint of architecture's user is represented through satire and absurdity by Anete Konste, Marta Elīna Martinsone, Rvīns Varde and Ēriks Stendzenieks. The collision points between man, technology and architecture are also addressed by historian Mārtiņš Mintaurs, designer Jeļena Solovjova, philosopher Artis Svece and architecture critic Vents Vīnbergs. On the other hand, the irreplaceable role of technology in tackling the global climate crisis is illuminated by energy efficiency and environmental experts Andra Blumberga, Edmunds Cepurītis, Aija Rūse, and architect Ervīns Krauklis.
Among the authors of the essays are architectural theorists David Hayman, Daniel Barber, Maha Salman, and Peter Trummer, whose work «Architecture in the Age of Hyperobjects» has inspired the title of the book, as well as the exhibition. Furthermore, the conceptual journey of the creative team is captured in the closing essay by Elīna Lībiete, editor of the book.
The book is illustrated by Ivars Veinbergs, using the drafting program AutoCad. The publication was designed by Alexey Murashko, who also created the visual identity of the Latvian Pavilion. Contrasting typefaces and counter colours highlight the polarising content of the book, while the many upside-down ribbon bookmarks play upon the absurd nature of «techno-nonsense».
In Riga, the book «It's not for you! It's for the building» is available in bookstores Mr. Page and Robert's Books, both in Latvian and English. It can also be purchased or ordered directly from the publisher — the architect's office NRJA (by appointment only). The publication will soon be available in the bookshops of La Biennale di Venezia.
The publication of the book is supported by the State Culture Capital Foundation, the Ministry of Culture, and Arctic Paper.