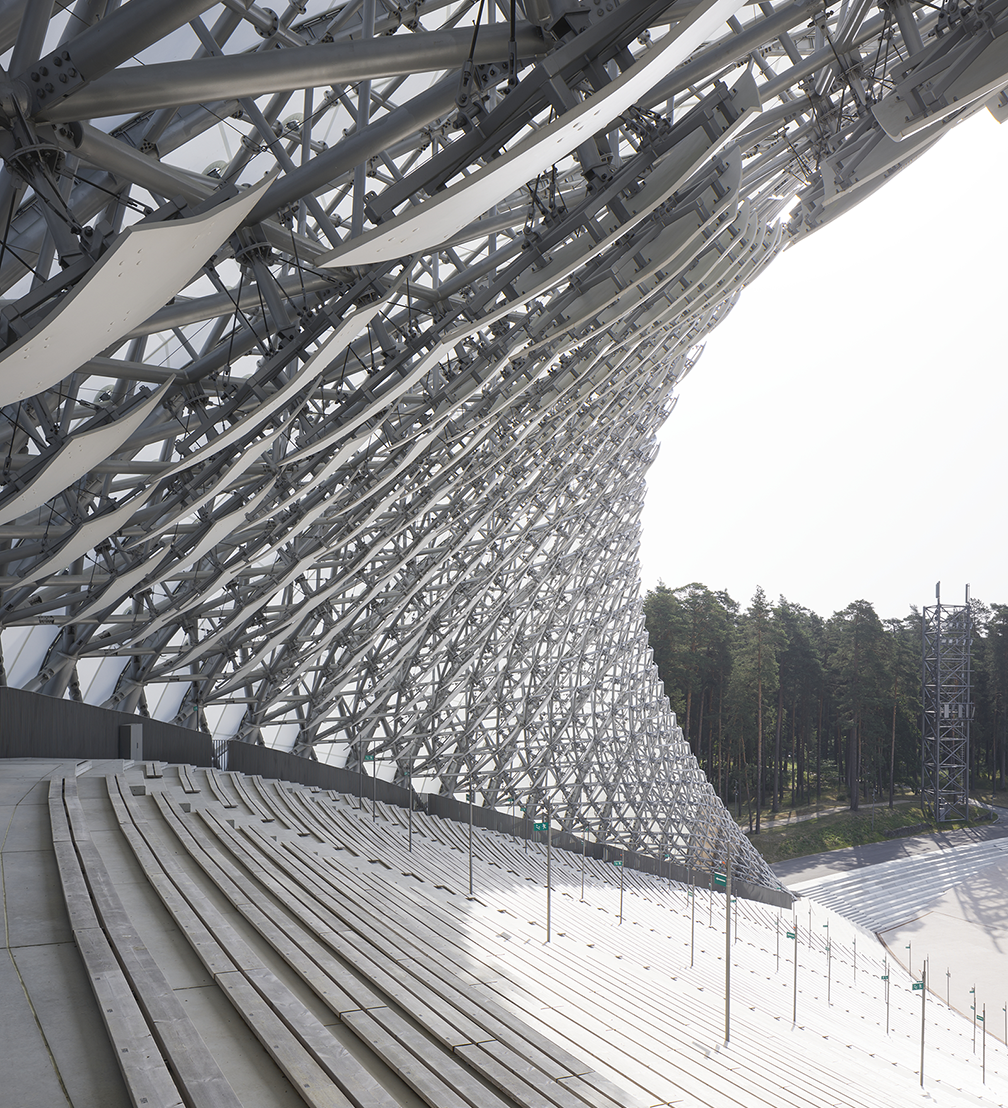 This year, the Grand Prize of Latvian Architecture Award was given to the renovation of the Song Festival open air stage in Mežaparks designed by Mailitis Architects and Arhitekta J. Pogas birojs. In the magnificent building, which was finished this summer, the metaphor of a silver grove organically blends with the surrounding landscape and tells about Latvian cultural traditions.
Stories Editorial September 2, 2021
«The concept of Mežaparks new open air stage — Silver Grove on the Song Hill — is shaped by similarities with the Latvian landscape sung about in Latvian folk songs. The metaphor of the Silver Grove has created both the visual image of the new stage and served as an ideological basis for solving unique acoustic and constructive challenges,» say the authors of the project. The choral risers symbolise the hill while the roof structure resembles trees, the branches of which are intertwined in a grove, stretching to a height of almost thirty-six meters. The foliage consists of transformable elements — acoustic panels, lighting fixtures, and a membrane, which are attached to the roof structure and serve as a basis for the acoustics of the stage and the background scenography of the festival.
The new open air stage has almost thirteen thousand seats for singers — almost twice as many as the old stage. Ten choir entrances have also been created and the area for dancers has been expanded. The choral risers are made of reinforced concrete while for the convenience of the audience removable wooden benches have been added to the auditorium. A special system dispensing water mist has also been installed to help to cool the singers in hot summer conditions.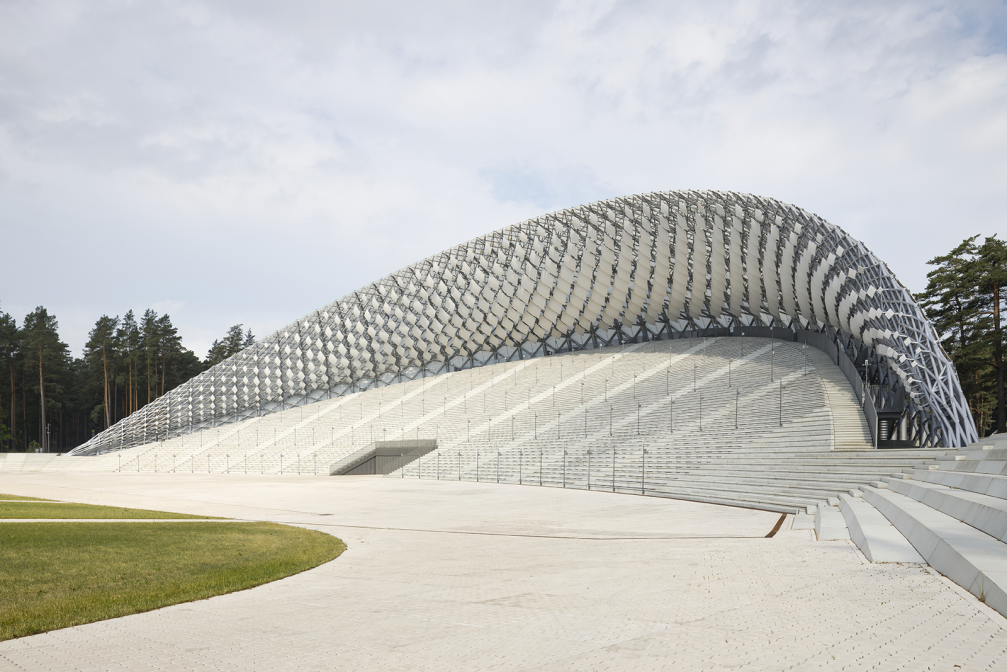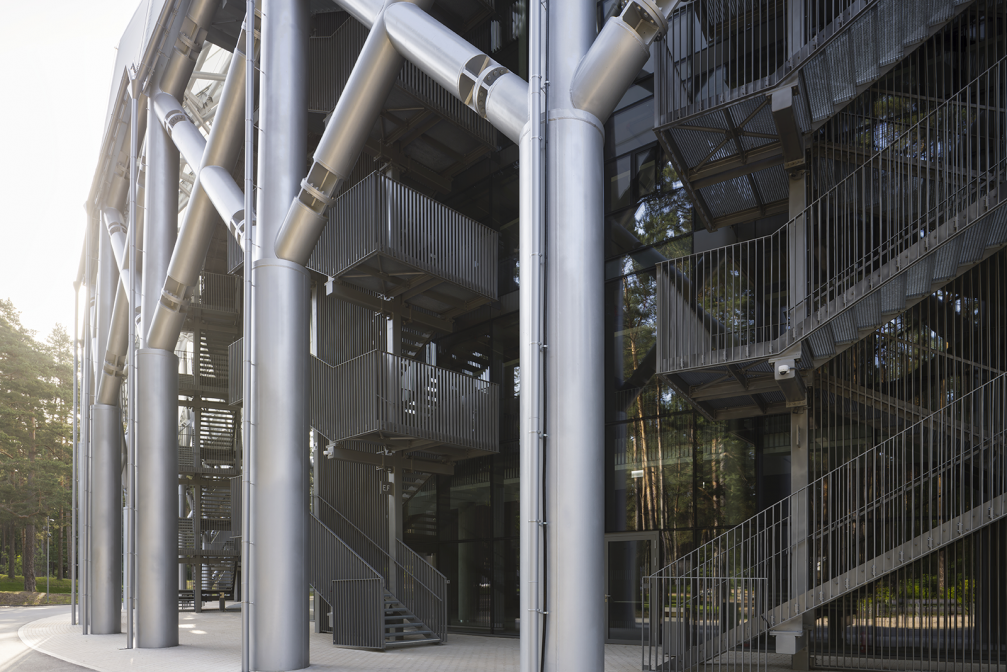 «The acoustic project is absolutely unique on a global scale. A model of the scale that Andris Zabrauskis and his colleagues created for acoustic modelling is unprecedented, so we have can be proud of this effort on a global scale, to offer it to the world with our unique choral singing tradition, which is inscribed on the UNESCO World Intangible Cultural Heritage,» Jānis Dripe, an expert on architecture from the Ministry of Culture, noted in an interview with Latvian Television.
Work on the renovation of the Song Festival open air stage began already in 2007, when the proposal by Architect J. Poga's Office and Mailitis Architects won the international architectural competition. At that time, the symbolic image of the project played a big role in winning the support of the jury. The roots of the hill metaphor can be traced back to the concept of the Song Hill developed by artist Ivars Mailītis for the 22nd Latvian Song and Dance Festival in 1998. In several subsequent Song Festivals, art directed by Mailītis, the image of a hill and a silver grove was used repeatedly.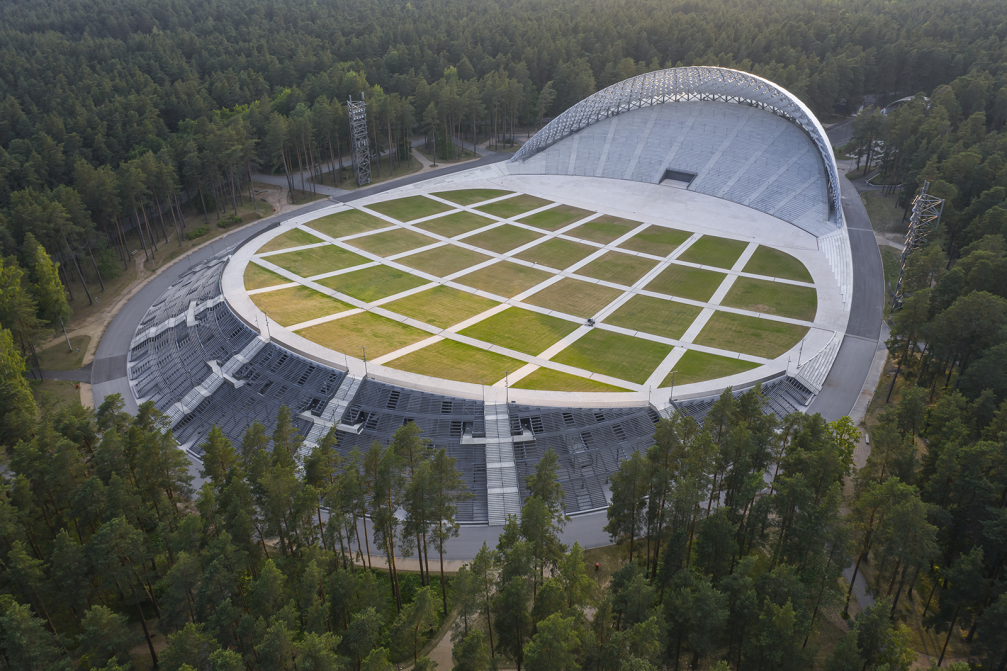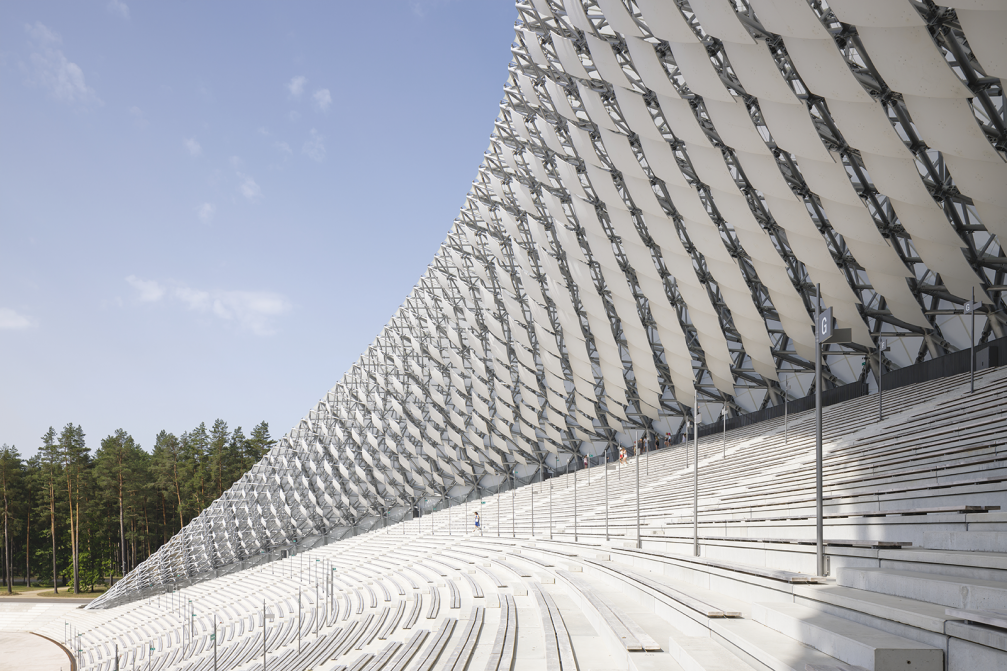 Authors:
Mailitis Architects and Arhitekta J. Pogas birojs
Client:
2007–2009 — the City Development Department of Riga; from 2016 — the City Property Department of Riga
Construction:
Construction stages A, B1 and C –  LNK Industries ReRe Būve; construction stage B2 — LNK Industries
Acoustics:
Andris Zabrauskis, R&D Akustika, Müller BBM Akustik
Address:
Ostas prospekts 11, Riga