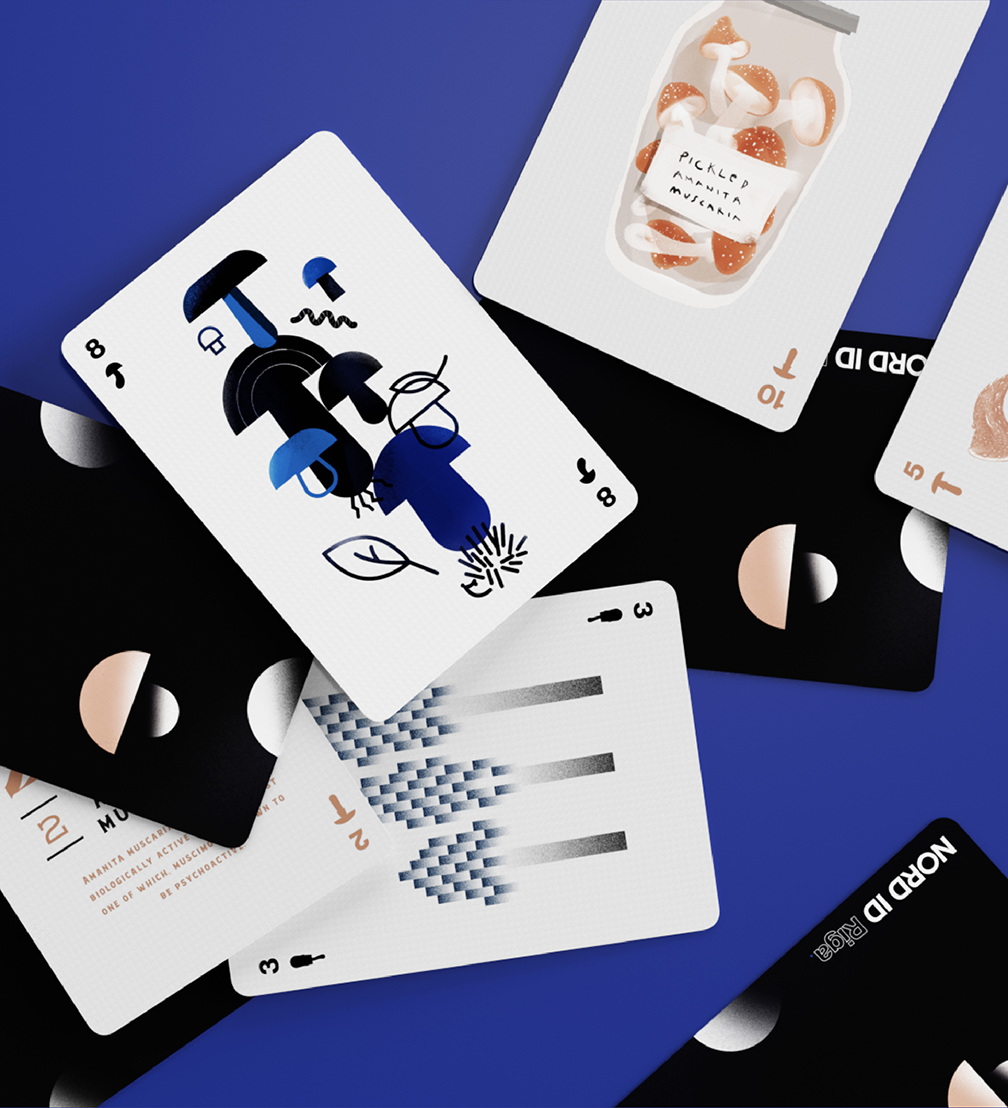 Design studio Nord ID Riga has created its own design product — playing cards Visual Mycologists Expedition. Instead of traditional suits, the cards depict four species of mushrooms found in Latvia — their appearance, lifestyle, and relationship with humans.
«The fungus is considered to be the largest and oldest living organism on the planet. They are also often a source of inspiration for artists. Both their graceful and diverse bodies and the hallucinogenic properties of some mushrooms have encouraged creative people to see more for centuries. We could not ignore such important companions, so through creative exercises, training and demonstration of the talents of the design studio Nord ID Riga, we thoroughly researched four varieties of mushrooms,» the project's authors explain.
The design studio reveals that the idea of playing cards as a graphic design medium came about when thinking about corporate gifts for its customers. Instead of the usual suits, the cards are marked with porcini, chanterelles, shaggy ink caps and fly agaric. The specific species were chosen not only because of their recognisability, but also because of their different shapes, so that the suits would be easily distinguishable when playing cards. In the deck you will find information about the structure of mushrooms, as well as a recipe for chanterelle soup and witty interpretations of our relationship with the world of mushrooms. It should be noted that Visual Mycologists Expedition cards are really interesting to study, but in the heat of the game sometimes you have to think about which of the suits the card belongs to.
An important aspect is the quality of the cards. They are made by a US company that specialises in the production of playing cards, ensuring that Visual Mycologists Expedition is durable and will last a long time. Currently, the cards are available in limited quantities by contacting Nord ID Riga. The studio points out that as demand increases, the next batch of playing cards will also be made.