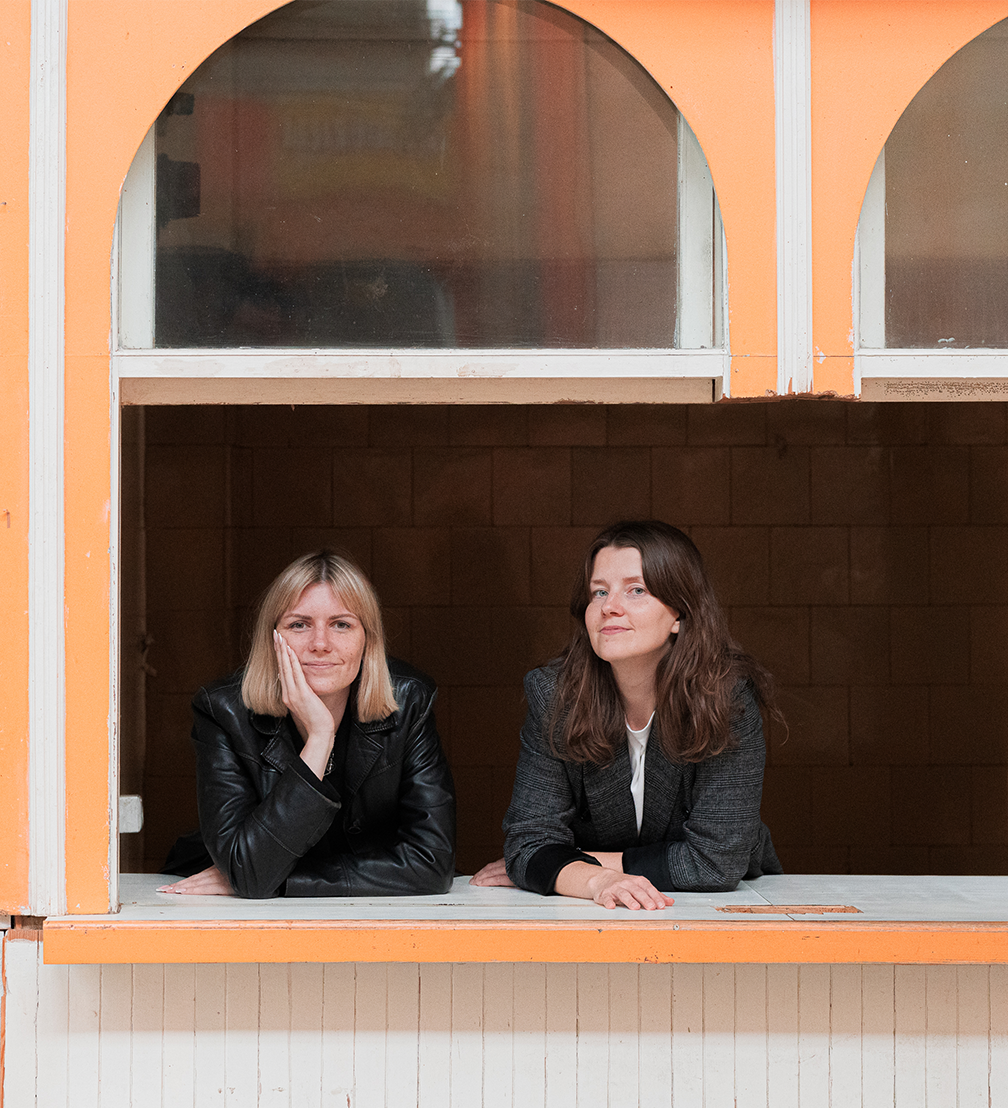 Rūta Jumīte and Ieva Laube. Photo by Jānis Klaučs
Contemporary art festival Survival Kit 14 will soon open at the Vidzeme Market in Riga, but at the beginning of summer, the market hosted the Design Activism: Interventions for Eco-Social Challenges summer school, organised by designer Rūta Jumīte and educational project curator Ieva Laube. Over the course of two weeks, first-year students from the Design Department of the Art Academy of Latvia (AAL) learned new design methods to create speculative intervention proposals, from a composting service to a cafe for pigeons.
As noted by the school's initiators, Rūta Jumīte and Ieva Laube, the human-centered design approach, which has usually been predominant, is insufficient to address systematic problems. Given that the well-being and existence of society are dependent on the health of environmental ecosystems, diversity, and sensible resource management, our design approach must also be broader. To offer future professionals a more diverse perspective on the possibilities offered by design and the designer's responsibility, participants of the AAL Design Summer School learned system thinking, multispecies design, eco-centric design, prototyping, design activism, and speculative design.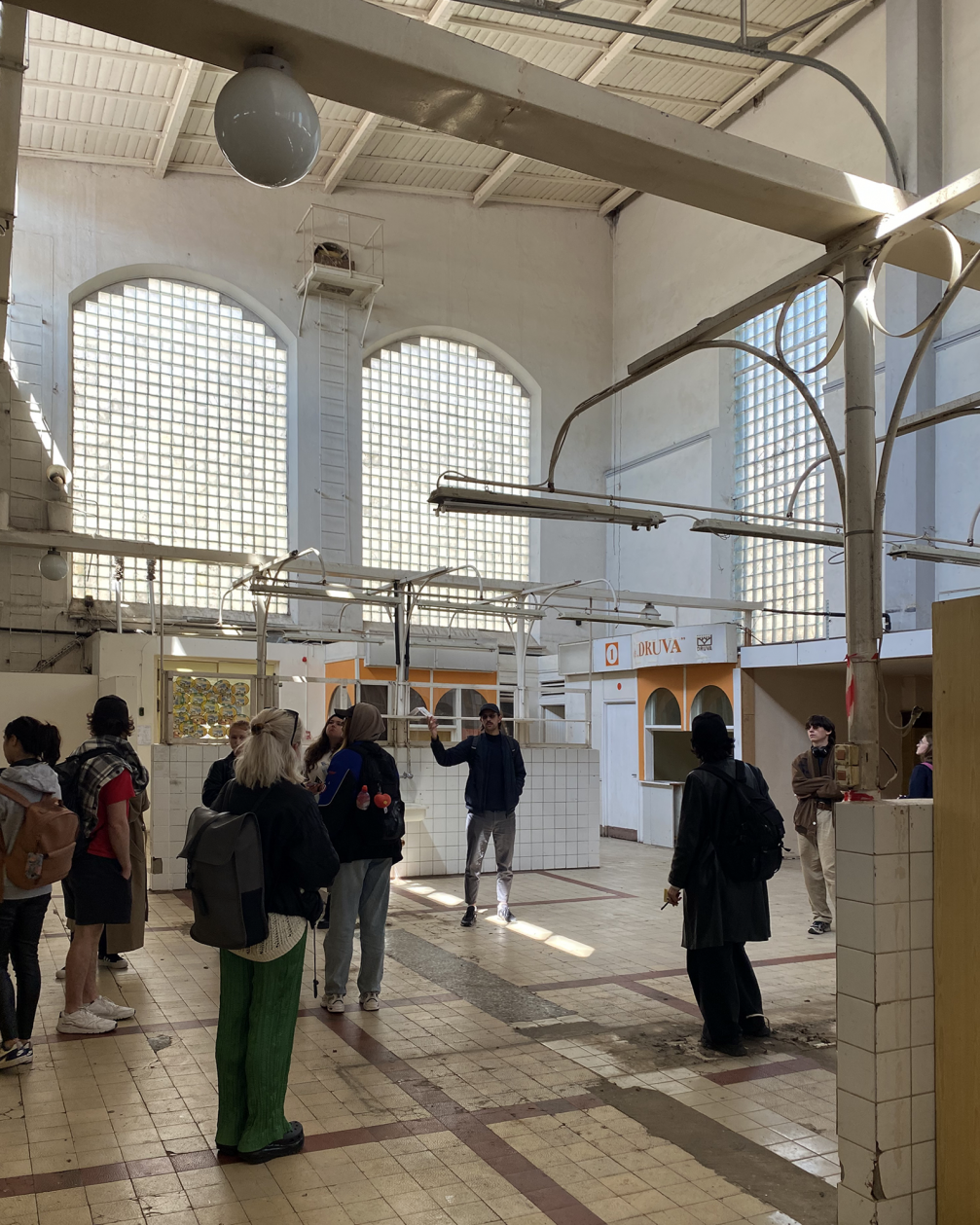 «These new design methods foster collaboration between design students, ecologists, and researchers, as well as local municipalities, to develop an understanding of the urban environment and its ecosystems. They promote empathy between people, nature, and its organisms and help to understand how design processes can incorporate the needs of other species, not just humans,» says Ieva. Rūta acknowledges that the new educational platform is experimental, and before its implementation, there were concerns about whether first-year graphic, product, and interior design students would be ready to learn methods typically taught to master's students. However, the worry proved unnecessary, as the school's participants eagerly embraced the new knowledge and applied it in practice, forming five interdisciplinary teams to develop proposals for interventions in the Vidzeme Market.
One of the student proposals was the cafe Empatio, a speculative restaurant for pigeons and humans. Based on bird feeding habits, a special three-course menu was designed to introduce diners to their diet. The restaurant would serve small meals to both pigeons and humans at specific times, allowing them to coexist and develop tolerance for these misunderstood birds. Although pigeons might seem undesirable to many, their presence in the urban environment is a result of human economic activity. Once domesticated, the birds have now been abandoned. Moreover, pigeons enhance the natural diversity of cities by attracting rare predators, such as sparrowhawks. The concept also includes collecting pigeon excrement for soil enrichment.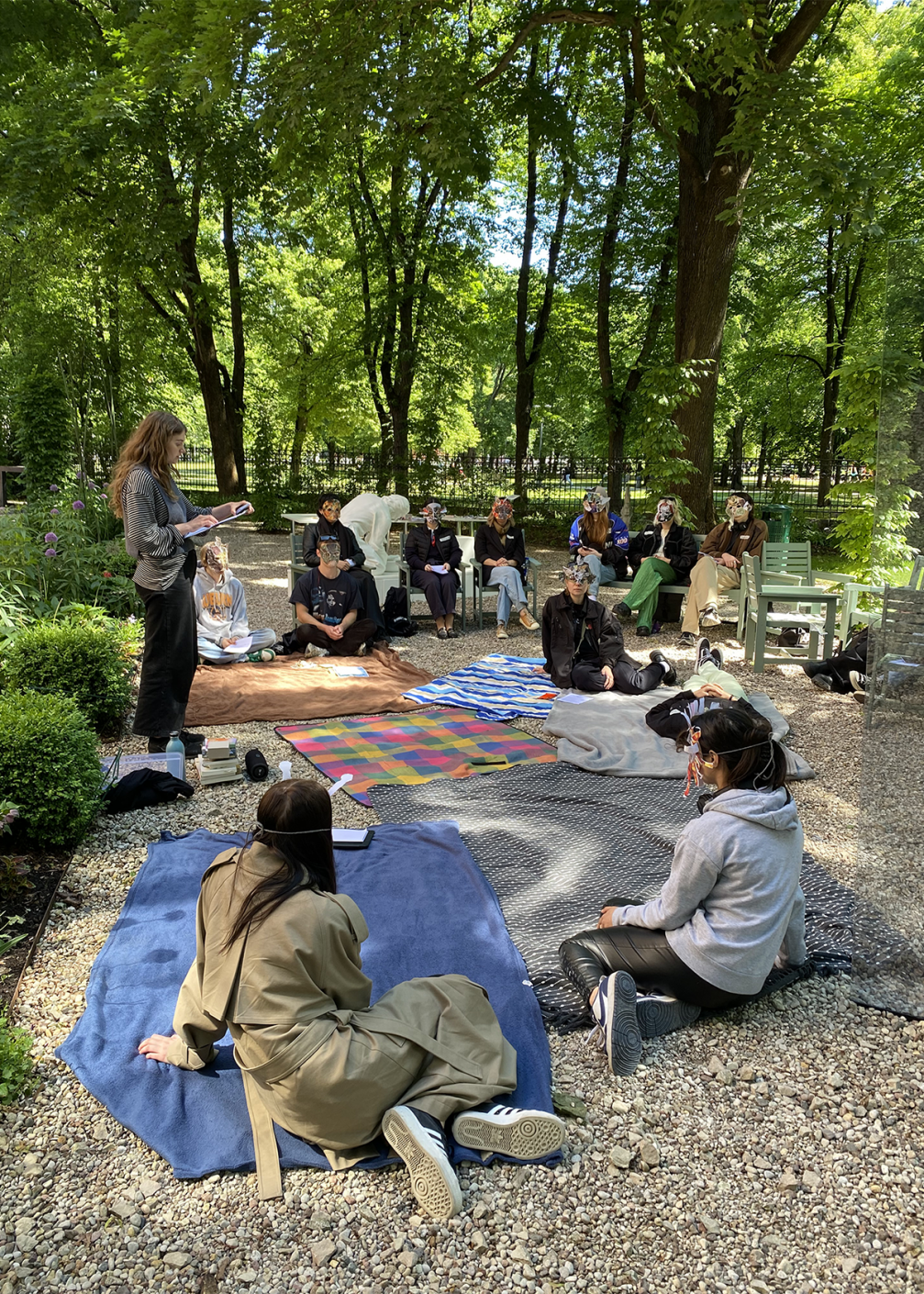 The coexistence of various species was also addressed in the project Harmony Heights, which envisions greenery in a degraded corner of the market behind the former milk pavilion. By combining the currently popular climbing sport with insect habitats, a multispecies climbing wall would promote human mental and physical well-being and foster natural diversity and accessibility in the urban environment. Another team proposed enhancing urban biological diversity by greening the roofs of the market buildings and creating connections between them. The Insect Bridges would function similarly to wildlife crossings seen on major highways. This proposed project introduces such principles into the urban environment, connecting ecosystems and allowing small creatures to expand their habitats and food sources.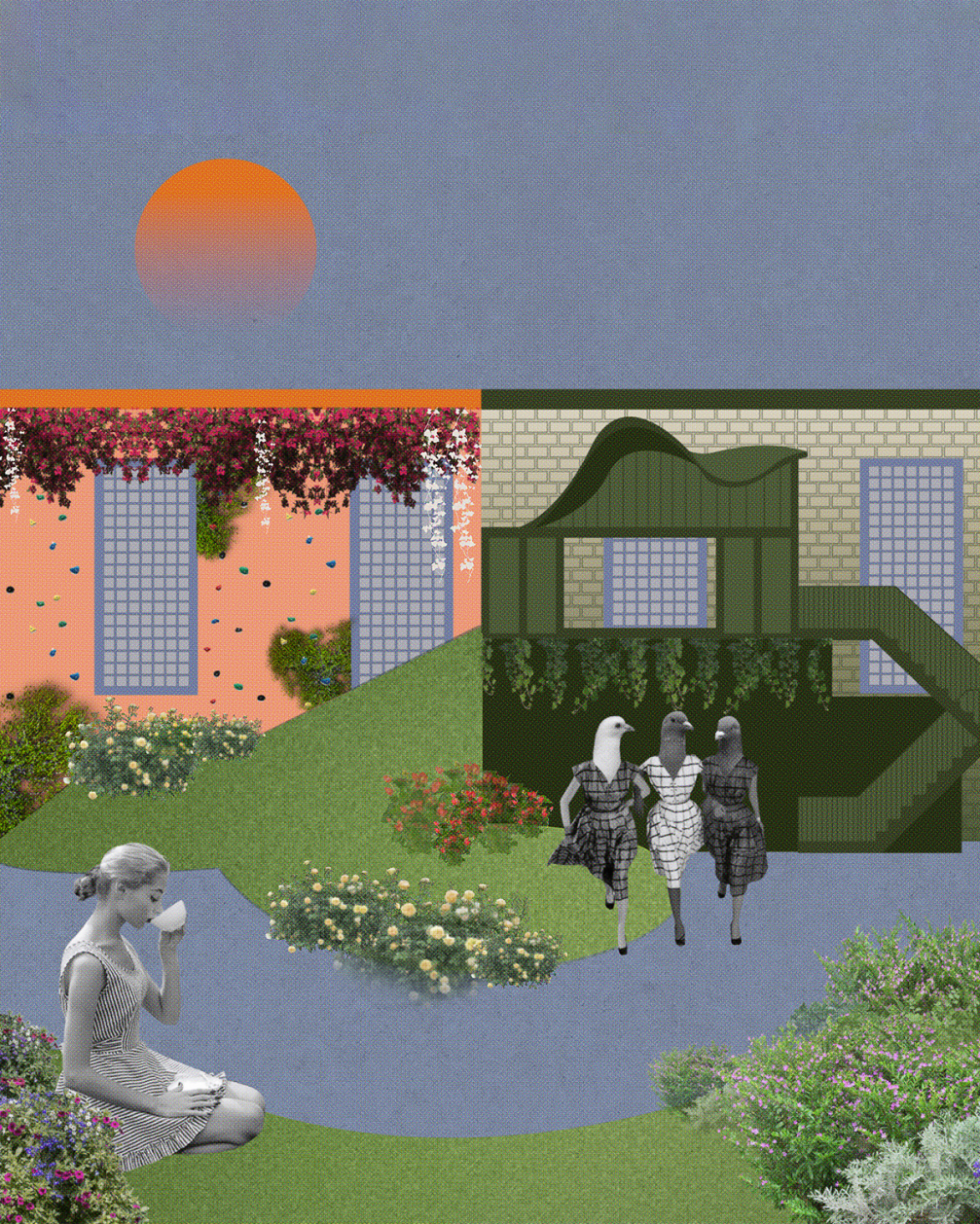 The project Mushroom Music is a speculative cultural space that helps to create new relationships between humans and mushrooms using music as a medium. Through various electronic synthesisers, visitors can listen to ambient music created by mushrooms. This type of experience could also help people with sleep disorders. As noted by the authors of the pavilion, mushrooms are a vital component of environmental ecosystems, engaging in material recycling, and the pavilion would alter the conventional human and mushroom relationships, which often don't extend beyond their use in diet.
To promote biological waste separation in the city, one of the teams proposed an unconventional service, the compost reward system Kompostenis. The concept is based on the idea that people who bring and dispose of their compost receive tokens, which can be exchanged for small and environmentally friendly gifts or unusual letters from compost inhabitants in a playful reward machine. This project highlights the value of compost, especially in the urban environment and the market area, where food waste recycling is not fully resolved.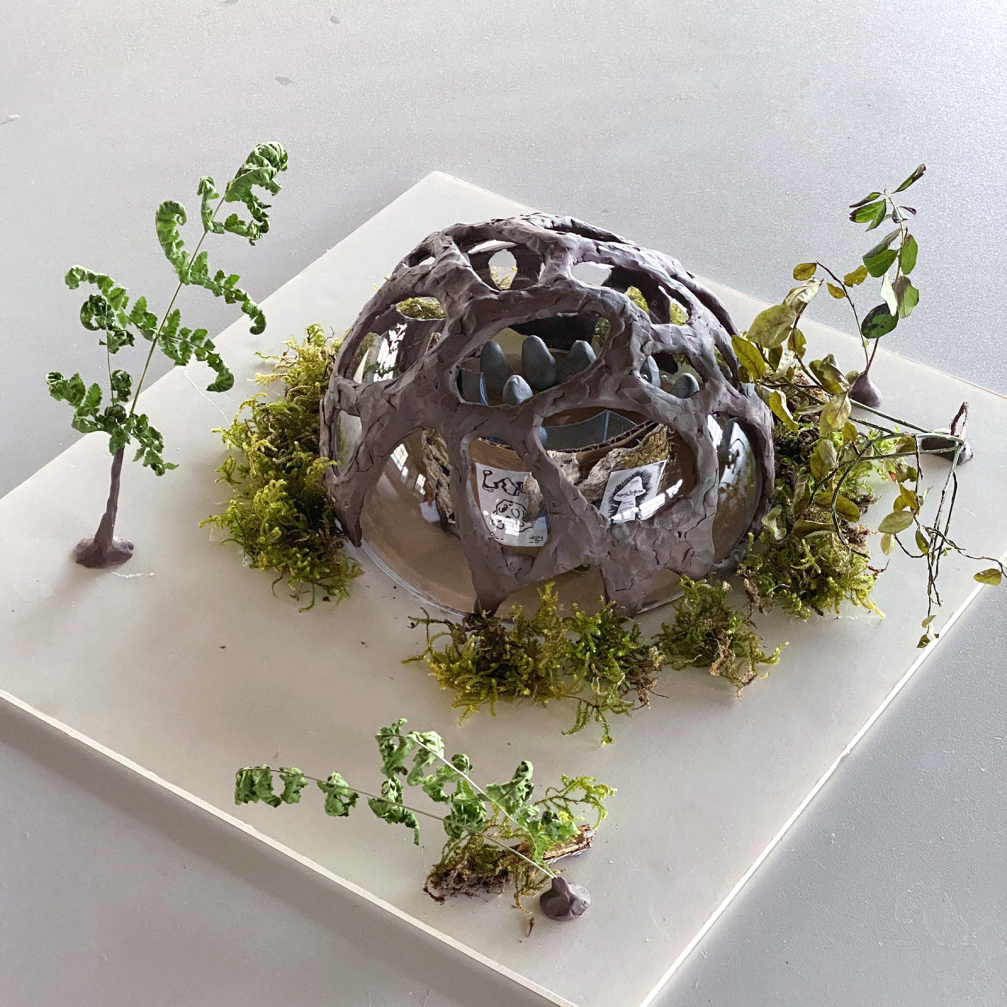 The Design Summer School was organised and led by designer Rūta Jumīte and education project curator Ieva Laube. The school was attended by first-year graphic, product, and interior design students from the Art Academy of Latvia: Aleksandrs Viktors Semjonovs, Amanda Krūmiņa, Daniels Treimanis, Dāvids Zagorskis, Elīna Kristiāna Rītere, Elizabete Ruša, Elmārs Grigorovičs, Grieta Anna Šmite, Ilze Lankovska, Jānis Arnis, Jevgeņija Harutjunjana, Katrīna Bināte, Luīze Dārta Kalniņa, Marta Cīrule, Pārsla Cinovska, Reinis Jānis Lozda, Renāte Liepniece, Sintija Sorokina, Vanesa Grebeņuka.
Lectures and workshops were conducted by ecosystem design researchers Emīlija Veselova (Finland) and Tau Lenskjold (Denmark), ecosystem researcher Ivo Vinogradovs, and change design researcher Tīna Alise Drupa. The summer school was organised in collaboration with the Riga City Council City Development Department and its representative Mārtiņš Eņģelis, who developed a vision for the future development of the market area, as well as Rīgas Nami. The creation of the summer school was supported by the State Cultural Capital Foundation of Latvia.