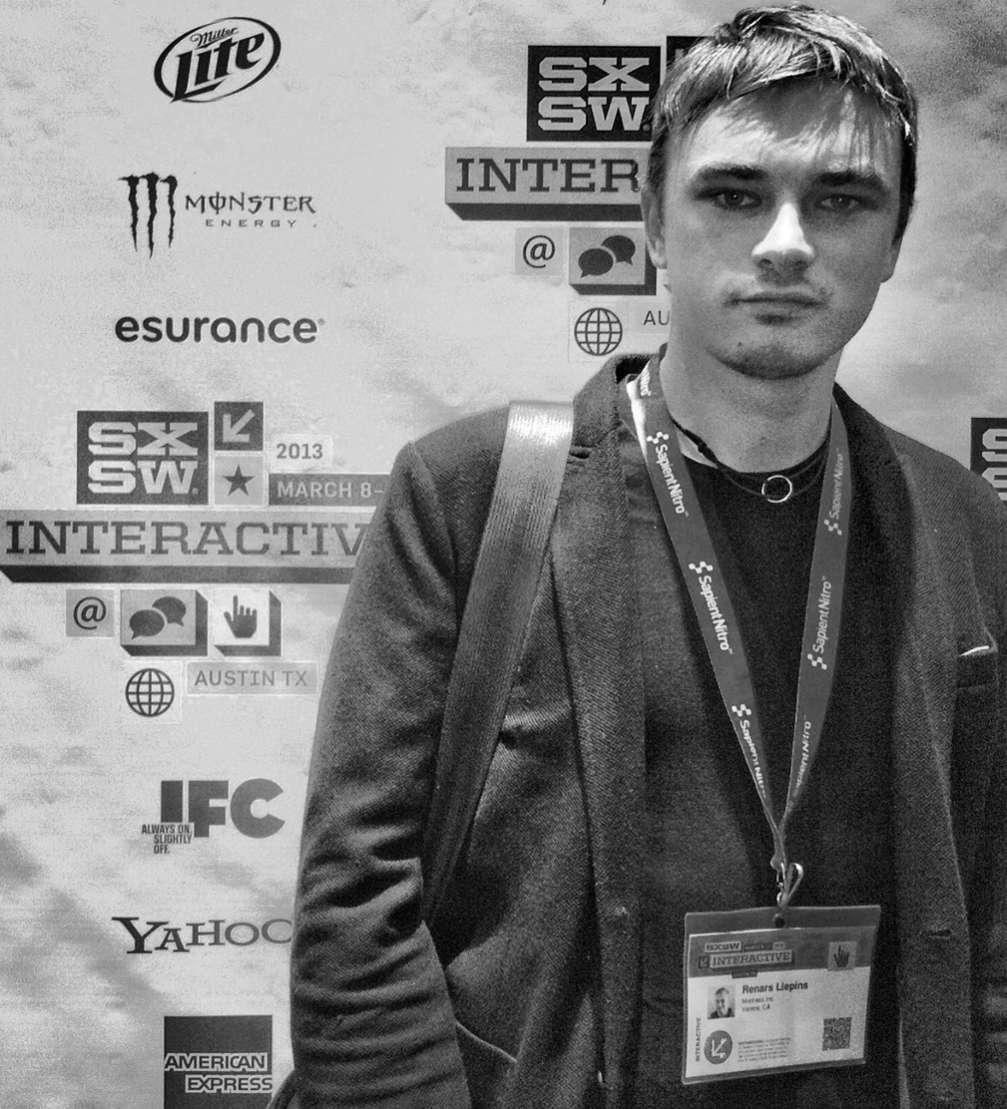 Renārs Liepiņš pie SXSW ieejas. Foto no personīgā arhīva.
Renārs Liepiņš is one of the still few Latvians that have had a chance to visit «SXSW Interactive» festival. It takes two posts to tell about the most interesting things seen and experienced.
«SXSW Interactive» (South By Southwest) has taken place in Austin, TX annually since 1994, and is considered to be the largest event of its kind in the world, bringing forward the most current, interesting and important in advertising, technology, design, online, communication, social networks, media, interactive solutions… In short, everything. It is just one part of the SXSW trilogy, and still young if compared to «SXSW Film» and the by now legendary «SXSW Music».
Best of what I've seen
Too much missed and a lot seen. With such result I conclude my first, and hopefully not last «SXSW Interactive». Firstly, I would like to highlight a man named Elon Musk. He was once the creator of «PayPal», but is now busy with solar energy, space exploration technology, solutions to Boeing's problems, and «Tesla Motors» — I read somewhere that one of its models has been registered in Latvia as well. Here in California I see them quite often, and they look amazing. Without a doubt I would call him the next Richard Branson, and I am sure that in a couple of years every little American boy's idol is going to be Elon, not Richard. If he pulls all strings right, we are going to witness a world seen in sci-fi films. Shortly after his speech a rap summary by SaulPaul became available online, but a video of Elon himself speaking at SXSW… Probably not available anywhere.
By chance I wandered into a lecture «The Best Interface Is No Interface». It was simple and brilliant, exactly what a great interface / user experience should be. Among the many examples that Golden Krishna listed, the most memorable was his mocking of BMW Remote App, which uses approximately 13 steps to open a car, 10 out of which are superfluous. It is not a better solution than an ordinary key or remote. Whereas this Mercedes Keyless-Go function is. Leave your e–mail on Golden Krishna's tumblr, and he might send you his SXSW presentation slides or something else useful.
Cindy Gallop's project «Make Love Not Porn». You might have already heard about this lady and her peculiar idea from this TED video. Time has passed, and her project has been growing by leaps and bounds. Welcome to enjoy other lovers' videos or upload your own and make money with it.
«Caine's Arcade» — a story about a boy and his cardboard boxes that the little chap has turned into a whole amusement park. In an instant, the story earned several hundred thousand dollars in donations, as well as grew into a foundation that supports creativity in children.
This and that about interactive documentaries. For example, «Bear 71» is an interactive documentary about a bear and his life in a national park, whereas this one is about refugees from North Korea. Here is a whole page with films made in a similar manner.
A little about apps. For example, this sweet little calendar. Or an app for travellers, probably more useful in North America. I and most of the other SXSW attendees selected younity as the best among apps.
This ad could be great for those who like to speak out against injustice in the world with a «like» or a «share». This video, considering #horseburger problems of that moment, seemed twice as great and enlightening, if one needs to deal with silly comments online.
And, of course, Google. Unfortunately I wasn't able to get into this lecture about the possibilities of Google Glass, but Google is the good guy and promotes the new product, hence hasn't forgotten to make a video from the lecture.
Those who have more time on their hands, can go to  SXSW Interactive Schedule and find more and even more.