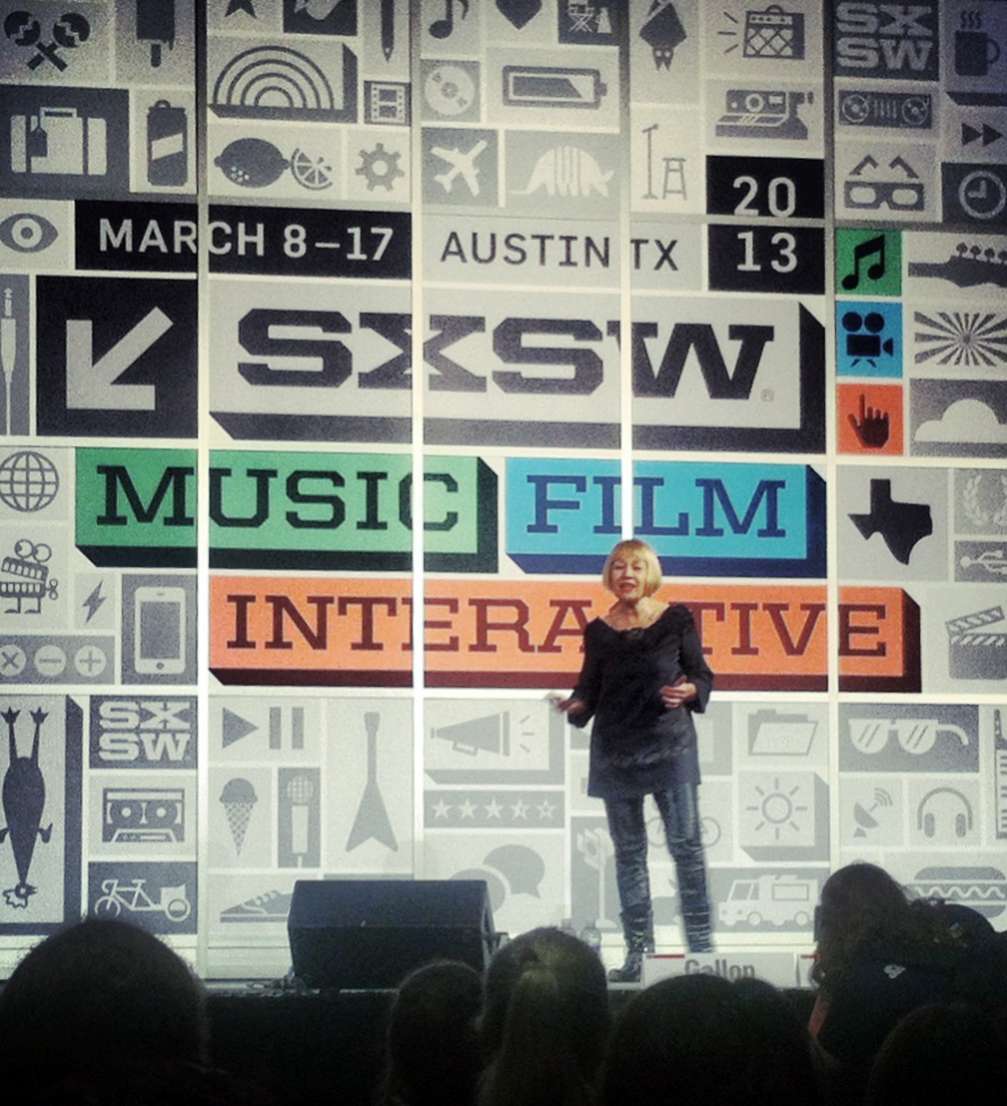 Cindy Gallop in presentation. Photo — Renārs Liepiņš.
Renārs Liepiņš continues to share his observations at «SXSW Interactive» festival. In the second post — tips and tricks for being faster and gaining more.
The programme of «SXSW Interactive» festival is so overwhelming that it takes preliminary knowledge to stay focused, select the most important events among the many, and to act with determination. SXSW also teaches a valuable communication lesson to young professionals.
Talk to strangers
27 000 people visited this year's SXSW. Almost each one of them works at an advertising agency, owns a start–up, blogs, codes, or does it all together. When boarding the plane, by chance I took a seat right next to an owner of a film production company. Coincidentally, his office was pitching for a chance to film a video for «Hot Wheels», on which I worked at the advertising agency «Mistress» in California. I received an invitation to this man's private party even before the plane took off. A couple of meters above the ground I realized that at this festival I am going to speak to many, many strangers.
Go to bed late
Five days, five nights. That long one can survive in a constant lack of sleep, proper food and fresh shirts. Yet it is worth not to go to sleep, but walk around the city and try to get into a private party or event. What's the point of partying every night and going to lectures with sleepy eyes the next day? There is a point, especially if you're just in the beginning of your career, searching for a job or investors for your «start–up». It is exactly at these private parties that you will stand in line for the bathroom right next to a potential business partner or make small talk with a recruiter of an ad agency.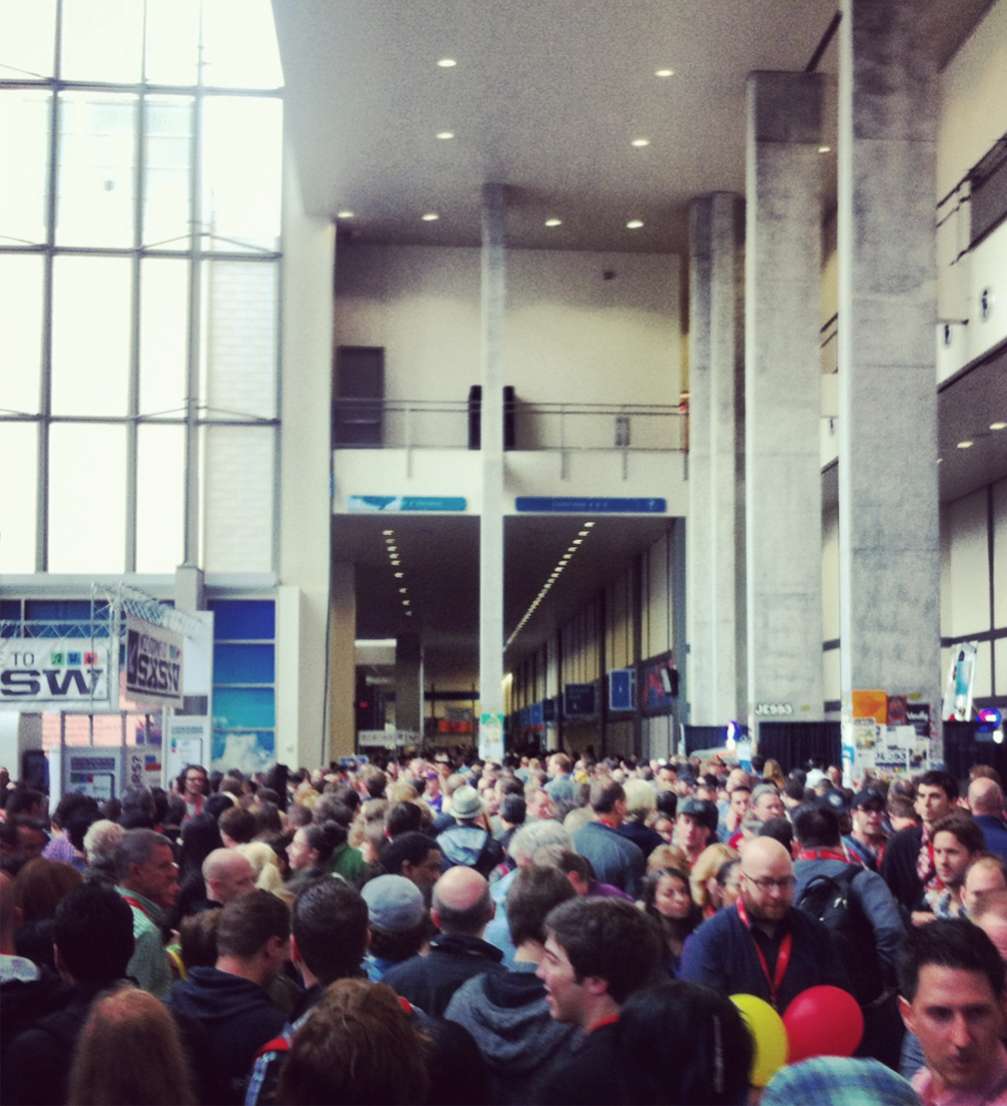 Forget about shame
I'm not a fan of impudence, but it's hard to stay polite at SXSW. You have to arrive at least 30 minutes before the start of each event, because people queue up really fast. There are a limited number of seats in the lecture rooms, and it is not allowed to stand or sit on the floor. It may happen that after a really long wait the door is closed right before you. I learned quickly that waiting is very disadvantageous, dropped my feelings of shame and cut in line. I know it is not right to do so, but it helped me see lectures of Elon Musk, David Karp and Daniel Ek.
Bring business cards
Tell everyone you meet who you are and what you do, and give them your business cards. Ask others who they are and what they do, and take business cards. One word after another, business card after business card, and I got invited to private parties of «Wieden+Kennedy», «R/GA», «Goodby Silverstein & Partners» and accidentally ran into people who created «MINI Getaway», or worked on «Old Spice Your Man Could Smell Like». Everyone sells something at SXSW — their idea, their knowledge, or themselves. It can be compared to an enormous «elevator pitch», because in the huge bustle you get on average 20–30 seconds to introduce yourself, throw in a joke, tell about your brilliant idea and exchange business cards.
Everyone sells something at SXSW — their idea, their knowledge, or themselves.
Eat BBQ
Austin is famous for its barbecues. There are many good places, but only a few are a must-eat. Someone told me that without a doubt I should pay a visit to the legendary «Franklin's» barbecue. People go there for lunch at 9 in the morning, because the lines are long, and the stock of meat is not limitless. I arrived in Austin with a stomach that hadn't seen meat products for at least a month, but the situation, as you may guess, changed quickly.
Charge up
In Austin I saw two kinds of people: fallen and running. Fallen were the ones sitting in corners charging their gadgets, while others were running to the lectures. Or running to charge their gadgets. At SXSW you need your phone or tablet constantly — to locate yourself, to find places to eat, to plan your day with the SXSW app, press «attend» to all possible events at «Eventbrite» or to make notes at lectures. So make sure you have packed a charger. Free WiFi is available everywhere, and it is fast and strong.
Be alone
I went to Austin on my own, without any preliminary research or plans. It worked out well for me, because it made me talk to people and I wasn't tied to anyone or anyone's plans. I was able to go, do, see and listen to whatever I wanted. If you don't make it into the desired lecture, you have to make the next decision instantly. Time plays a major role during these five days. Before you start waiting in a queue hoping to get in, it is a good idea to go to the front of the line and ask the guy or girl in an SXSW shirt if there is enough space in the room for everyone in the crowd.
Rent a bicycle
At SXSW, I recommend to borrow or rent a bike. It is the fastest and most convenient way to get around, as the lectures take place in the large hotels in Austin, and those are located several blocks apart. A bike is much faster than walking or taking one of the taxis that during these five days are overloaded with passengers and tired of waiting in the traffic.