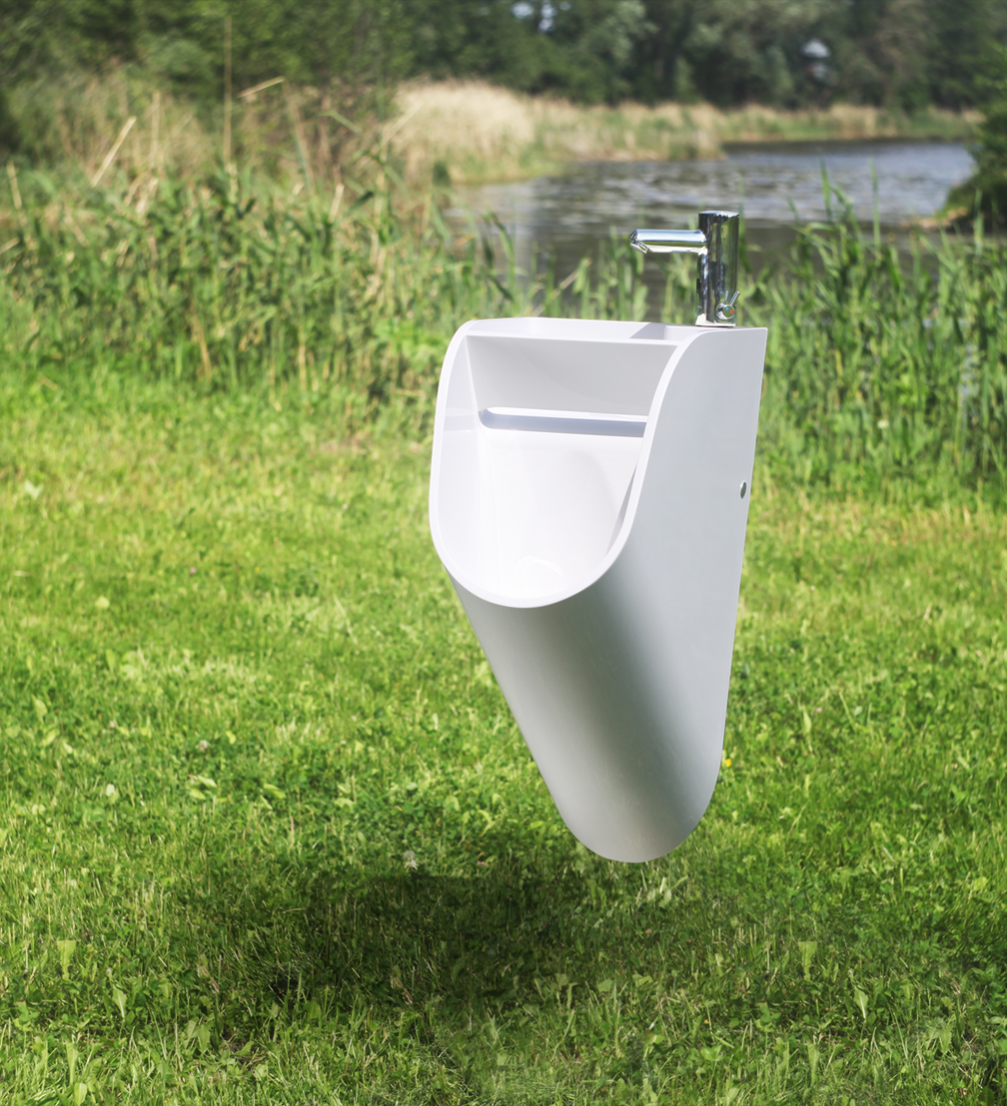 Urinal «STAND». Photo — Kaspars Kursišs
A week ago foreign media discovered urinal «STAND» by chance, and its author Latvian designer Kaspars Jursons started receiving countless e–mails with interview requests and collaboration offers. How did that begin and what is so special about «STAND»?
Kaspars' sudden fame has struck him unexpected and without a conscious promotion of the product. Tracing back to the source, it turns out that the first to notice and publish the unusual design was «Designtaxi», where a discussion about hand washing habits after visiting the toilet started in the comments. A rather irritated article and an even more heated exchange of opinions followed on «Gizmodo». Afterwards — several posts on British and American online tabloids, and finally — interviews and publications on «NPR», «Fast Company» and a call from «CNN».
The idea of «STAND» is simple — pairing a sink with a urinal and by that using the same water twice — first to wash hands, then to rinse the urinal. Clever and clear, yet from users such design requires a change of habits in a rather intimate process, which has triggered the strong reaction in media. Some don't wash hands at all, others believe that washing them so close to the place where their urine just was is unsanitary. On top of that — this plumbing appliance is current in the context of saving resources and being environmentally friendly, because it saves not only water, but the space needed for a toilet as well.
«STAND» was created already around 2008, when Kaspars was still a student at the Art Academy of Latvia and within a study assignment started collaboration with the bath product manufacturer «PAA». Since then the design has been perfected, the urinal is being produced in small volumes, and has been exported to several countries. In Latvia «STAND» can be tried out in the toilets of the concert venue «Palladium». Kaspars' latest product with a similar concept — sink «One to Two» with a water recycling system that is connected to a toilet bowl's rinsing box was recently shown at the Design graduates' days exhibition «Kam?». Kaspars Jursons graduated with a master's degree from the Art Academy of Latvia this year.