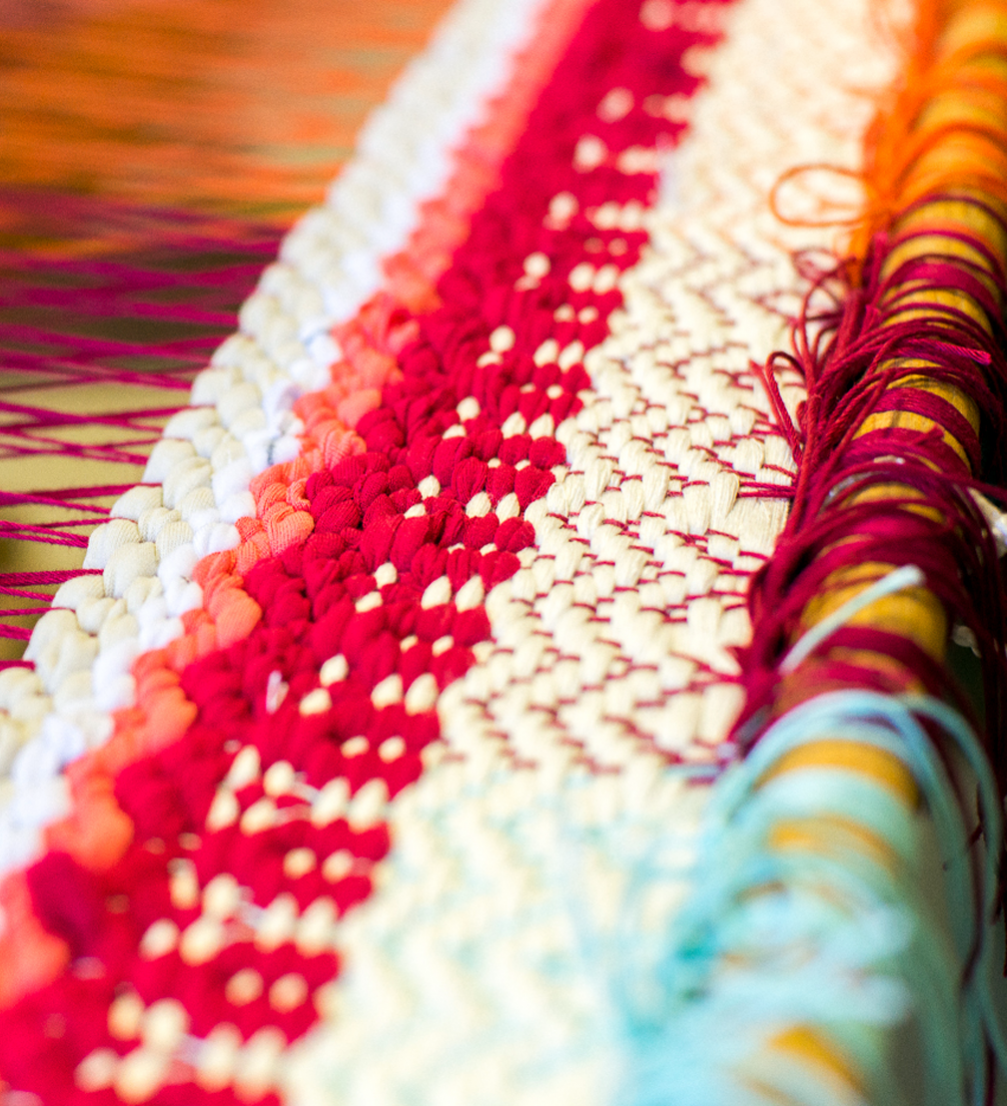 This summer, with support of the «Brigāde» program, a new weaving workshop has opened in Āgenskalns — a new social business brand that comprises environment–conscious practice and modern design. «Lude» is an acronym for Latvian «lupatu deķis», meaning a rag quilt, and in Latin stands for «play».
In «Lude», seniors are welcome to participate in rag weaving, spend some quality time, as well as earn some money. The studio offers pensioners an opportunity to learn how to weave, have some tea, as well as socialise with children and thirty–somethings in special family events. Currently, prototypes are being developed, and the first weaving lessons for four ladies are underway. During the summer, «Lude» is open three days a week, but, as the fall comes, the schedule will include more creative classes. An increase in the number of employees is also expected this year.
«Lude» is a cherished idea by two childhood friends, Zane Bojāre and Solvita Kostjukova. For Zane, who has obtained a Masters degree in philosophy and previously worked as a communication consultant, and Solvita, whose job was related to international projects and who is about to earn a Ph.D. in Mathematical Modelling, this is the first experience in business, and the first attempt at designing a product. The idea about «Lude» came just like a Christmas present on the 23rd of December, but what really encouraged was Solvita's reaction: «Let's do this!» The first project description was prepared, the idea became clearer, and in February they received a confirmation about funding granted by the «Brigāde» competition. The friends have their own duties — Zane is the person behind the vision, while Solvita is responsible for the hands–on approach, the production.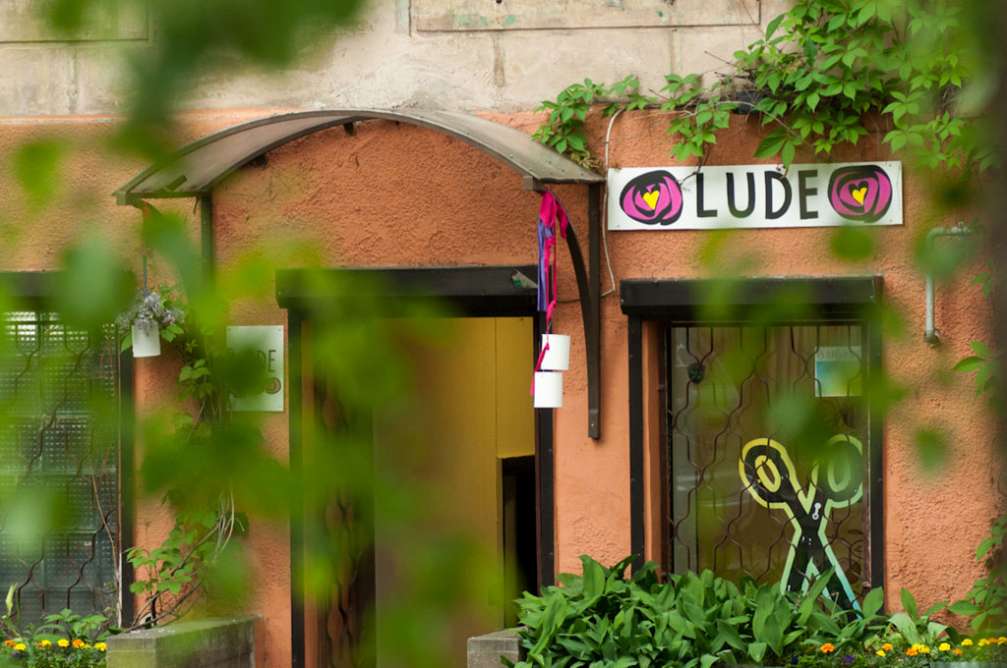 When asked why now and why a social business, Zane smiles, and what follows is a simple answer: «Because we love our moms!» Zane and Solvita saw their mothers retire and understood that for them a life without the usual working routine was empty, so they decided to act and create an environment for seniors to meet, work and add some extra income to their pensions. Zane points out that «Lude» resonates with the elsewhere current debate about active aging; it is also an answer to the Latvia's critically low pensions and the limited opportunities to find a job prior to or after retirement. Weaving was chosen because, when a child, Zane often accompanied her mother to a weaving studio, where a large variety of things were created for fun.
When developing the idea about a weaving studio for seniors, Zane and Solvita discovered a neglected and undervalued resource — the textile waste. Sourcing for materials, they realised that cuttings that textile manufacturers deemed unusable «Lude» could use for their carpets. After approaching several local manufacturers, now «Lude» uses waste materials donated by such brands as «ZIB» and «Rosme». They have also established a partnership with the charity shop «Otrā Elpa», which donates clothing that cannot be put out for sale, yet is good enough to be weaved into carpets.
Zane emphasises that «Lude» is not a pensioners' club. It has a clear business model by which the idea's authors intend to reach their goal, i.e. by involving senior labour, create a hand–made, high–quality design product that would not only be a vivid interior object, but also a carpet on which «life happens». «Lude» plans to compete with other design objects in the medium price category.
Product development involves not only weaving looms, workers' hands and the recycled textile. The first brave ladies are tutored by textile artist Ārija Vītoliņa, a weaver with decades of experience. Interior designer Daina Gāga is responsible for carpet colours and line rhythm; she is also the author behind «Lude's» logo and visual identity. In order for the product to fit the set contemporary quality standards, «Lude» works together with Ance Markovska and Lilita Bauģe, textile students at the Art Academy of Latvia, to experiment and create innovative solutions and technical approaches to the weaving process. Zane and Solvita are both mothers, hence an extra criterion: «we want rags that are machine–washable». Efforts are being made for rags to be easy to maintain, and that they would remain their form, colours and other properties after washing.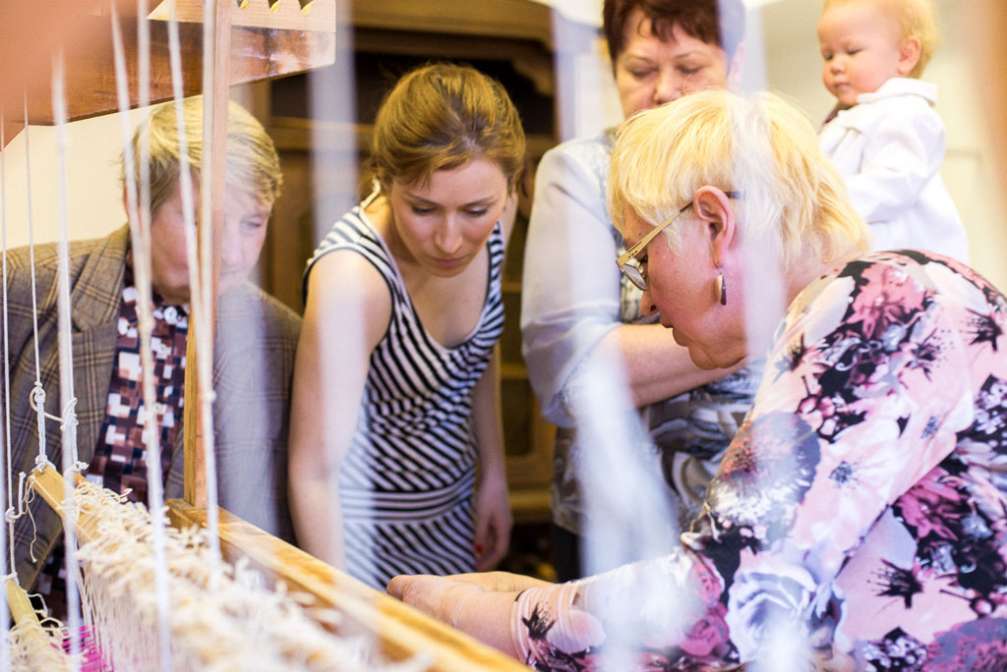 Because «Lude» makes their carpets from donated clippings, it is rather difficult to plan a collection; however, we can expect three lines: rags from used clothing, both monochrome and in various colour combinations; rags from textile manufacture waste, in different techniques and materials (e.g. lace, knitwear); and tailored carpets. The products will soon be available in «Lude» online store; local design shops are also being approached. The goal for the first year is Latvian and Baltic markets; further export is aimed at Scandinavia and Asia.
Zane says that «Lude» is a proof that good things inspire others to do good as well. For example, after seeing studio's bare walls, people from «Krāsu Serviss» presented them with paint. A charity shop «Hopen» gave «Lude» looms that were brought from Sweden. Several volunteers have offered their help. Although the first steps in business and creativity are not always as expected, Zane and Solvita admit that the feeling that follows the project is that of satisfaction and lightness.