From October 8 to November 17 Riga and Liepaja will host the 15th international new media culture festival «Art + Communication», which has gained international recognition for its innovative approach. Annually the festival gathers around hundred participants from Latvia and other countries to discuss current ideas and future trends in art, society, science and technology. However this year, visions of future will be replaced by a historical journey to examine the digital technology art of yesterday.
Stories Editorial September 19, 2013
October 8 to 11, Stockholm School of Economics Riga, Strēlnieku iela 4a, Riga
The 5th international Media Art History conference «Renew» is the first academic event of this kind in Latvia. The conference has previously taken place in Berlin, Melbourne, Banff and Liverpool.
October 9 to 12
Festival's special programme at «kim?» Contemporary art centre, Spīķeri building at Maskavas iela 8, «RIXC» Media space and Spīķeri Concert hall.
October 8, at 20.00 in Spīķeri, Maskavas iela 8, Riga
The festivals' opening evening an audio web art performance «Composting the City. Composting the Web» by the artists Shu Lee Cheang from France and Martin Howse from Great Britain. Their artwork emphasizes the ecological issues of urban environment.
October 9, at 19.00 in «kim?» Contemporary art centre, Maskavas iela 12/1, Riga
Opening of the international media art exhibition «Save As». Rather than giving instructions, the exhibition will ask questions about preservation of the contemporary media art. Interactive media art works by internationally renown web art pioneers who actively continue working on contemporary media art, will be displayed at the exhibition. The participating artists are: Alexei Shulgin, Aristarkh Chernishev, Olia Lialina, Dragan Espenschied, Cécile Babiole, Heath Bunting, Robert Sakrowski, Constant Dullaart, «E–Lab», Lamberto Teotino, Benjamin Gaulon), Karl Klomp, Gijs Gieskes, Tom Verbruggen, «Jodi», Parag Kumar Mital, Evan Roth. The exhibition will be open unitl November 17, visitors will be accompanied by guides.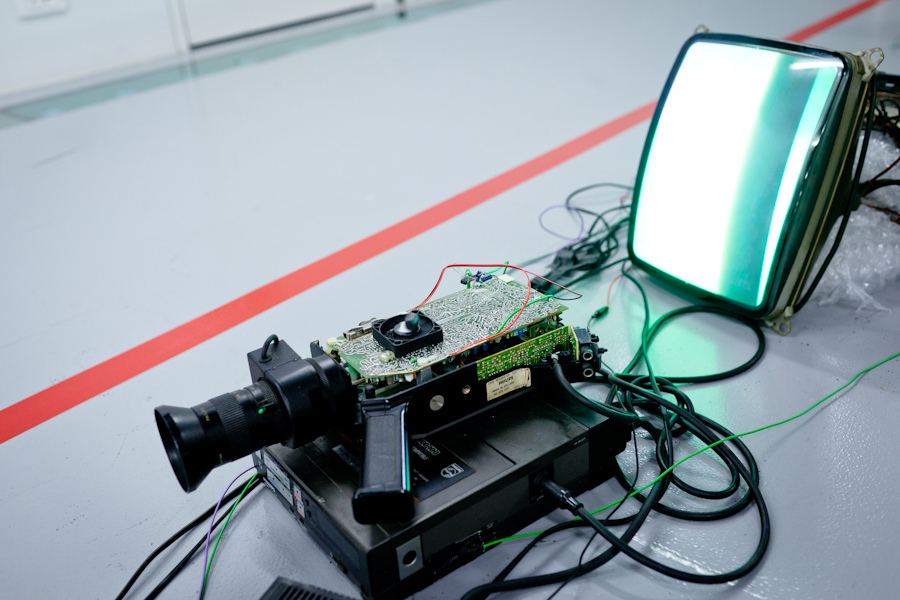 October 11, at 21.00 in the Anglican Church, Anglikāņu iela 2, Riga
Experimentally avant–garde electronic music concert «Rund–Funk–Empfangs–Saal» — environment radio music for extra long waves, with the participation of some of the top sound and interdisciplinary artists in Europe — Edwin van der Heide from the Netherlands and Jan–Peter E.R. Sonntag from Germany.
Tickets are sold at «Biļešu Paradīze» ticket outlets and online. Ticket prices: 5 Ls, for students, pupils and pensioners — 2,50 Ls
October 12, at 19.00 in Spīķeri Concert hall, Maskavas iela 4/1, Riga
Audiovisual performances and electronic music concert, where the relationship between sound, space and image will be tackled from a rather different perspective. Special guest — American composer, pianist and accordionist Michael Century who adds — will rhythmical electronic music beats to the sound of an accordion. The well known Canadian musicians Matthew Biederman and Alain Thibault will emphasize the physical formation of sound and space, but the promising British sound artist Theo Burt will create a dynamic and contrasting two–dimensional play of sound and image in a live performance. A completely different sound and environment composition will be proposed by an Italian origin Swiss composer Luca Forcucci, who greatly broadens the illustrative meaning of the sound. Latvian sound and video artists Irīna Špičaka, Krišjānis Rijnieks and Platons Buravickis will show a real–time generated 3D audio–reactive performance.
Tickets are sold at «Biļešu Paradīze» ticket outlets and online. Ticket prices: 7 Ls, for students, pupils and pensioners — 3,50 Ls.

November 3 to 9 Liepaja University Art Research Lab (MPLab), Kūrmājas prospekts 13, Liepaja
Festival's satellite event — the 4th International New Media Week «iWeek» with creative workshops, public lectures, presentations by young artists, exhibitions and audiovisual performances.
More information on the festival can be found on «RIXC» website.
The festival ir organised by the Centre for New Media Culture «RIXC», its curators — Rasa Šmite un Raitis Šmits.
Collaborators: Art Academy of Latvia, Stockholm School of Economics Riga, Danube University Krems, MPLab, «kim?». The festival and the conference are part of European collaboration projects «Techno–Ecologies» and «Soft Control».
Supporters: Rīga 2014, Riga City Council, Ministry of Culture, State Culture Capital Foundation, EU programme Culture 2007–2013, Nordic Culture Point, Pro Helvetia, Kingdom of the Netherlands in Riga, Goethe–Institut Riga, Canada Council for the Arts, Quebec Council for the Arts, Mondriaan Foundation, VKKF Kurzeme programme / Liepāja Culture Board.