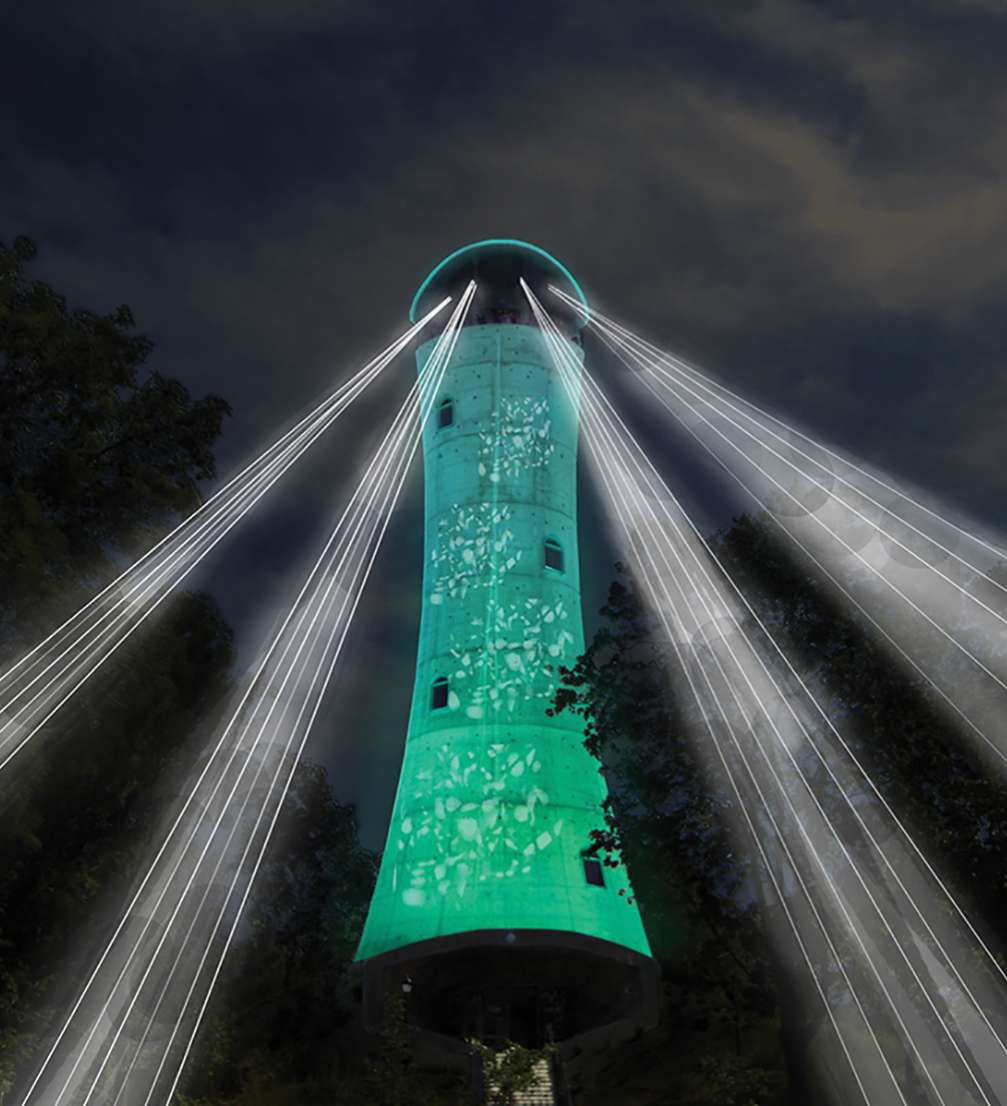 Visualisation of the light installation «Northern Lights». Authors — Jūlija Bondarenko, Rihards Kauliņš, Ziemeļblāzma Palace of Culture.
Four evenings in a row — from November 15 to 18, Riga will host the light festival «Staro Riga». Its artistic concept «Six Stories about Joy» will introduce the approaching of Riga — European Capital of Culture 2014. The lights will be turned on tonight at 18.00.
The main route of the festival is the central axis of the city from Daugava riverbank to the neighbourhood of Jugla, making loops through Old Town, Esplanāde and Miera Street, and projecting light on VEF Culture Palace, Teika Secondary School and Strazdumuiža. Light installations will be located beyond the central part of the city as well — in Kalnciema Quarter, Mežaparks, the park of Culture Palace «Ziemeļblāzma», and elsewhere. The festival presents over 30 lighting objects, by both local and foreign artists from Slovenia, Portugal and Estonia.
«Staro Riga» is going to kick off with an «Aerodium» flying acrobats show at Strēlnieku square on November 15, at 18.00.
Near Dailes theatre, it will be possible to witness a real–life Hartmann Grid — a network of energy channels, invented by the German professor Ernst Hartmann. The lighting objects will change colour in line with fluctuations in the earths' geomagnetic field. Between Valdemara passage and Riga Art Space a digital interspace for human communication will be created. The fog cloud will virtually connect people that are physically located in two different places. But on the facade and in the courtyard of the exhibition hall «Arsenāls» a small drop of water, a glass lens and a white laser beam, will form unusual and beautiful patterns, structures and landcapes in all the colours of the rainbow.
Since several years the higher state institutions have joined the festival's activities as well. This year the facade of the Parliament building will display the poetry of Ojārs Vācietis, but the State Chancellery — 95 stories about freedom expressed through light, sound and video.
During «Staro Riga» the international media art exhibition «Save as» and Maija Kurševa's solo show «Serial» at the Contemporary art centre «kim?» will be open for the last weekend without an entrance fee.
More information on the «Staro Riga» festival, its programme and map can be found on «Staro Riga» website.
The festival is organised by the Foundation «Riga 2014», financed by Riga City Council, «Lattelecom», and European Union's Culture Programme 2007–2013.