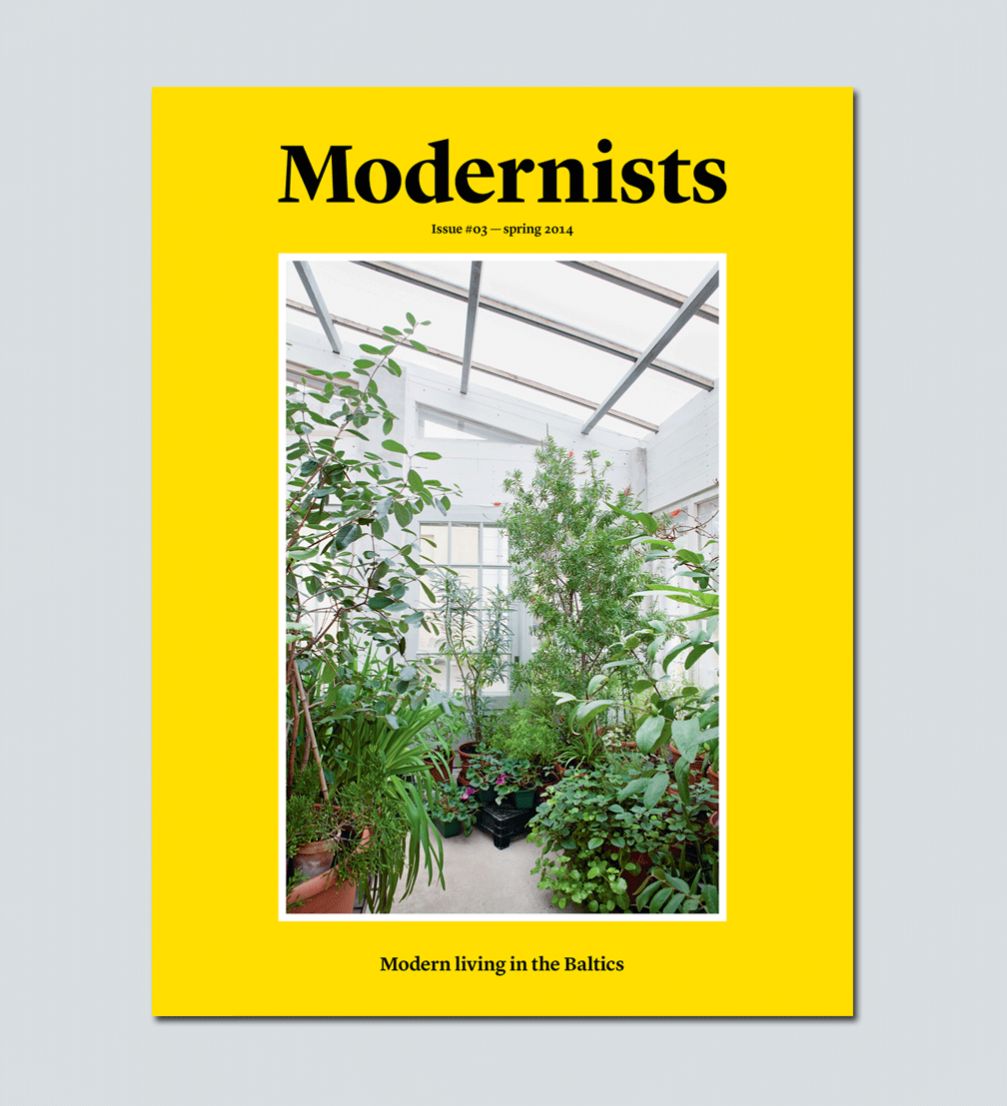 Vāka foto — Reinis Hofmanis, dizains — Madara Krieviņa
The spring issue of «Modernists» magazine is about modern thinking in architecture, art, cinema, design, home and food culture.
Film director Dāvis Sīmanis talks about urban symphony in his work and asks — is value measured by box office results? Estonian architecture critic Triin Ojari has recently become the director of the Museum of Estonian Architecture and talks about how e–revolution has transformed architectural media. The magazine introduces the artist Anda Lāce and her delicate characters, as well as a range of young designers and makers, who make products that don't fit into the standard design thinking box.
Urban culture in the spring issue is positioned within the context of food — writer Nora Ikstena visits a Georgian bakery, enthusiasts of healthy food share advice on where to shop, but architect and sommelier Mārtiņš Pīlēns learns how to grow grapes. The lost heritage pages feature retro photographs with scenes from World War I in Lithuania from the collection of the National Library of Latvia, and the wooden beauties Dite Jurcāne has discovered  in the cafe «Daina» in Priedaine. The architecture pages offer mini–reviews of the wooden school building in Riga, renovated by Zaiga Gaile, boat harbour in Pāvilosta, designed by Brigita Bula, and outdoor kitchen by «KAMP» architects in Estonia. After all that reading take a break and travel with the photographer Reinis Hofmanis to the most beautiful greenhouses in Latvia.
Editor of the magazine — Ieva Zībārte, designer — Madara Krieviņa. «Modernists» magazine is published four times a year. Starting with this issue, it is available for purchase at newsstands and «Lukabuka» bookstore in Riga, Aspazijas bulvaris 3.