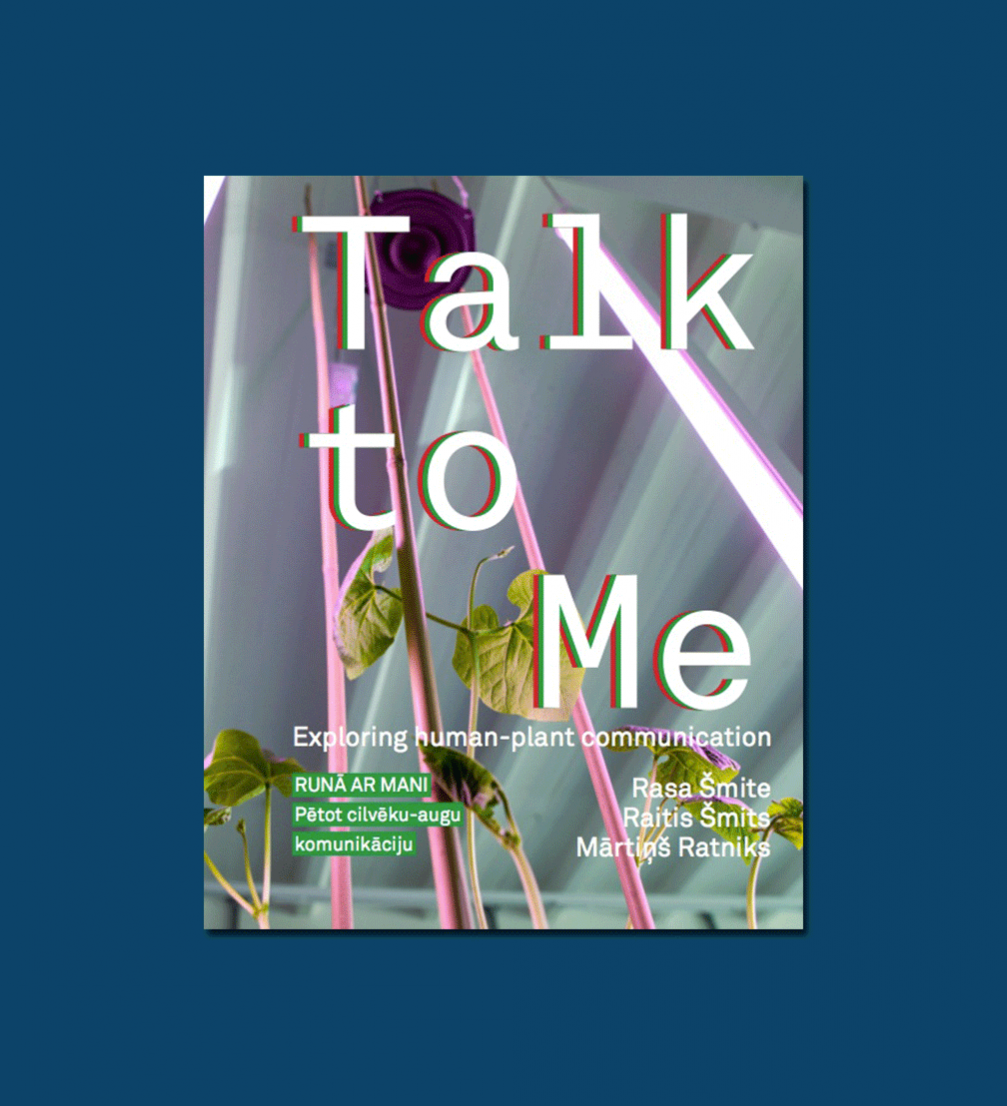 «Talk to Me» cover. Design by Mārtiņš Ratniks
New media culture centre RIXC has published a new book «Talk to Me. Exploring Human–Plant Communication» by artists Rasa Šmite, Raitis Šmits and Mārtiņš Ratniks. Alongside the book presentation, an exhibition «New Sound Days» will be opened on June 13.
The book presents the results of the surprising art research «Talk to Me — Exploring Human–Plant Communication». Were the ancient Latvians right, along with Prince Charles, who confessed that he's talking to his plants on TV in 1986, that communicating to plants improves their growth? Scientific studies too have proven the fact, therefore the artists of RIXC got curious to test this assumption by creating an online interface «Talk to Me» that enables people to talk to plants from afar. Everyone can type a message into a field on the webpage and it will be sent to a speaker, which delivers the message to the plant. Authors of the project invited people to send in encouraging messages to growing beans, which were exhibited in Riga, Ventspils, Tallinn and Basel for two summers in 2011 and 2012. While the beans were growing ripe, they received more than 13 000 online messages in different languages.
Presentation of the book, as well as the opening of the «New Sound Days» exhibition and a concert will take place this Friday, June 13 at 19.00 at the RIXC Media space, 11. novembra krastmala 35 (entrance from Minsterejas iela). The reviewer of «Talk to Me», philosopher Ainārs Kamoliņš, will share an insight into the history of the relationships between art and biology, but the authors will introduce the results of their research. The concert will feature sound compositions and experiments by students and graduates of Liepaja University New Media Art programme. Entrance is free of charge.
The book is published by RIXC and Liepaja University Art Research Lab with the support of State Culture Capital Foundation and EU «Culture programme 2007–2013». The English and Latvian editions are already available at the book and souvenir shop of «Arsenāls» Exhibition Hall, and at other book shops in Latvia in the nearest future. More information on the project «Talk to Me» and «New Sound Days» events can be found on the RIXC Vimeo page and «Sound Days» homepage.