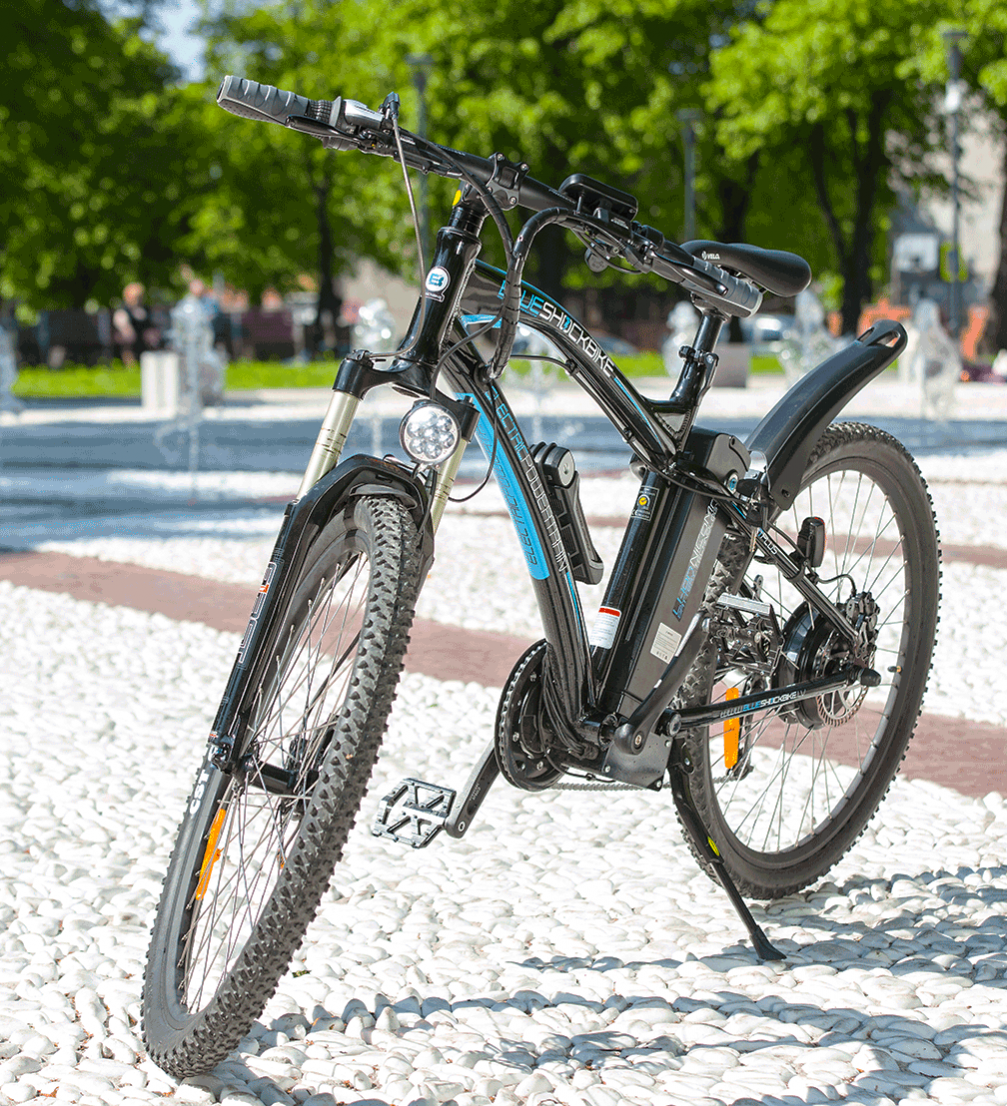 Founders of the electric bicycle brand «Blue Shock Bike» dream of a revolution in the transportation system and are taking the first steps towards it by convincing riders to switch to electric bikes that can easily accelerate up to 25 kph and are built with a nature–friendly technology.
Why would a bicycle need a motor? Riding on a level road in easy weather conditions is a pleasure, whereas cycling uphill, through sand or windward makes one wish for a helping hand to get ahead more swiftly. Electric bicycles ease and speed up the pedalling, therefore they are beloved by people who travel long distances daily, move around in hilly and windy grounds, carry heavy bundles or small children, or must spare their health. Motorised bicycles are highly popular in such cycling countries as The Netherlands, Germany and Denmark, as well as in Asia, where they frequently substitute cars.
An electric bicycle easily reaches the speed of 25 kph; charging of the motor's battery takes only a couple of hours and it's enough for a 70–kilometre ride. At the moment the «Blue Shock Bike» catalogue offers two types of frames, sport and city bike editions, however Artis Daugins, one of the founders of the company, assures us that his team can produce custom–made bicycles of any design and construction. «Blue Shock Bike» guys do love a good challenge — in 2013 within just a few days they designed, produced and supplied the Mežaparks open–air stage with 2000 mobile cycle stands for the visitors of the Latvian Song and Dance Festival.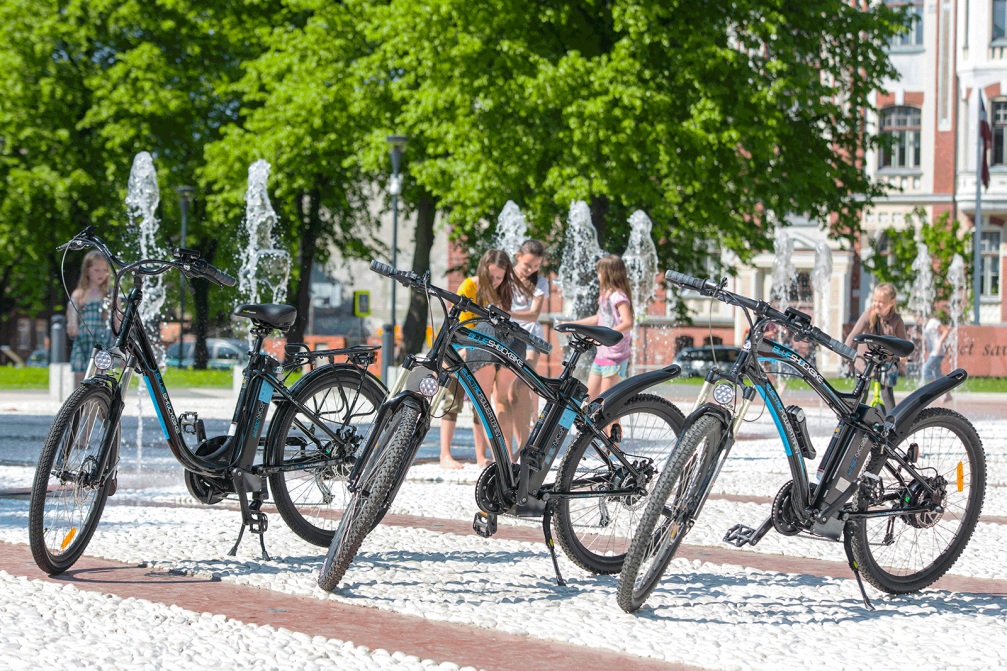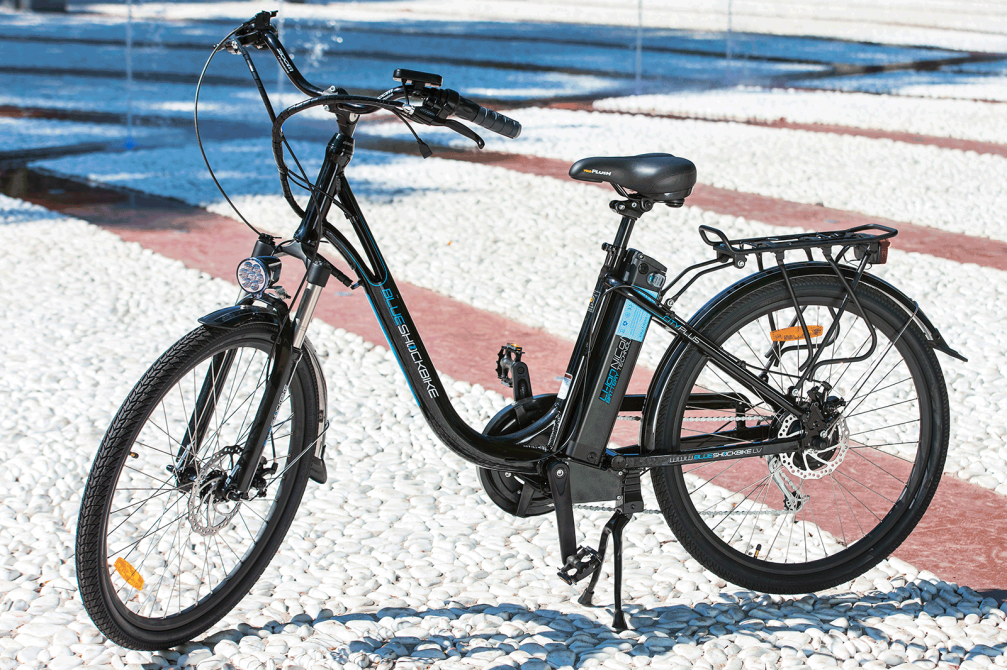 The core of «Blue Shock Bike» team is formed by the project consultant Neils Kalniņš and Daugins brothers — Ivars is a highly qualified welder, but Artis can be characterised as a visionary. Persistently developing new methods of building and promoting the electric bikes, Artis reveals that bicycles are just a small part of the company's ambitious ideas regarding electromobility. Their interest in alternative energy goes further than just bicycle motors — they believe that in the nearest future we will see more of various electric transportation means in the city and little by little free ourselves from fuel addiction and polluted air. The initial idea of «Blue Shock Bike» founders was to produce electric taxi cabs, but their youthful enthusiasm did not convince the investors. At that time the energetic twenty–year–olds could not yet show a workshop full of electric bicycles, built with their own hands. This is where bicycles are being designed, produced, painted and assembled, proving that the city centre of Liepaja can accommodate small production units.
For a Latvian customer the price of more than a thousand Euros for a bicycle can seem too high, but bear in mind that similar bikes produced in Europe or USA cost up to three times more. «After taking the electric bike for a spin, no one bargains anymore,» Artis laughs. Having discovered that test rides are the best way of convincing the potential buyers, the «Blue Shock Bike» team actively works on establishing rental points in cities of Latvia and offers bikes for testing at various public events.
The company has used the services of Kurzeme Business Incubator, and the guys admit that the most valuable support has been the opportunity to travel and learn about the specifics of producing and selling electric bikes, as well as to get to know potential competitors, because the local market is not enough for «Blue Shock Bike». The first ones to recognise the advantages of electric bicycles in Latvia are transport rental companies and municipal services — motorised bicycles are already in use by the policemen of Smiltene, Jūrmala and Auce municipalities. Even though electric bikes are still a rarity in the streets of Latvia, the gradual development of cycling infrastructure and ecological thinking builds a hope that more riders will resort to it in the future.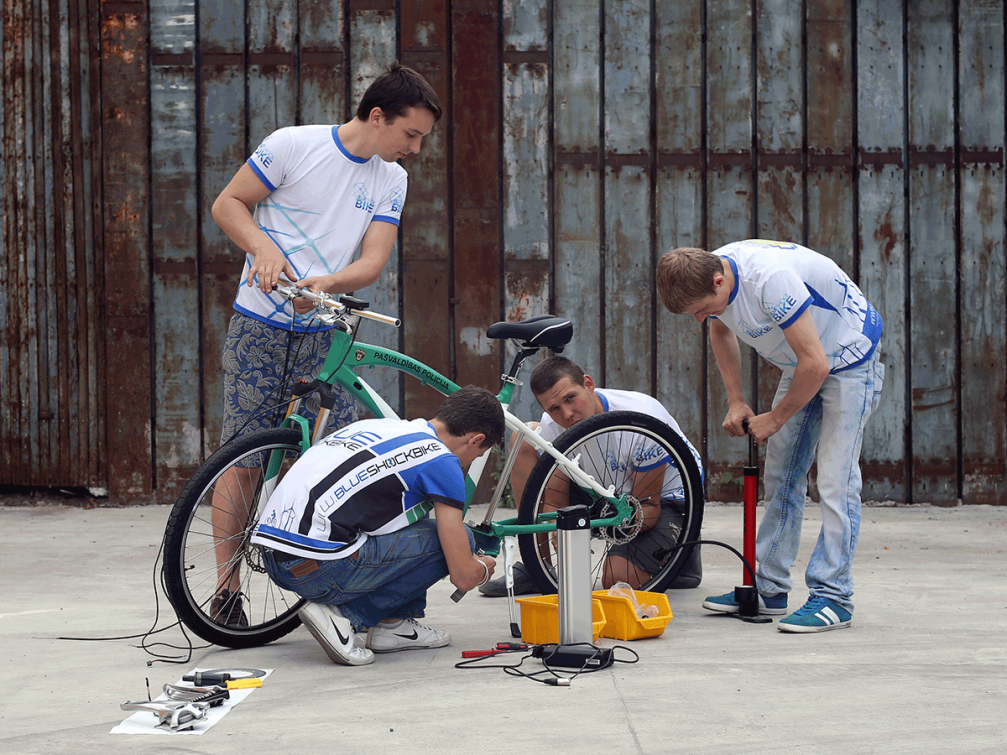 The article is published in Liepaja creative industries magazine «Creative Coast», coming out in a printed edition on November 7, 2014. The publication will be available for free at Liepaja Culture Department.