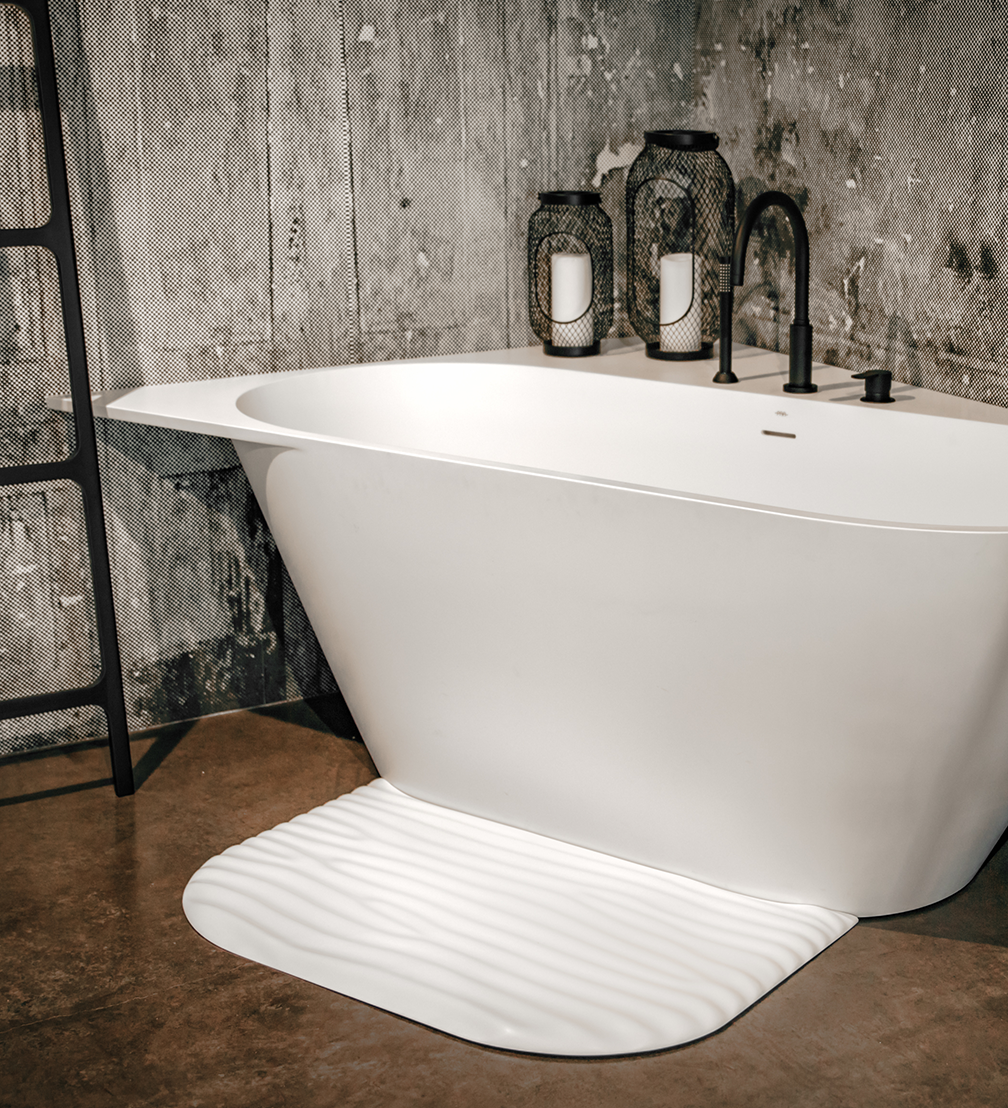 Photo by Rūta Kristena Bukava
For her bachelor's degree in the Functional Design department of the Art Academy of Latvia (AAL), Rūta Kristena Bukava has designed a new product for bathrooms — a heated mat Ripple, whose corrugated surface massages and warms the feet, preventing slipping.
Ripple is a heated stone resin bathroom mat with a wavy texture — a new stage in the evolution of the range of bathroom mats with long-lasting and high-quality design features. «The inspiration for the bachelor's project came from a summer walk along the beach, walking barefoot in the shallow sea water. I wanted to introduce this feeling of foot massage to everyone's everyday life — in the bathroom,» says Rūta.
In her daily life and in other people's experiences, Rūta had observed various problem situations in the bathroom, such as discomfort from stepping onto a cold floor, as well as the accumulation of moisture and the formation of mould in textile rugs. While developing her diploma thesis, she interviewed 200 people to find out their bathroom habits. 81% of respondents admitted that they don't take care of their bathroom mats often enough, while 53% of respondents don't have bathroom floor heating at home, although they would like to have it. Unfortunately, installing a heated floor means extensive repairs and high costs.
The aim of the diploma project was to create an effective alternative to bath mats, so a product concept was developed that combines the function of a bathroom mat, the effect of a foot massage, and the warmth generated by the heating element inserted in the product. The mat is made of Silkstone, a composite material developed by the bathroom appliance producer PAA. It is easy to maintain, durable and conducts heat well.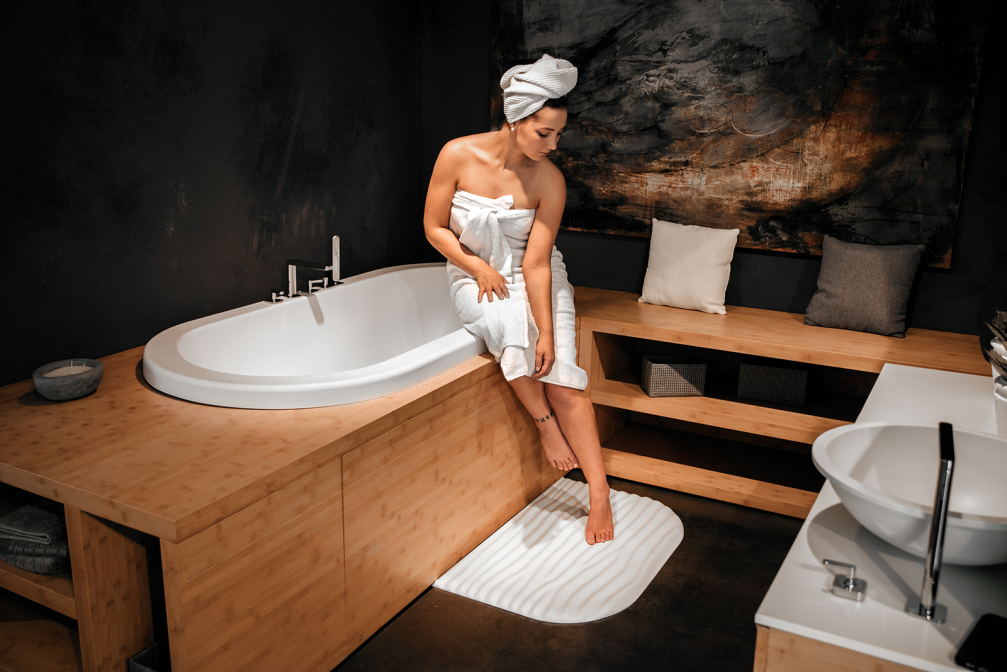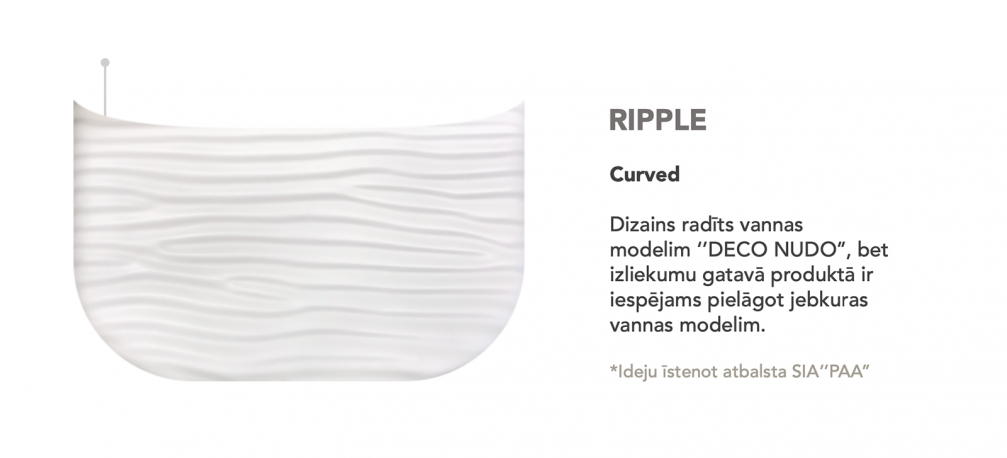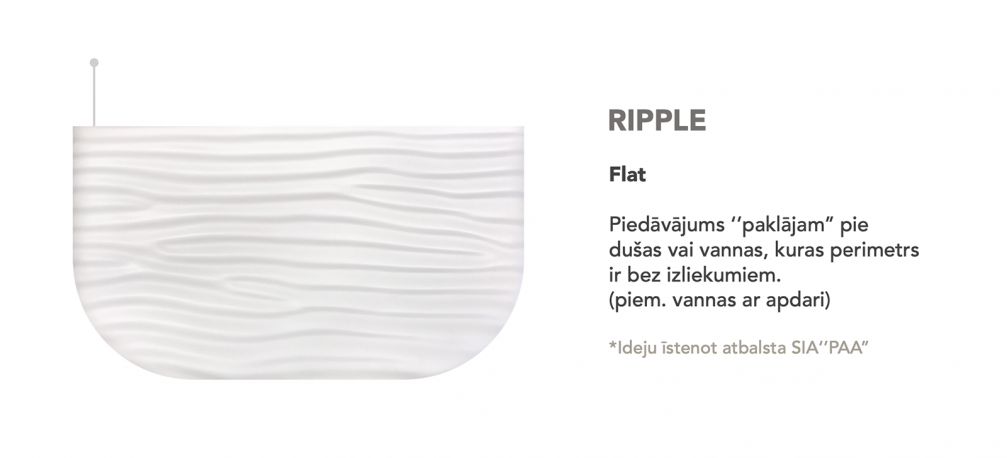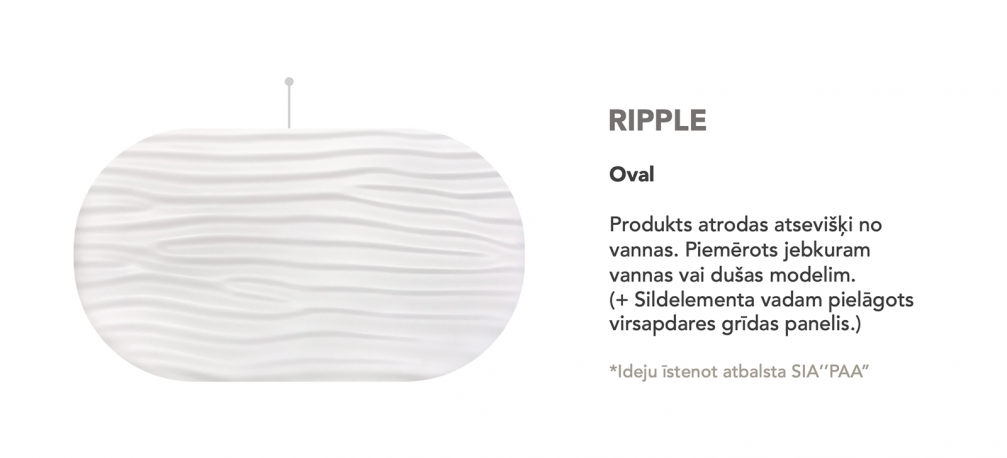 The Ripple mat is sustainable, durable, and difficult to move, its texture is anti-slip, and the corrugated surface massages the feet. Stone resin doesn't absorb moisture, is easy to clean and to disinfect. Ripple has three versions: Curved with a curvature on one side, which can be adapted to any bathtub model, Flat, which is suitable for bathtubs and showers with a straight edge, and Oval, which can be placed separately from the bath or shower. The mat is intended for use in finished bathroom interiors that don't have heated floors and whose users want to maintain the existing flooring. The mat measures 920 x 510 mm and is 25 mm high.
Rūta's bachelor's thesis was supervised by designer Ieva Kalēja, and it was developed in cooperation with the bath manufacturer PAA. The cooperation with PAA might continue by developing the concept of Ripple and bringing it to production and market.