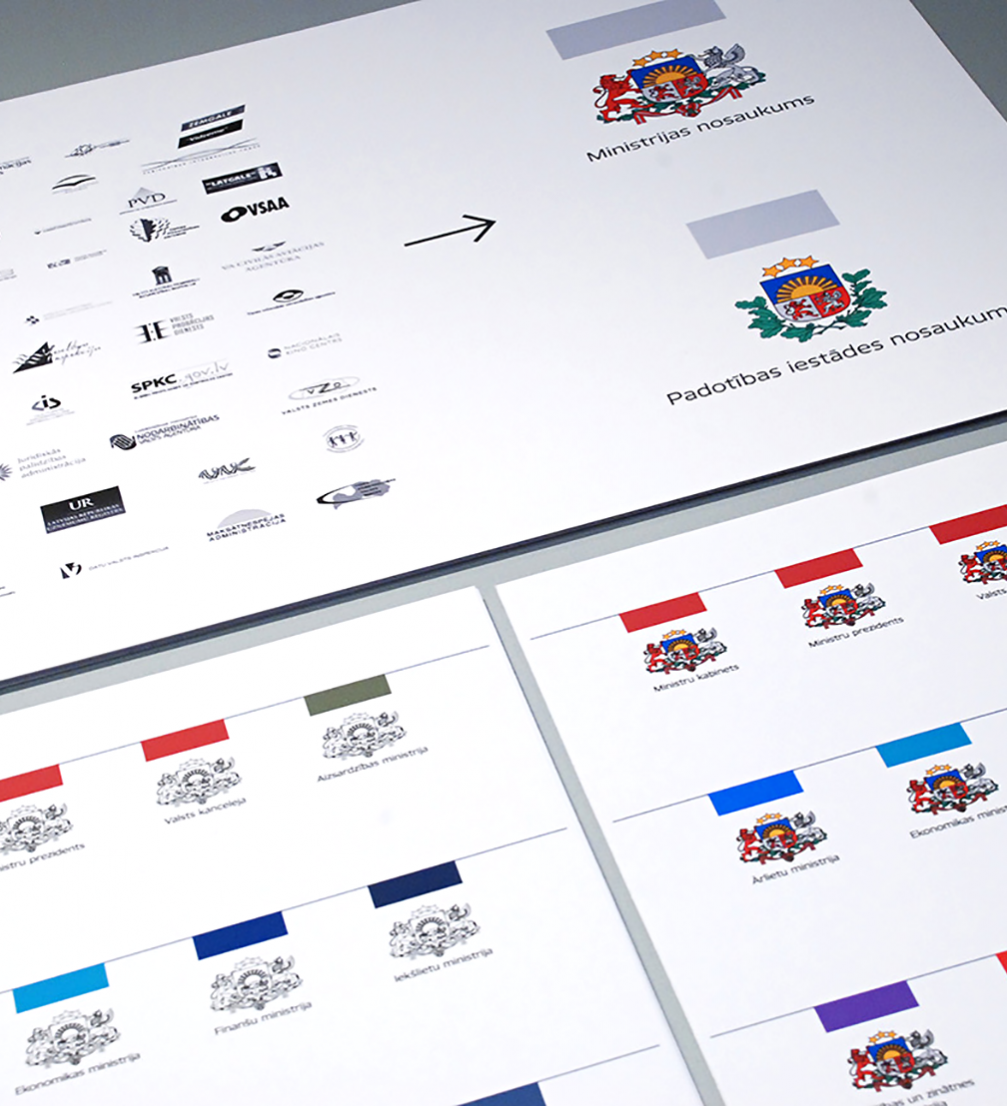 Unified visual identity for Latvian public administration by H2E
Since January 1, 2015, a unified visual identity graphic standard for public administration is in effect in Latvia. It will now replace the current logotypes of state institutions that represent various times and styles and introduce a unified visual language for the Cabinet of Ministers and subordinate institutions. The new visual identity is based on the coat of arms of Latvia.
The aim of the unified visual identity is to communicate the values of a unified state and the affiliation of institutions to the state. A unified identity reflects a transparent and intelligible public administration, is easily recognised and ensures clarity, reliability. A unified visual identity decreases administrative burdens and bureaucracy as well as costs in the long term.
The new graphic standard is based on the coat of arms of Latvia, which in a symmetrical composition with a typeface and a colour code forms the identity of each branch and ensures a unified, yet recognisable identity of the public administration. The proportion of the colour block is based on the structure of the coat of arms, but the saturated shades have been found in the Latvian landscape. In special cases black, white, gold and silver are added. The coat of arms symbolises the state's function, responsibility towards the society and its sovereignty. The Cabinet of Ministers, ministries and State Chancellery will use the full coat of arms, but the subordinate institutions — the small coat of arms with added text and colour code.
From now on state institutions are obliged to use only the fonts prescribed by the graphic standard in everyday business correspondence, presentations and communication materials. The main typeface of the visual identity is Robusta TL Pro Regular, designed by Gustavs Andrejs Grīnbergs.
The 10 chapters of the graphic standard explain the concept of the new visual identity and its basic elements, principles of application, rules and recommendations, show document layout with the new identity, include various illustrative examples which reflect the potential of forming a unified image of the public administration. The graphic standard also includes the use of the new identity in protocol materials, as well as guidelines and ideas for representation materials.
The new graphic standard is available on the website of the Cabinet of Ministers. It was created by design studio H2E in collaboration with State Chancellery and State Heraldry Commision. Support was provided by the Legal Bureau of the Saeima.