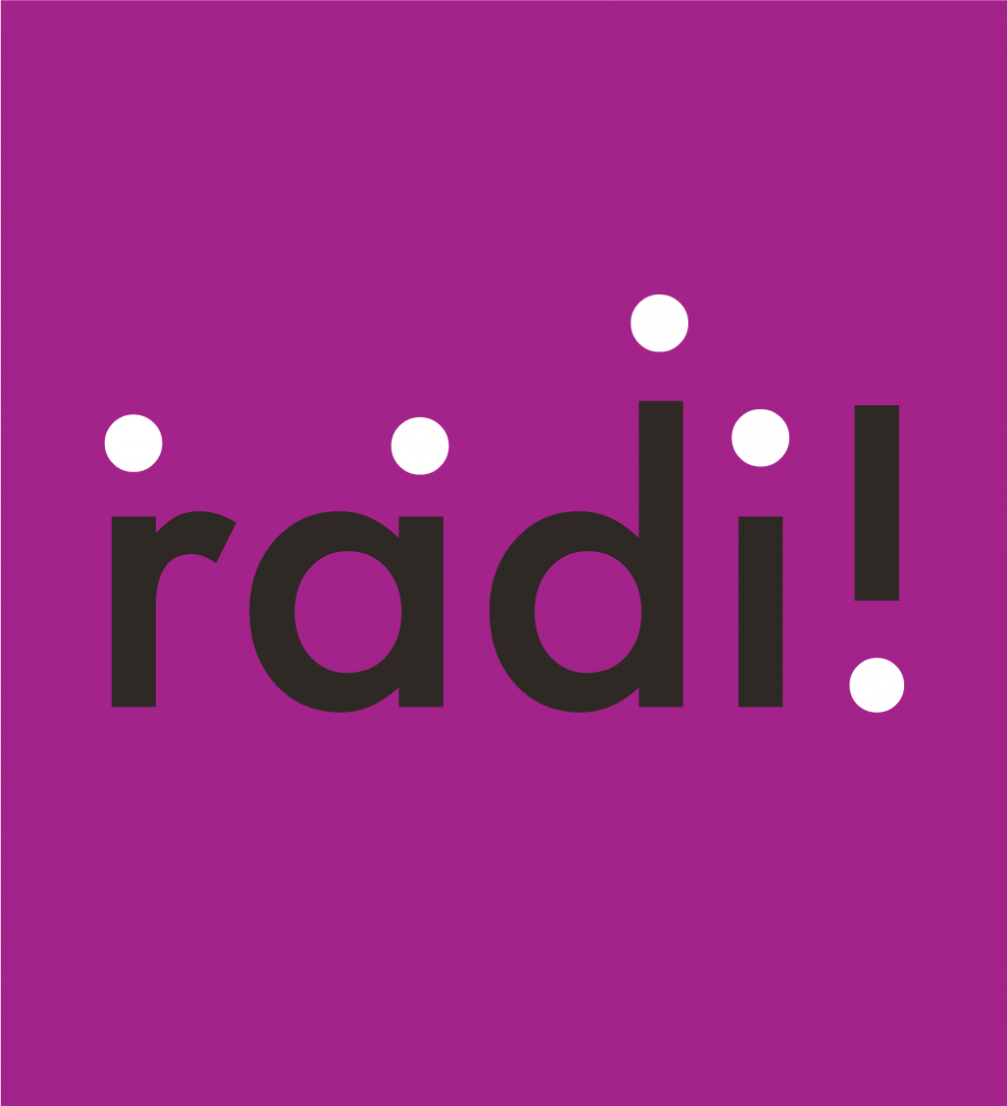 «radi!» vizuālā identitāte — «Matka»
From March 9 to 15, creativity week «radi!2015» will take place in all regions of Latvia, aiming to raise public awareness and interest about creative and cultural industries, creativity–promoting education, innovations, knowledge economy and creative management by demonstrating the experience, achievements and the best examples of collaboration of Latvia.
This year the team of «radi!» will continue discussing the topic of cross–over competencies of creative industries to other publicly important areas with the aim of educating people in Latvia, so that they become smarter planners, more skilful innovators, pioneers of unconventional approaches, and users of creative potential in intersectoral co–operation. The thematic directions embarked upon last year, by emphasising design and design thinking as an effective tool for creating new partnerships, are building an important bridge to the central events of 2015 within the context of the Latvian presidency in the Council of the European Union.
Main events of «radi!2015»
On March 10, Scandinavia's leading trend expert Stefan Nilsson will lead a seminar «Do future design trends affect today's business? Is it possible to predict them and make them work in your favour?» about the origin of trends, their importance and current developments. Today's businesses can't survive without design — appealing, up–to–date design, packaging and functionality are often the determinant factors for consumers' choices. In the practical workshop the participants will learn to predict and define design trends for 2017–2018. The lecture will be held in English and is free of charge, however, only a limited number of participants can be enrolled in the practical session. Attendance must be registered until March 5.
Creative industries forum «Creative Showcase» will offer an glimpse into the interdisciplinary collaboration possibilities of architecture and new technologies, and the implementation of «upcycling» and nature friendly lifestyle principles in the urban environment. A lecture and workshop series «Architecture+» will reveal the implementation and impact of new technologies on architecture, city environment and people, but the «Upcycling Riga» session will feature discussions of experts of 10 creative areas on architecture, design, fashion industry, music, cycling, art, slow–food, theatre and interactive technologies. Participation at the «Architecture+» workshop must be registered until March 9.
An international conference «Cultural and Creative Industry Crossovers» will take place in Riga on March 11–12, organised by the Ministry of Culture jointly with European Commision. The conference will debate the contribution and impact of cultural and creative industry crossovers for the development of the national economy, innovations and the well–being of society. Registration for the conference is closed; it will also be broadcast online.
On March 12 and 13, an international conference «Cultural Heritage, Contemporary Architecture and Design in Interaction» will promote a discussion about the quality of the development of the cultural and historical environment, focusing on the role of contemporary architecture and design in supplementing and emphasising existing values.
On March 13, an international forum «School in the Digital Age» will be held. The aim of the forum is to find answers to questions about education in the 21st century and how to meaningfully integrate technologies in the learning process. The registration is open for everyone interested, and the forum will be broadcast online.
«radi!2015» promises a rich event programme: discussions, seminars and workshops, presentations of interdisciplinary partnerships, satellite events, projects and other commonly practiced co–thinking, co–working and co–creating events, among them a guided tour by graphic designer Miķelis Baštiks through the exhibition «Information» on March 10, a lecture «Text and image in architecture and design critics» by Ieva Zībārte as part of the event series «A Word to Latvian Designers» on March 11, Interior Design Walk on March 13 and 14, as well as contemporary design exhibitions «Humanisation» and «Information».
A detailed programme of events can be found on the website of «radi!2015».