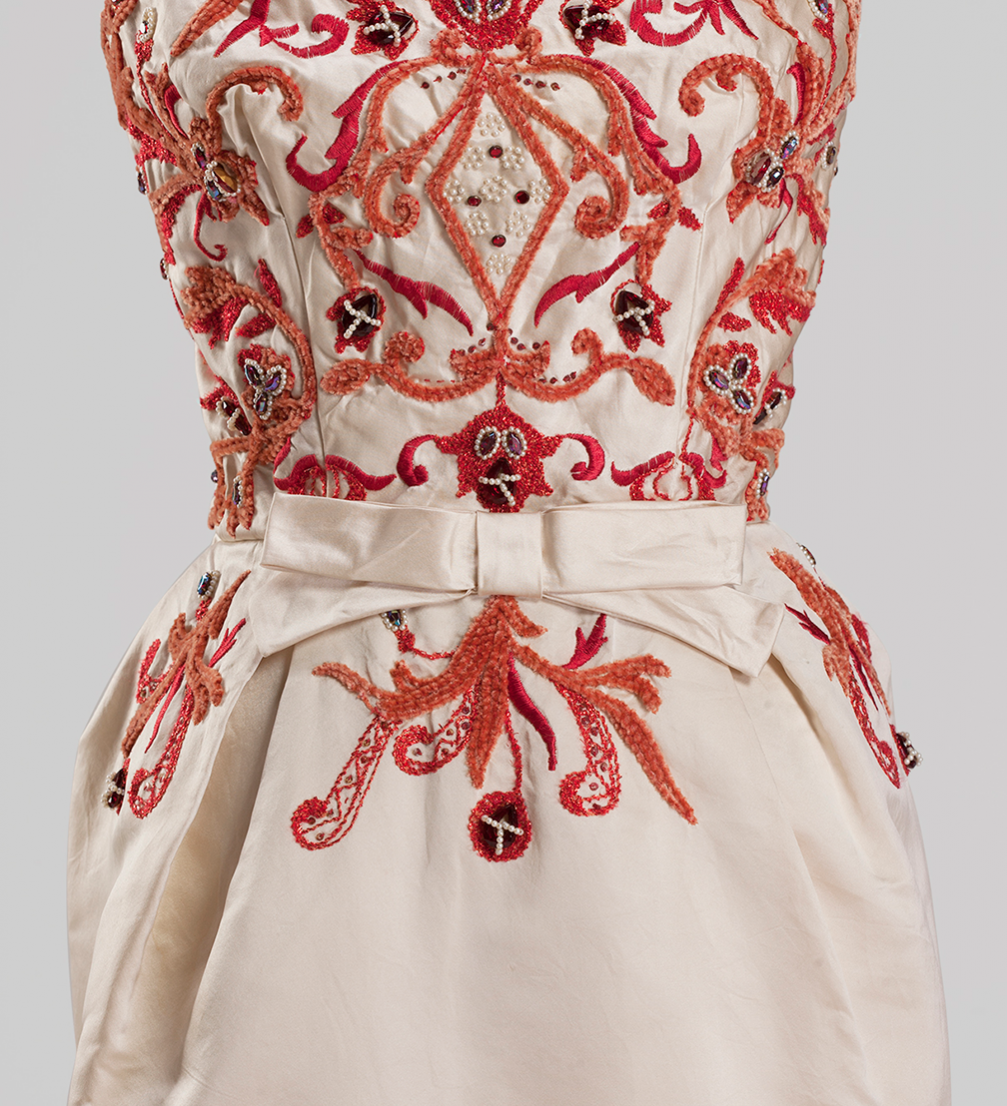 White silk dress by «Oleg Cassini», USA, 1959. Publicity photo
From July 16 to October 25 the Museum of Decorative Arts and Design (MDAD) hosts a glamorous evening gown exhibition «Invitation to the Centenary Ball. 1915–2015» featuring the collection of fashion historian Alexandre Vassiliev.
This is already Vassiliev's 7th collection exhibition in Riga, and this time it is devoted to fashion celebration throughout a whole century, representing ballroom fashion from 1915 to 2015.  The exhibition features unique World War I evening gowns when Argentinian tango, maxixe (Brazilian tango), quickstep, foxtrot and American jazz music came into fashion, «Art Deco» fashion that demonstrates women's emancipation, the extravagant Great Depression era and interwar period ballroom garments by Elsa Schiaparelli, Coco Chanel and Madeleine Vionet, the creations of 1940s fashion masters Maggy Rouff, Lucien Lelong, Cristobal Balenciaga, Jeanne Lanvin, Pierre Balmain and the «New Look» fashion with its full tulle skirt introduced by Christian Dior in 1947, attire inspired by the revolutionary 1960s, exploration of the universe and the hippy movement, the comeback of retro style dresses with Yves Saint Laurent's light rock at the beginning on 1970s, the disco style dresses with sparkles, glass beads and shoulder pads, as well as the evening gowns of Oscar de la Renta, John Galliano, Alexander McQueen, Vivienne Westwood and Karl Lagerfeld.
The exhibition will be on show at the Museum of Decorative Arts and Design, Skārņu iela 10/20, Riga. More information on the exposition and its satellite events can be found on the MDAD homepage.