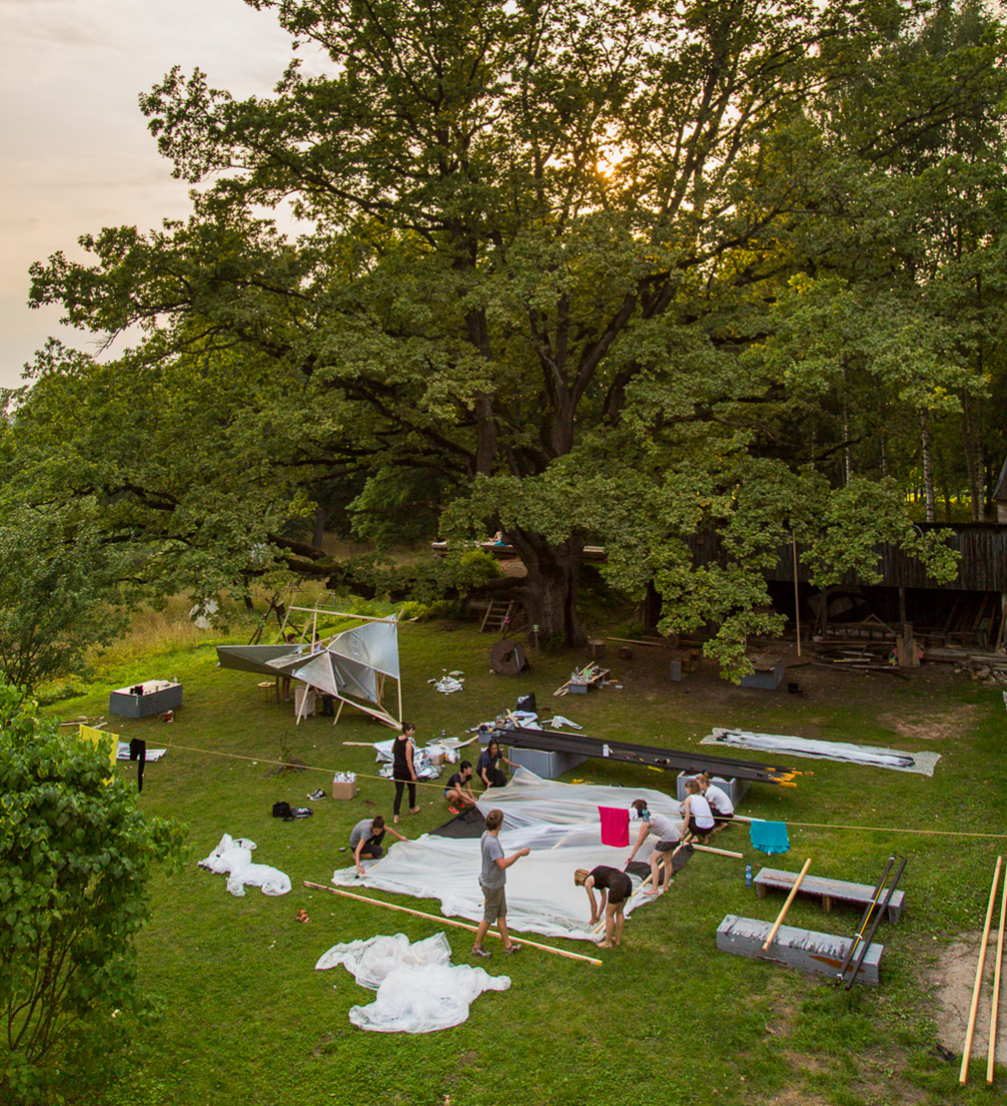 Today the two–week–long International Summer School «Arcadia», organised by FOLD and Riga Technical University, will conclude in Cesis. Starting from 17.00, project presentations and a public discussion will take place, followed by the opening of a printed publication and spatial installations.
This year, participants of the Summer School explored the picturesque and the utilitarian green areas both within and around Cesis: forests, parks, cemeteries, gardens, maintained greenery and overgrown plots. In an attempt to define what a modern–day Arcadia is, the students learned to read the local landscape, decoded its obvious and hidden qualities, suggested strategies and designed structures for public use. 36 participants from 18 countries worked in 3 groups: architecture and building, urbanism and research, architecture and land art.
The «Building Works Unit» has built a nature observatory «Wild Thing» — a lookout tower with a roof construction that opens as a giant blossom. Second–hand railway gaskets have been used as a finishing material. The workshop is led by Vienna–based Latvian architect Niklāvs Paegle and his colleagues from London: Thomas Randall–Page and Theodore Molloy.
«The Making of Arcadia» group studied tourism in Cesis — how it has changed the landscape and what new kinds of tourism could potentially develop in the town. By comparing the existing tour guides it was concluded that they show only half of the town — the part to the west from the railway. A «Missing Map» for the territory on the other side of the railway was created to take the traveller to peculiar places. The unit is led by Polish architect and urbanist Błażej Czuba, architect Matīss Groskaufmanis and graphic designer Monika Grūzīte, both currently studying and working in the Netherlands.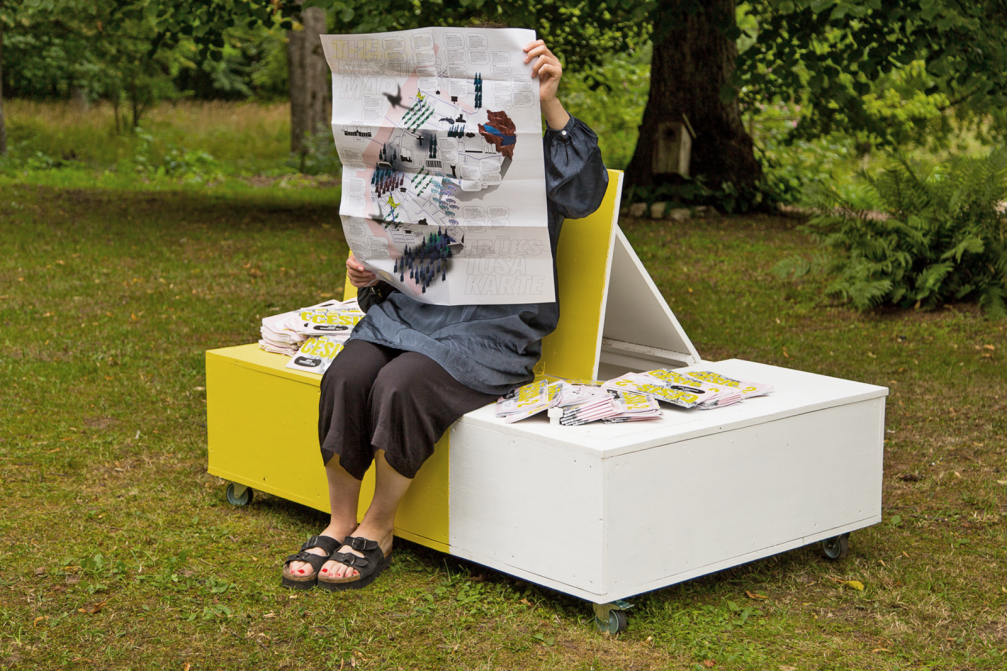 The land art unit «Supernatural» turned to the meanings and mysticism that a man's imagination attributes to natural phenomena and objects. The workshop produced several sculptural installations entitled «Ethereal Nature» that will occupy a large part of the Pirtsupīte valley and will be transformed by wind and sunlight. The unit is led by Latvian architects Austris Mailītis and Andra Odumāne, as well as their colleague from Japan, Reiji Kobayashi.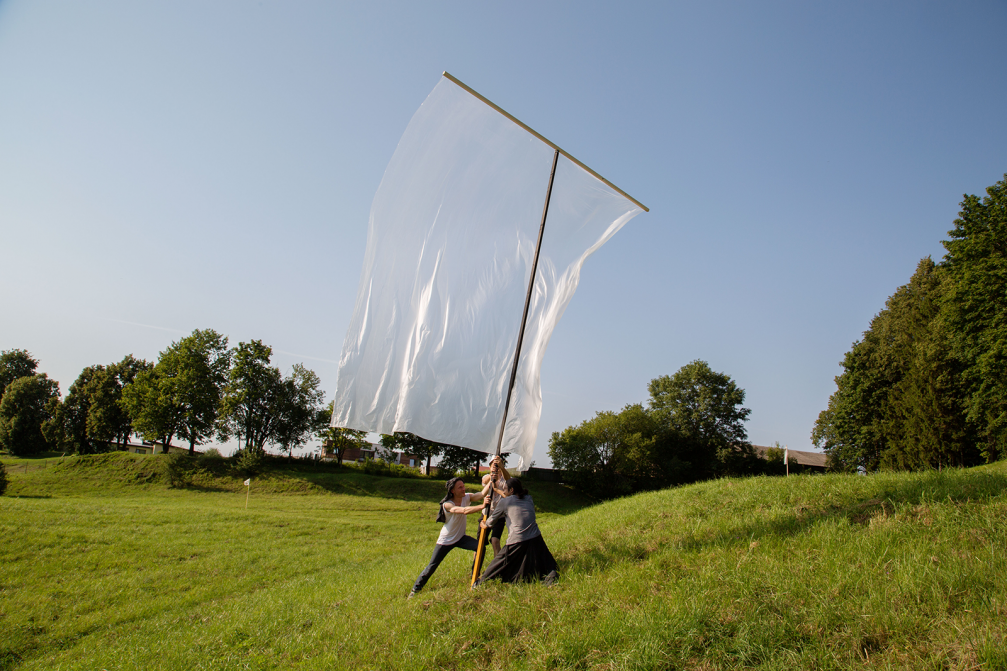 Friday, August 7
17.00 – 19.00
Final presentations and a public discussion at Rucka Art Residency, Piebalgas iela 19. Working language — English, free entrance.
21.00
Opening of the installations «Wild Thing» and «Ethereal Nature» in Pirtsupītes grava (accessible from Glūdas iela and Palasta iela). The structures will remain in the valley until September.
More information on Riga Technical University International Summer School is available on its website and Facebook page.
Organisers
FOLD in collaboration with Riga Technical University.
Supporters
State Culture Capital Foundation, State Education Development Agency, Cesis Municipality, «Rotho Blaas», «Pavasars», «Direct» un «Nordenpaint.lv», «Ķelmēni», «Cēsu alus», «Eži».