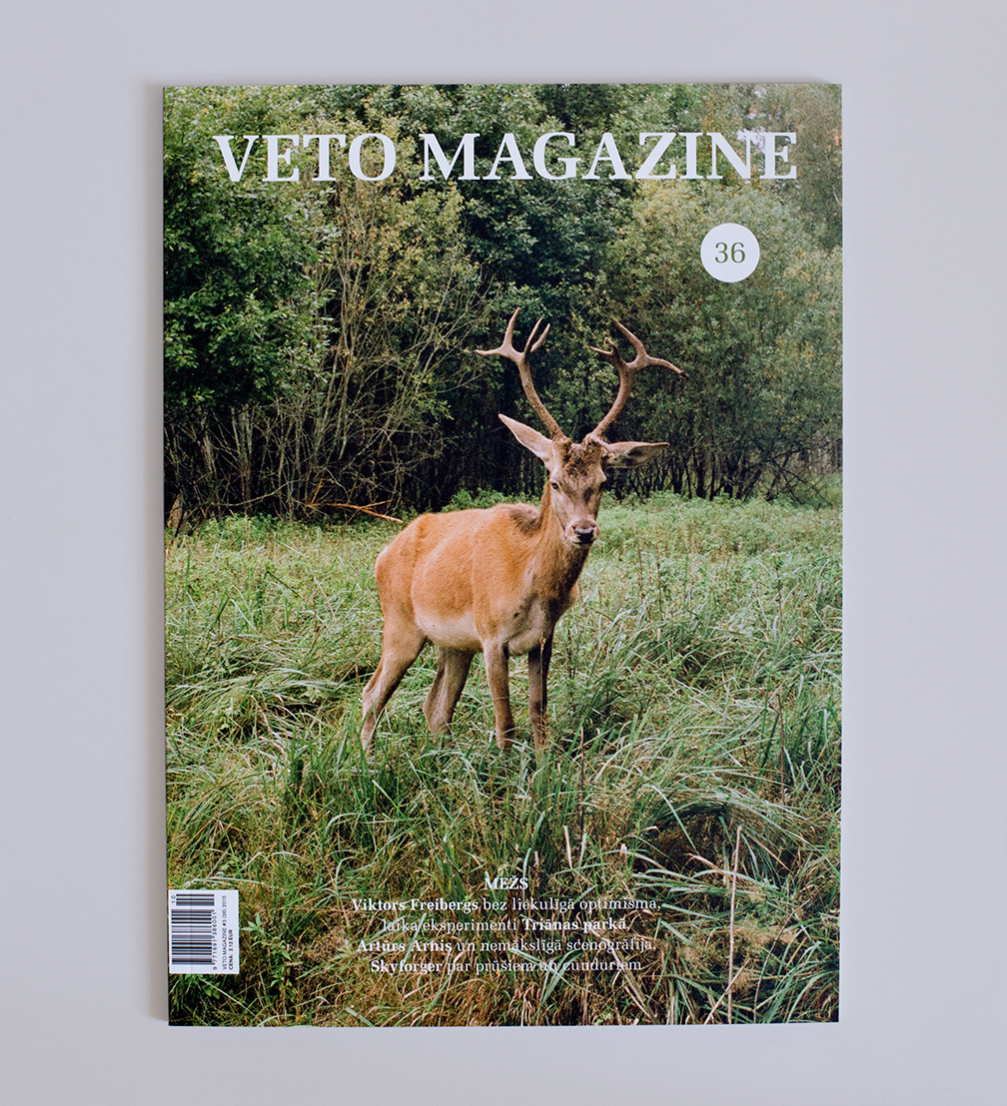 Cover photo by Kristīne Madjare
Culture and art magazine «Veto» Nº36 goes deep into the forest. The issue features interviews with the legendary pagan metal band «Skyforger», film scholar Viktors Freibergs, forester and DJ Raimonds Mežaks, and others.
Members of «Skyforger» discuss the commercialisation of paganism symbols and remember how they started the band and the funny and mysterious events throughout their 20 years of existence. Agnese Rakovska, vocalist of «Triānas parks», writes about her relationship with the intangible nature of the time, while stage designer Artūrs Arnis talks about geting rid of artificiality and copying of nature in scenography.
The magazine features a sincere and honest story about the film scholar Viktors Freibergs — from the most significant moments of his childhood and rebellious outbursts during school years to a revaluation of beliefs and renouncing of a hypocritical optimism today.
Forester Raimonds Mežaks talks about smart management of forests, experimental music and narrow gauge railroads. A waxing specialist lays out her thoughts on the attitude people have towards their own natural hair and the need to get rid of it. A photo story captures places, people and events hidden in Latvia's forests, but the discussion section features and exchange of thoughts between forestry institute researcher Zane Lībiete, artist Andris Eglītis, owner of a sports and recreation complex Rolands Rapa, and organiser of cultural events Arno Skipars.
«Veto» Nº36 is illustrated by artist Klāvs Upaciers who has created a collage using elements of the previous issues of the magazine.
«Veto Magazine» can be purchased at all newsstands, book and lifestyle stores, museums and exhibition halls. «Veto» is made with support from State Culture Capital Foundation.