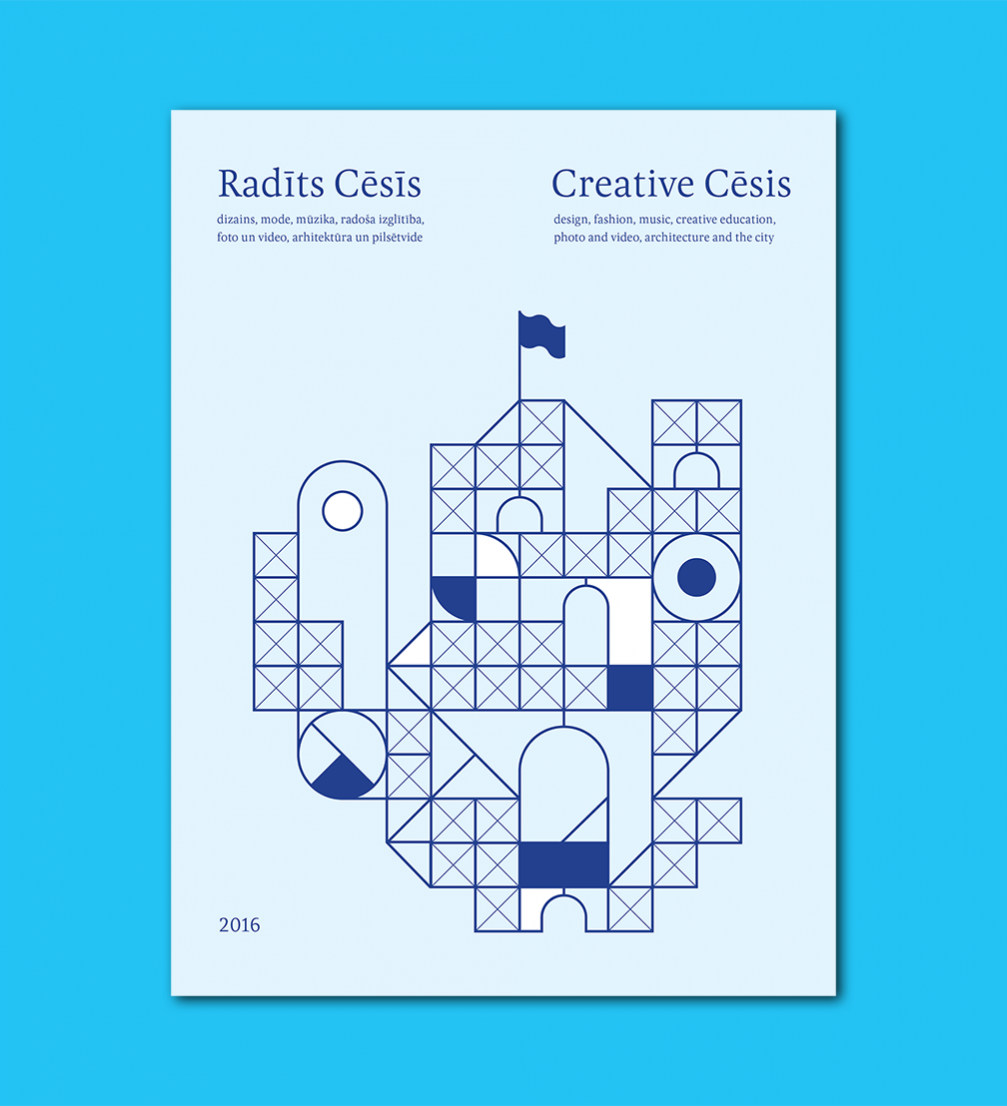 Cover illustration by Daniela Treija, design by «Associates, Partners et Sons»
Creative industries of the town of Cēsis are now represented in a printed publication «Creative Cēsis», and the opening of the magazine will take place tomorrow, July 15. The publication features stories about design, fashion, photography and video, crafts and technologies products and services, musical, gastronomical and urban initiatives, possibilities for creative education, as well as support programmes for entrepreneurs. This is the first printed publication of FOLD, and the magazine is bilingual — in Latvian and in English.
The publication highlights the faces of creative industries in Cēsis: owner of the furniture brand «Kampenuss» Inguss Kampenuss, founders of Rucka Art Residency Ieva Goba and Kaspars Goba, designer of children's clothing brand «Pupa» Zane Gaisa, creative historians Elīna Kalniņa and Gundars Kalniņš, photographer and graphic designer Jānis Vīksna, and many others. The magazine also reviews events and places in Cēsis where one can enjoy culture and purchase items created by local designers.
Cēsis is trying to keep up with Riga and Liepāja in the development of creative industries, and even beats them in several aspects — the creative industries centre «Skola6» opened in Cēsis in April 2016, the municipal grant programme «Dari Cēsīm» has been offering support to creative entrepreneurs for three years now, but the Cēsis Affiliate of Riga Technical University and Cēsis New Elementary School offer progressive educational programmes, available only in Cēsis. The town has a well–deserved positive image for appreciating active people and encouraging various forms of creativity.
The creator of the magazine is Evelīna Ozola, editor of FOLD, who since two years lives and works in Cēsis. The photographer of the publication is Kristīne Auniņa, and the design is by «Associates, Partners et Sons». The publication is funded by State Culture Capital Foundation, Cēsis Municipality, and FOLD.
«Creative Cēsis» will be available for free at the creative industries centre «Skola6» in Cēsis, L. Skolas iela 6, as well as in Riga — at «Birojnīca» in Bergs Bazaar. The launch of the magazine will take place tomorrow, July 15, at 16.00 in the courtyard of «Skola6».