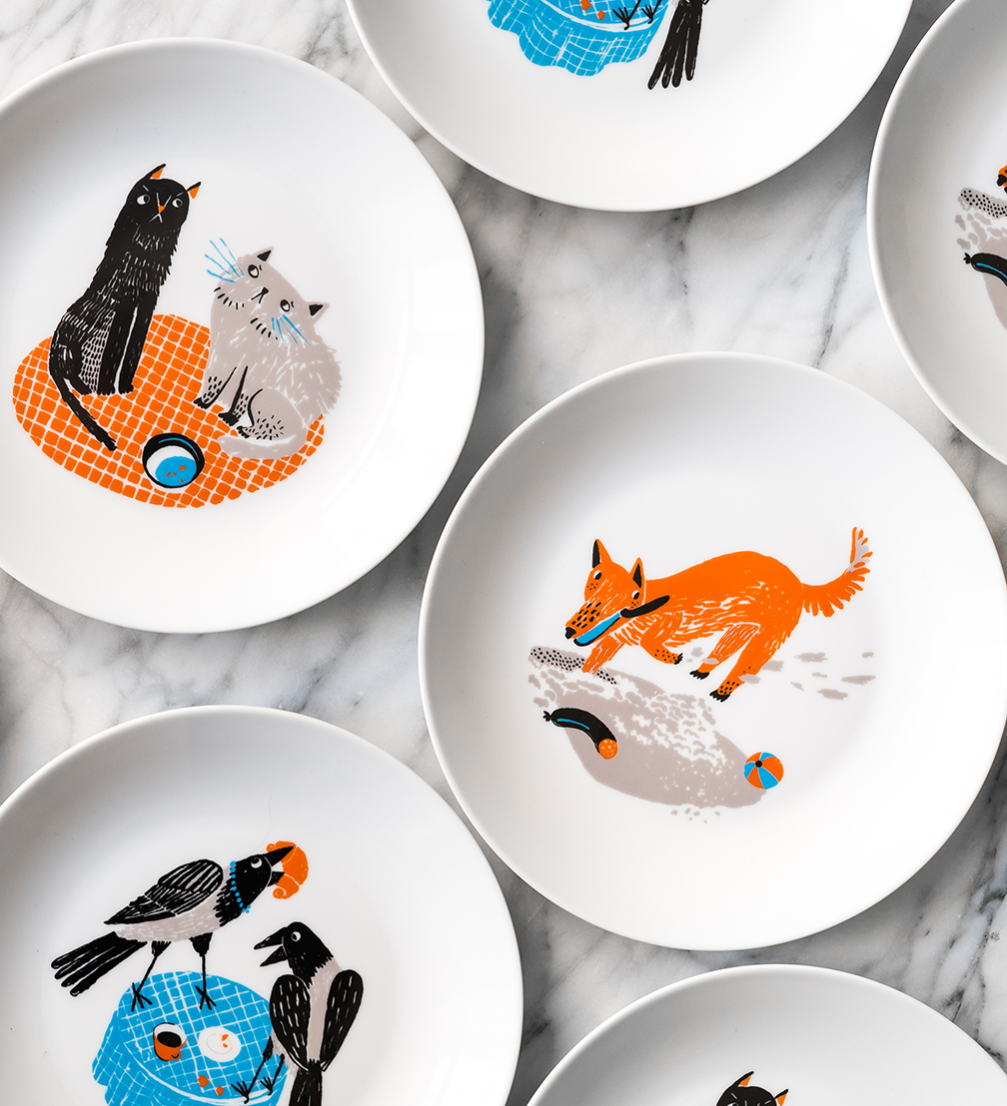 Graphic designer Madara Krieviņa has created a collection of four porcelain plates in collaboration with illustrator Anna Vaivare. For grown–ups, the plates will bring back memories of childhood, but for children — give a reason for finishing their breakfast porridge faster.
«Almost everyone, when asked about their first childhood plate, remembers the drawings on them with a smile,» says the author if the idea Madara Krieviņa. «Those are the characters that are hiding under your porridge or soup until you finish it. I had (and I still have) a plate with hares and another one with policemen. I wish to create equally nice memories for my son and other small eaters. The plates created by Anna and me are suitable for adults too!»
The drawings for the plates are created by architect and illustrator Anna Vaivare. She has made illustrations for two children's books published by «Liels un mazs», and one of them, «Ungruelling Gruel» by Leons Briedis, was awarded the Baltvilks prize in 2016. Anna's comic strips have been published in magazines «kuš!» and «Benji Knewman» as well as exibited in Latvia and internationally. «If I manage to create characters that evoke emotions in myself, that's the most reliable sign that I've done the job well,» says Anna. «When looking at illustrations of others, I enjoy the moments of surprise if I see a detail that has a story on its own or reveals a new character. I enjoy creating illustrations that others can examine closely and that trigger imagination.»
Each plate comes with a little story book «How the Heli Searched for the Plate», written by Liena Kreišmane. In the story the characters of all four plates come together — a helicopter, cats, a dog, and crows. «These are my son's beloved heroes: our two cats, a dog we met while visiting Cēsis, crows that sit outside our window on antennas and steal bread from ducks in the park, and a heli that flies over our neighbourhood and lives in a garage not far from our home,» explains designer Madara Krieviņa.
The porcelain plates measure 20.6 cm in diameter; they are printed in Riga using the durable decal technique. The plates are available for purchase at the «Paviljons» store in Riga and in the online store of «Mjau» with delivery in Latvia and several European countries.