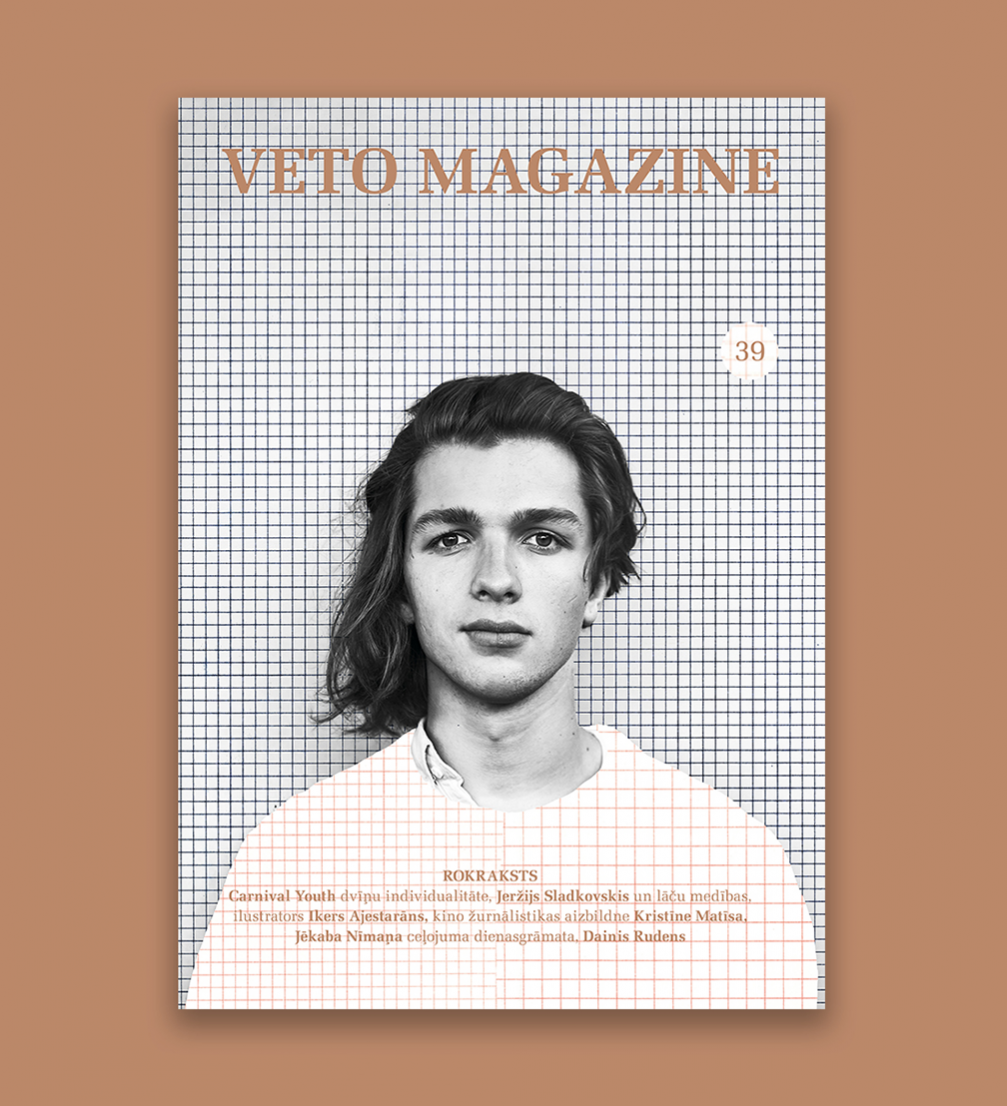 Cover photo by Agnese Kaupere, Filips Šmits, illustration by Maija Kurševa
Music, art, and fashion magazine «Veto» has released issue Nº39, this time exploring the topic of handwriting. It features interviews with people from various creative fields, and, as always, its eighty pages also offer essays, illustrations, and fashion photography.
Stories Editorial November 24, 2016
The new issue of «Veto» features a conversation with graffiti and stencil artist Dainis Rudens, also known as «Rudens Stencil», who takes the reader behind the scenes of graffiti art and explains why he has a great sense of responsibility for his works. Film historian Kristīne Matīsa in a detailed interview talks about her relationship with Latvian cinema and about the fine art of wordsmithing in her work as an editor.
In the interview with twin brothers Emīls and Edgars Kaupers, both participants of the band «Carnival Youth», their similarities and differences are revealed, exploring the individuality of twins. This issue also contains conversations with the legend of documentary cinema Jerzy Sladkowski and Basque illustrator Iker Ayestarán, as well as with other interesting personalities.
In the discussion section dedicated to handwriting artist Paula Zariņa–Zēmane, graphologist Anita Millere, teacher Inga Treice and accordionist Māris Rozenfelds talk about the formation of handwriting and how it changes during one's life, and about the link between handwriting and personality.
Also in this issue — an article on penfriends in the early 20th century and in 2000s, an experiment with contemporary visual language — the emojis, as well as travel notes by musician and composer Jēkabs Nīmanis on his trip across India.
In the literary section, there is a story «Man on Bench» by Mārtiņš Pommers, the issue's illustrations are created by Maija Kurševa. This time fashion pages envision romance of night rides — work of stylist Jūlija Volkinšteine and photographer Evita Goze.
«Veto Magazine» can be purchased at all «Narvesen» newsstands, supermarkets, book and lifestyle stores, museums and exhibition halls. The magazine is supported by State Culture Capital Foundation.